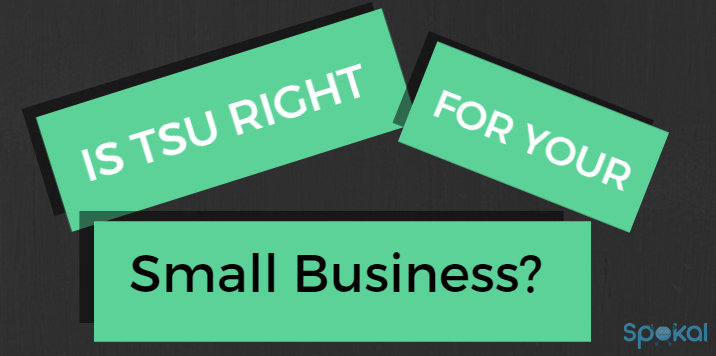 If you haven't heard about Tsu yet, let me get you up to speed quickly.
Tsu a new social media platform that promises to give 90% of its revenue back to the people who've made the platform what it is – its users.
That's right, Tsu, actually pays you to use it.
The idea was inspired by the fact that other social networks actually profit from user's creating content and having their circles engage with it, without the creator ever seeing a penny from their content.
As Sebastian Sobczak, founder of Tsu says:
"Established social networks have built amazing business models prospering on the total monetization of free user-generated content. Why should anyone commercially benefit from someone else's image, likeness and work giving no financial return to the owner? The markets we participate in are enormous, growing and can materially compensate each user — we're simply and uniquely rewarding the users who are doing all the work. This is the way the world should work."
It's an interesting (if not entirely novel) idea that has caused a lot of debate, and an equal a lot of defensiveness. Any negative publicity usually gets lots of attention, and some invite-spamming too that reminds me only too much that Tsu is about making money.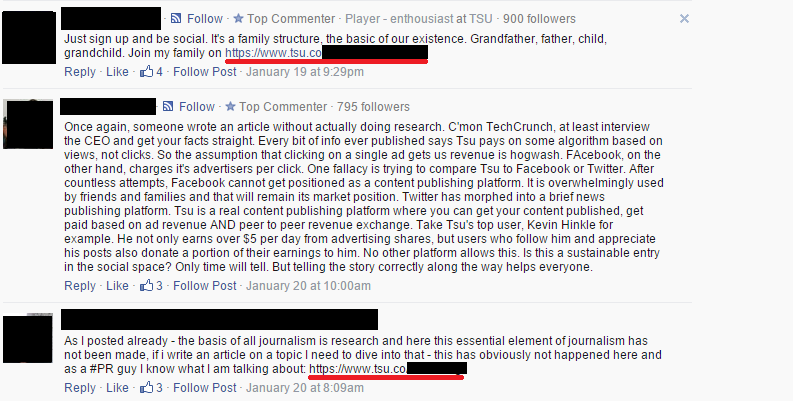 Because Tsu is causing such a stir, I want to get make it clear what I am not doing in this post.
I'm not going to give you the rundown on why Tsu is the best / worst platform that's graced our screens since Facebook.
I am not going to try and convince you that you can make decent money directly from this platform.
Give you a rundown of Tsu as a social media platform.
Try and answer is Tsu for small business effective?
Recount my experience of using Tsu as a newbie, a content marketer and a small business disciple.
Give you my initial impression whether or not I think Tsu is a viable social media platform for your small business to effectively market on. (Or if it's just a gigantic waste of time!)
Why did I join Tsu?
I don't have much interest in gimmicky sites. In fact, I usually avoid them like the plague.
But back in December I was asked by one of our readers if they thought it was worth investing their time in this new social media platform they heard of call Tsu (pronounced "Sue").
I had heard of the site, but believing it was a scam, I had completely disregarded it as something that I could utilize in my content marketing efforts.

But now, here I was, being asked for advice and I couldn't give it because I had – maybe too hastily – shrugged it off as a scam.
So because I really don't like not knowing, and because this was obviously something that people wanted and needed to know about, I decided that I would have to push my doubts to the side and join the network in an attempt to assess the worth of Tsu for small business.
How Does It Work?
Firstly, Tsu is an invite-only social network. I'd share an invite with you here, but I want you to read the entire post before you make any rash decisions, so I'll place it at the bottom for you to click on if you still think it's a good option for your small business.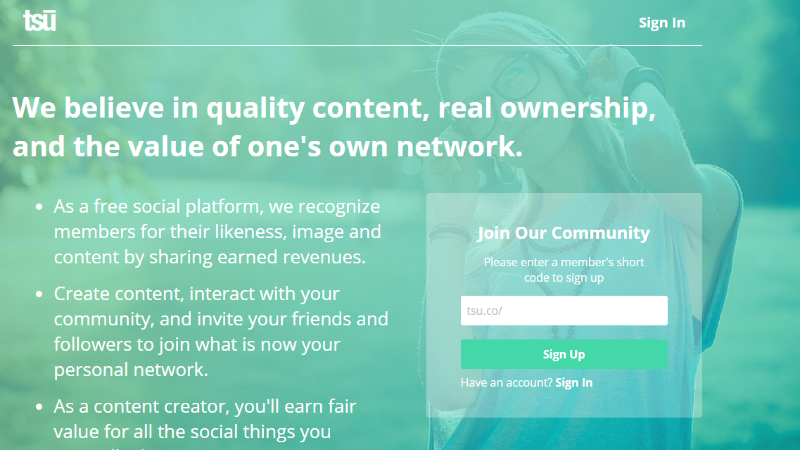 Once you get enter your shortcode into the box and click "sign up", you'll be brought to the registration page where you enter a pretty generic amount of details in the sign-up form. Here you have the option to fill out your whole profile there and then, or go straight to the content.
Like any social media network, using Tsu for small business starts with a complete profile. Upload as much information about you and your small business as you possibly can. You can also connect up your other social media platforms too so people can find you on different platforms, so it's a good idea to that ASAP too.
Don't forget to add your site in your profile description too.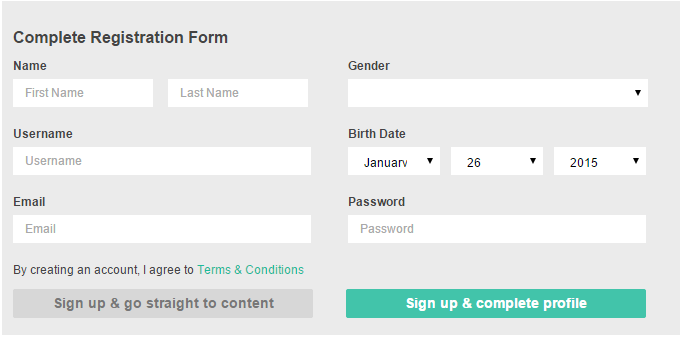 After you're signed up, you're ready to get sharing content.
Tsu works just like any other social media platform by encouraging its users to share photos, videos and textual content that aims to get eyeballs from their social media network.
You can write a post (which is very similar to Facebook/G+), a photo (again, very Facebook/Google+ – esque) and add a title for a larger bold font. When you add a link, you get a preview of the post just like you do on Facebook and Google+.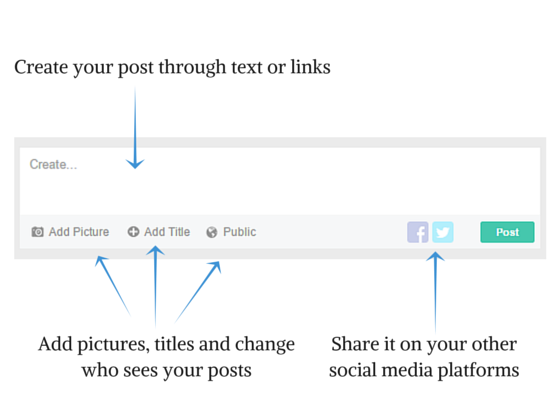 The easy layout means that early adapters are finding the transition to the new platform super easy.
The only serious difference is that when you post content, and people share/like/comment on it, this engagement earns you money.
How Does the Revenue-Sharing Work?
Tsu only holds on to 10% of the revenue it receives from advertisers, and according to them that money is used to maintain the platform. Half of the remaining (45%) goes to the owner of the content and the other half of the remaining (45%) goes to the user's upstream Family Tree.
The Family Tree
The family tree is used in order to keep track of the users of the platform in order to share out the profits with them.
Children: Users who have joined directly through your shortcode
Grandchildren: Users who have joined via a shortcode from a user who is your "Child" on Tsu
Friends: Users who are friends with you on Tsu
Followers: Users who follow you on Tsu
Network: Users who are one or more generations away from you on Tsu. People who have joined your network (being invited by a user who is already a part of your network)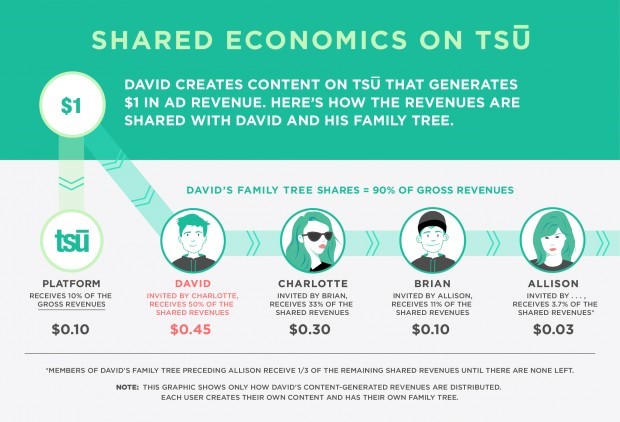 The system essentially operates on a multi-level marketing model, which may be sending alarm bells off in your head if you've encountered many pyramid schemes in your life. Historically, most businesses that run on MLM models fail because there is no actual product or service being sold, and therefore are no real economics at play.
With Tsu, however, there is something being sold – Ads.
Is it Worth Your Time?
Now, what you've all been waiting for – Should you be using Tsu for small business marketing?
Let's take a look at my experience of using the platform.
Engagement on Tsu
I've been on it for 3 months now, but if I'm being totally honest – I've maybe spent 2…. Ok, let's say 3 hours on it in total. I know, I know… it's not much. If I'm honest, I didn't have much faith in the platform from the get go.
In general, I've tried to share to follow my standard social sharing practice of mixing up funny, informational, and self-promotion posts.
When I first registered, I had plenty of instant engagement on my cover photo and profile photo. There was a lot of welcoming, the person whose invite I used did a sort of introduction and a bunch of people added me etc. It was encouraging, so I quickly shared a funny image that got a few likes and, interestingly, 1 comment that literally just said "like". I quickly realized that any engagement drives money back to your bank account, so there was a lot of users who were just quickly typing lazy comments, liking posts etc.
And before you ask, yes there was a huge problem with spam which caused Tsu to update their FAQ page with the following.
Any intent to game the system, impersonate others or monetize quickly through spamming is prohibited. Spamming includes, but is not limited to, begging for follows (e.g., follow me/follow you language), aggressive hashtagging, or other inappropriate material.
However, it doesn't seem to have limited the amount of spam that's posted on the network
Tsu also has a mini analytics tab where you can check out what posts got the most engagement. It seems that the highest ranking ones are the ones that have simply been there longest. Not many people comment on anything, even if they do see it. Likes or "hearts" are relatively common.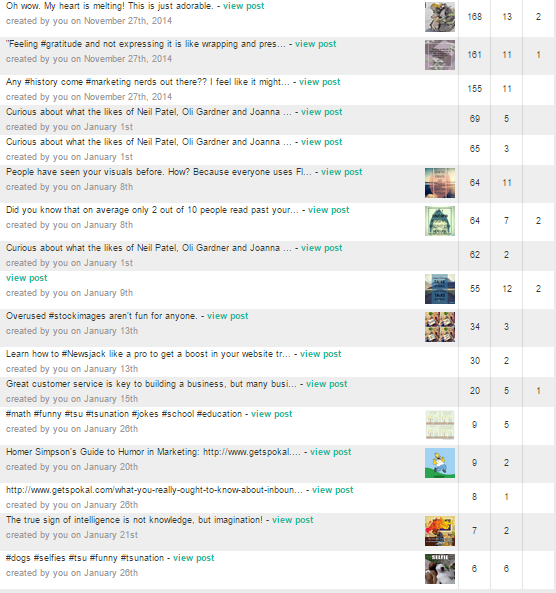 All in all, the fact that the most viewed pieces of content were the ones that were posted the longest ago doesn't say much about how much people have engaged with it. However, unlike Facebook where you're not sure if everyone (or anyone) will see your content, at least you know that they do on Tsu.
Also, you'll notice that the comments are extremely low.
On the rare occasion someone did comment on a Spokal piece of content, it wasn't exactly invigorating: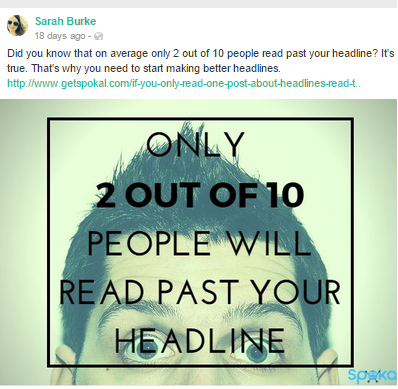 When I did get some serious more engagement, it seemed to be on images – particularly ones I had created myself.
And before you say it's just me, I saw the same pattern on others' posts too: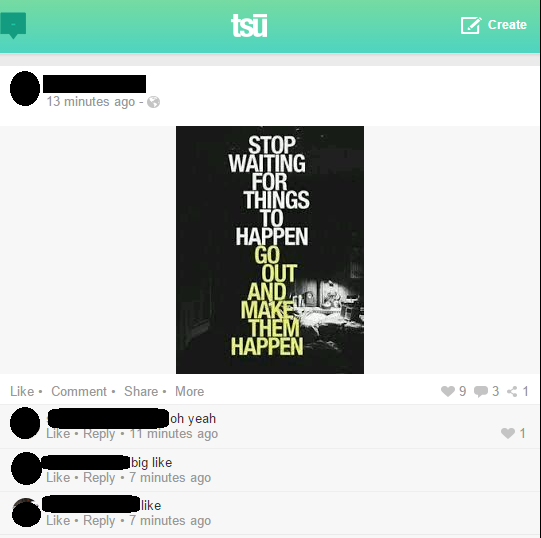 Making Money on Tsu
To date, I have 0.07 cents banked up. Not exactly rolling in the dough.
However, I haven't invited anyone to join because I wasn't sure how I felt about the platform, and it's through inviting your friends to the platform where the real money is. Apparently.
Personally, I don't particularly like this set-up because it feels inorganic and forced to me. People drop their invites everywhere now. It's like the social media platform equivalent of Farmville.
But what's worse is that this feels more like recruitment to a pyramid scheme than anything else. Of course, my friends aren't going to lose money by joining the platform. But I gain some… which makes me feel like I'm using them for my own benefit.
Plus, for a small business owner, having your own friends on the platform isn't exactly useful.
So will marketing on Tsu for small business generate a direct livable income for you?
The easy answer is: No. While you might make a few bucks (remember: You can't cash out until you hit $100) the reality is that you won't get rich from Tsu's revenue sharing.
However, if making a limited amount of money on Tsu is your plan, then check out this post.
Conclusion
Can you Market on Tsu for small businesses?
Engagement still seems superficial on this platform, and in that respects, someone with an aesthetically attractive business who can take awesome photos and create interesting images will find that they get a lot of engagement – which, of course, should lead to sales. But the engagement is so shallow that I'm not sure that it's likely.
From a content marketing perspective, I can't say for definite that it's a complete waste of time. However, I can say that it was for my content marketing efforts with Spokal. We didn't get any traffic from the website, even though we had considerable engagement.
Obviously, things might work out differently for you, but personally – We're giving Tsu a miss.
Enjoyed this?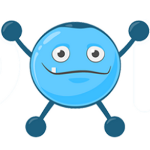 We have plenty of content marketing tips for small business that we're just itching to send straight to your inbox.