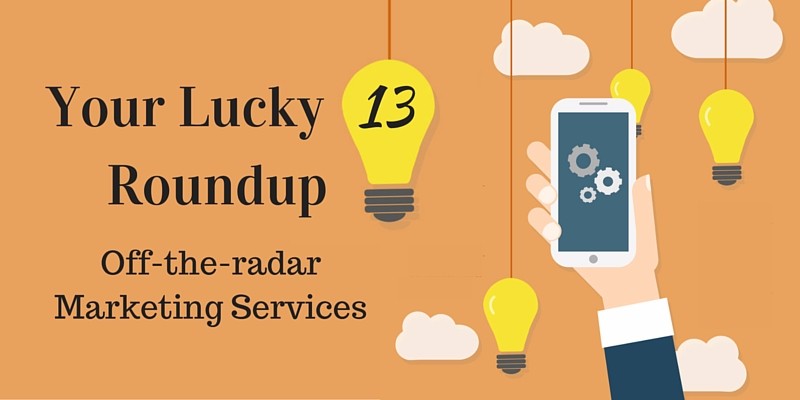 There's an app for that. And that. And that. There are thousands of them. Some are useful, and some are not (I'm looking in your direction, Kim Kardashian: Hollywood).
You know Buffer, and Hootsuite, Canva, and Salesforce (am I the only one who reads that to the tune of "Rudolph the Red-Nosed Reindeer"?). But there's a digital plethora of lesser-known marketing services out there that are just as good – or better. Sadly though, they're buried under several feet of marketing goodness that came before them.
And that's a shame because there's some hidden gems. The ambitious among us will go digging. They'll grab a shovel and roll up their sleeves. But the rest of us? We don't have the time. Or the energy. Or the shovel.
But that doesn't mean we're not interested in them. So, consider me your spelunking guide, heading deep underground to find buried treasure on your behalf. I get dirty and chased by mole people while you reap the benefits.
The Marketing Monster
Marketing is just one of many, many items you have to juggle as a business owner or entrepreneur. Anything you can do to make it faster, cheaper, or easier is something you should at least consider, right?
You could outsource the whole kit and caboodle, but that can be very expensive and requires giving up control of something very precious: your brand.
The better option is smart marketing. Using apps, services, and tools that give a little automation, reach a wider audience, but keep you in the fold. You're in the driver's seat, but it doesn't require 24/7 attention. Kind of like a pet goldfish.
Looking for a few brilliant but off-the-radar options? Look no further. Here's a lucky 13 (because I'm not superstitious…just a little stitious) to take for a test drive.
Modern "Traditional" Ads
You still need to get the word out when you have a sale, promotion, new product, or special announcement. That's Marketing 101. Traditional channels don't work like they used to. Try these instead:
1. Instagram Ads
There's a lot to love about Instagram: it has the power of Facebook behind it, 400 million active monthly users (with 75 million of those daily visitors), a nearly 50-50 split between male (51%) and female (49%), while 90% of them are below the age of 35. That's a marketing best-case scenario, no?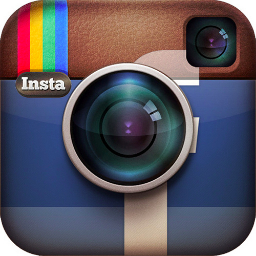 Instagram has rolled out advertising functionality. Besides simply posting breathtaking/beautiful/inspiring/hilarious/touching/thoughtful photos, you can now design a post that creates engagement with your target audience (utilizing Facebook's unparalleled targeting features). Photo ads, video ads, direct links (not previously possible), and call-to-action buttons? Yes, please.
And with ad revenue predicted to increase by 146% and reach $1.48 billion this year, it's a marketing platform on the way up. You'd be getting in just before the growth spurt.
2. Trumpia SMS Marketing
Remember the lowly text message? It's the older-but-largely-forgotten brother of IM services like Whatsapp…but that's changing. Services like Trumpia are using both SMS (short message service) and MMS (multimedia messaging service) to push your content and promotions on your local audience. And with clients that include Amazon, Microsoft, Airbnb, and LinkedIn, it's clearly getting results.
Trumpia uses contact details to create personalized and targeted messages, rather than the loathed "text blasting" (the SMS equivalent of email spam) used by some others. Your customers only receive messages relevant to them. You can import your contacts, use a 4-6 digit short code, mobile keyword opt-ins (requiring just a single word response to take advantage of the promo), mobile coupons and loyalty rewards, automated responses, smart targeting (based on their purchase and preference history, click-throughs, and previous responses…and updated in real-time), click-through tracking, and more.
But why bother? Consider: email marketing has an open rate in the 22% range, compared to a staggering 98% for SMS campaigns, while the average click-through rate is 36% for text messages but only 3.2% for email. That's why.
3. Snapchat Ads
Maybe you've heard of Snapchat, and maybe you haven't. And if you have, maybe you've dismissed it as Instagram Junior, popular with teenagers and sleazy adults looking to send naughty pictures. If so, you're doing it a disservice. With 200 million active users, Snapchat is showing faster growth through its first four years than Facebook, Twitter, and Instagram. It's extremely popular with the younger crowd – 30% of American millennial users access it regularly, 77% of college students use it daily, and 71% of users are under 25 – as their parents and even – gasp! – grandparents are taking over Facebook and other platforms.
It's by far the youngest (and therefore "hippest") audience, with more than 60% of American smartphone users in the 13-34 age range. And yet, it's used by only 1% of marketers. Say what?
Enter Snapchat Ads. A captive audience primarily under 35. The largest teenage crowd. Made for mobile. Images. Videos. And targeted by the Live Story program (users at the same event or contributing to a specific keyword conversation), Discover Channel, gender, and/or location. Just for kids and randy folk? I think not.
Creating Your Stuff
You already know the importance of content marketing, so I'm not going to repeat it here. You're aware that it's crucial. Necessary. But often difficult. When it comes to thinking of stuff to create, and then creating, everyone could use a secret weapon or two. So here's two.
4. BuzzSumo
This one may not be so secret anymore, but it's still an underused but powerful tool for your utility belt. BuzzSumo allows you to track and discover what's popular and trending out there in cyberspace on virtually any topic, keyword, or industry. Yay! <high-fives all around in the marketing department>
What are people reading and sharing? Find out. What's the most popular content for your competitors? Just enter their URL address and instantly see their most shared and read posts in the past year, 6 months, month, week, or 24 hours. BuzzSumo gives you total shares and individual stats for Facebook, Twitter, Google+, Pinterest, and LinkedIn. You can check out backlinks, see a sample of users who shared on Twitter, and share it with direct links.
So what? BuzzSumo lets you find popular posts to curate, and it gives you ideas for new content. Use it for discovery, alerts (by keyword, author, or domain), influencers and outreach in your industry (find, follow, engage, and share with them), and content insights (how popular is a keyword lately, what network sees the most sharing, what's the most popular type of content?). That's what.
5. BrandBox
Once you have some fresh ideas, the next step is putting it together for distribution. BrandBox helps you make interactive content with easy-to-use templates, and drag n' drop functionality. Create personality tests, assessments, games, quizzes, polls, surveys, contests, and social feeds (among many others). Oh my! And you don't have to be a graphic designer or programmer to pull it off. It's monkey-proof. It's your one-stop shop to create, publish, manage, and measure all your digital babies.
You need something that's not only useful, but that engages, too. You need interactive content, pulling customers and prospects into a conversation about…whatever. It has a much wider appeal because users get something (to compete, share an opinion, answers, knowledge about themselves, tailored results) rather than "just" reading. And according to DemandGen, 91% of buyers want more visual and interactive content. So give it to them.
BrandBox boasts a 38% increase in average email subscription rates, an 87% savings on cost-per-lead, and a 3.5 minute average dwell time. Get and keep the attention of your customers, your prospects, and your fans. Share that content via email, your blog, or social media. Increase sign-ups. Decrease bounce rates. Increase page views. Decrease time spent creating.
Sharing Your Stuff
You don't create something and call it a day. It has to be seen. Heard. Shared. No matter how good it is, it won't make a difference otherwise.
6. Babbly
With Babbly, you can inflate your audience. Share your content and promotions with the Babbly community, who then share it with their social sphere again. Simple. No bells and whistles…just paste the URL and done. Set the number of shares you want on the slider (go big and choose the maximum). The more you share, the more you'll be shared. Will it make or break your campaign? Probably not. But hey, every little bit helps, right? And it takes all of 3 seconds.
7. PixxFly
Getting your stuff to the digital door of clients and leads can eat a lot of your day. PixxFly wants to do it for you. Content distribution is kind of their thing, bless their little hearts. Beyond that, they offer content syndication (via RSS feeds), multi-channel PR (distributing releases to thousands of channels), analytics, 14 social networks, 50,000 PR endpoints, individual analytics for each channel, unlimited reports, and idea generation.
As they say around the PixxFly office, "upload once, send everywhere" for created content, including posts, images, videos, podcasts, and infographics. You can draft and schedule from right inside the platform, queue that content, and distribute to the channels you select. If anything, they're kind of showing off. But we forgive them.
8. Dynamic Signal
Make it easy for your employees to share your content with Dynamic Signal. Your employees are your best brand advocates for many reasons, but none more so than the fact that 70% of people trust recommendations from friends and associates. When your employees share, recommend, and support your brand with their social circles, that carries a lot of weight.
Dynamic Signal makes it ridiculously easy, offering mobile access to all features, gamification functionality to reward employees for sharing (including leaderboards), and the ability to segment employees into groups based on geography, job function, and interests. Get the right content to the right employees for the right impact.
9. Tint
Okay, so you have plenty of content – interactive and otherwise – being shared and pushed to the far corners of the internet. Kudos. But sometimes, you want to herd it all into one central location. A content playground, if you will. Tint can do that and more. It displays and organizes social feeds, pulling content from your Facebook, Twitter, Google+, LinkedIn, Instagram, and Pinterest accounts. Done and done.
Then, you engage in that one spot. Instead of connecting with your customers on your Facebook wall, you can communicate with them on your branded (your company colours and logo) content page. Why should Mark Zuckerberg get all the publicity?! Just select your sources, profiles, and hashtags. It's all automatically updated, too. Use it for special events, contests, Q&A sessions, store or office displays. Control what's displayed and how…all your content on any one website or screen! Create a hangout for the people that matter to you and your brand.
Lead Generation
But there's more to be done. It's not just about creating content and getting it out there. Your content – at least in a perfect world – should be doing something for you. Bringing people in. Getting them interested in you. You have them on the line. Now what?
10. Instapage
Landing pages are where your prospects and customers "land" when they click on a link in your content or ad. It brings them there for a very specific reason. Promotion. Sale. Contest. Announcement. It doesn't matter. The end goal in a very broad sense is the same. You want them to do what you want them to do.
Sign up. Click through. Download. Buy. A landing page needs to be designed for that specific goal, and only that goal. If you're always sending visitors to the same place – your homepage, for example – you're doing it wrong. Full stop.
But hold on, you say. Wouldn't creating a new landing page each time you have a new goal take a lot of time, money, and skill? Nope. Not with Instapage.
Drag 'n drop functionality. 100+ templates. No coding or knowledge of HTML required. Full integration with over 20 popular email marketing and CRM providers. Direct publishing to WordPress and GoDaddy. Simple A/B testing (you are doing a/b tests, right? Try 23 A/B Testing Ideas for a little inspiration). And it even works seamlessly with Google Analytics. If Instapage were a "special someone", I'd tell you to put a ring on its finger. Immediately.
11. Socedo
If you ain't growing, you're dying. Or so they say. No matter how many clients you have, you always need to be on the lookout for more. Enter Socedo and its automated social media lead generation. Save time and money while still taking advantage of social media, which is the number one online activity.
The service identifies social media users based on your defined criteria. It engages and collects them for you while you sleep, or take a coffee break, or meet with a potential investor, or build a fort with blankets (don't pretend that's not still awesome). It even provides analytics and insights, too. Hallelujah!
Socedo promises to "find your target audience, engage them with one click, and fill your funnel." Just tell it who your target audience is based on their templates (or create your own), and what goal you want to drive: website visits, or start a conversation. Socedo will do the rest.
Bringing It All Together
Content isn't the only game in town. Important? Yes. But once it's pushed to the masses, you need to a) listen to what people are saying, and b) analyze how everything is performing.
12. Brand24
Stuff's out there. Leads are piling up. You're feeling pretty dang good about yourself, aren't you? But then someone makes a negative comment about your brand online, and it all comes crumbling down. You have to stay on top of that. Bad word-of-mouth can kill you faster than a zombie horde.
Who's talking about you and your brand? What are they saying? What about your competition? Keep track of it all with Brand24. Respond quickly to comments – both positive and negative – with instant alerts whenever someone mentions your company, brand, product, employee, industry, or competitor.
Social listening is a key component to a successful business in 2016. People – your prospects and customers – are all online. It's how we research, shop, and communicate. And 72% of people who complain on Twitter, for example, expect a response in 60 minutes or less. Miss that tweet, or take too long, and a full 60% said there would be "negative consequences" (sounds ominous, doesn't it?).
Brand24 is the always-eavesdropping digital friend that you need.
13. Cyfe
Einstein famously said "imagination is more important than knowledge." With all due respect to him (the guy came up with the theory of relativity, for crying out loud!), I must disagree. In business, data is knowledge, and knowledge is power. And there's a lot of power out there for the taking.
Cyfe is your genius data scientist, complete with an official looking lab coat and pocket protector. It's an all-in-one powerful dashboard that integrates SEO, Adwords, Google Analytics, brand chatter, social media, marketing, sales, support, infrastructure…it monitors everything! (editor's note – not literally). Dozens of widgets, real-time reports, historical data, customizations…too much to adequately discuss them all. Do yourself a favour and check it out. Today. Right now. You'll thank me.
Work Smarter, Not Harder
It takes a lot to succeed in business. And you could easily grind yourself to pieces by trying to do it all. So don't. Jump aboard the digital revolution and take advantage of any combination of these 13 marketing services. Set up a workflow that works tirelessly for you. Morning, noon, and night…like some benevolent cyborg. Sent from the future, not to kill you, but to make your professional life just a little bit better.
Have you tried any of these? Is there another app or service that you just can't imagine life without? Let us know in the comments below!