This quick guide is exclusive for Spokal members – it shows you what to do in MailChimp to personalize the emails that are sent to people when they signup on your website.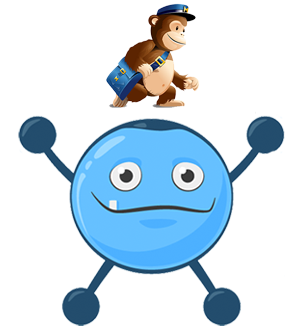 What's MailChimp?
MailChimp is a great service that allows you to send emails to groups of people over time, so you can build relationships at scale.
The goal is to build trust with potential customers, so you're top of mind when they're ready to buy.

How does it work with Spokal?
Spokal makes it easier for you to use MailChimp.
We take care of a lot of the technical hassle that's involved when you integrate your MailChimp account with your website, so the process of collecting emails is seamless.
Today I'm going to walk you through the steps you need to do in MailChimp to finish the process.
They have a great "Getting Started Guide" that shows you the best ways to get up to speed (including how to create a new customer list, how to create an email campaign, how to create a template, tips for editing content, and how to interpret your results).
Once you've signed up (or you're already using MailChimp), connect your account to Spokal in one simple step.

Customize Your Emails
Please note – this tutorial was made in an older version of Mailchimp – so the styling is different now. The menu items may be in different locations too. But the emails you can skip and the ones you need to setup are all still the same – you can still follow this guide 🙂
Spokal takes care of almost all the automated emails from MailChimp, so there are only a few that you'll want to customize.
When you're starting out, just add one or two lines to the emails in the list below to make them personal. There's no need to spend a lot of time here, we'll visit this later as your list grows to help you optimize it.
To get started, login to your MailChimp account, go to the "Lists" tab in the main menu, click on the wheel beside your List and select "Forms," as shown below.
If you don't have a list, MailChimp will help you create one.

Customize the following emails:

1. Opt-in Confirmation Email: This is what your potential customers get when they sign up to receive your emails. They have to click the confirmation link that's automatically included in the email to be subscribed, so it's a good place to write a quick "Hello, thanks for joining me" message.
2. Confirmation "Thank You" Page: After they click the link in the previous email, they get sent to this page to confirm they're subscribed to receive emails from you.
You also have the option to redirect them to a page on your website so you can fully customize the message and layout, but unless you know how to do this, I wouldn't worry about it in the early stages. A personal note on the page MailChimp generates for you is all you need.
3. Final "Welcome" Email: This is the automatic welcome email someone receives after they're subscribed to your list. It's a great opportunity to welcome them again, and invite them to join the conversation. You can also mention what you'll be including in your emails so they look forward to hearing from you.
4. Unsubscribe Success Page: This is the page someone gets sent to after they unsubscribe from your emails aka they don't want to receive them anymore. (MailChimp automatically includes an unsubscribe link in all emails you send, so you don't have to worry about this).
5. "Goodbye" Email: This is the email someone gets after they unsubscribe. You can do a few things here (my favourite is to say you'll miss them), but it's also good to let them know if they unsubscribed by mistake, they can subscribe again (the email automatically includes a subscribe button for them).

Need more help?
If you're not sure how to save your message or you'd like a more detailed walk through on how to save these 5 emails, check out this post by MailChimp. Just remember to follow the guidelines above, as MailChimp shows you how to edit all of the forms and since you're using Spokal, you only need to do 5!
You'll also see that MailChimp talks a lot about "lists," "campaigns" and "autoresponders." We've gone over lists, and the photo below shows how lists and forms work together. But what about campaigns and autoresponders?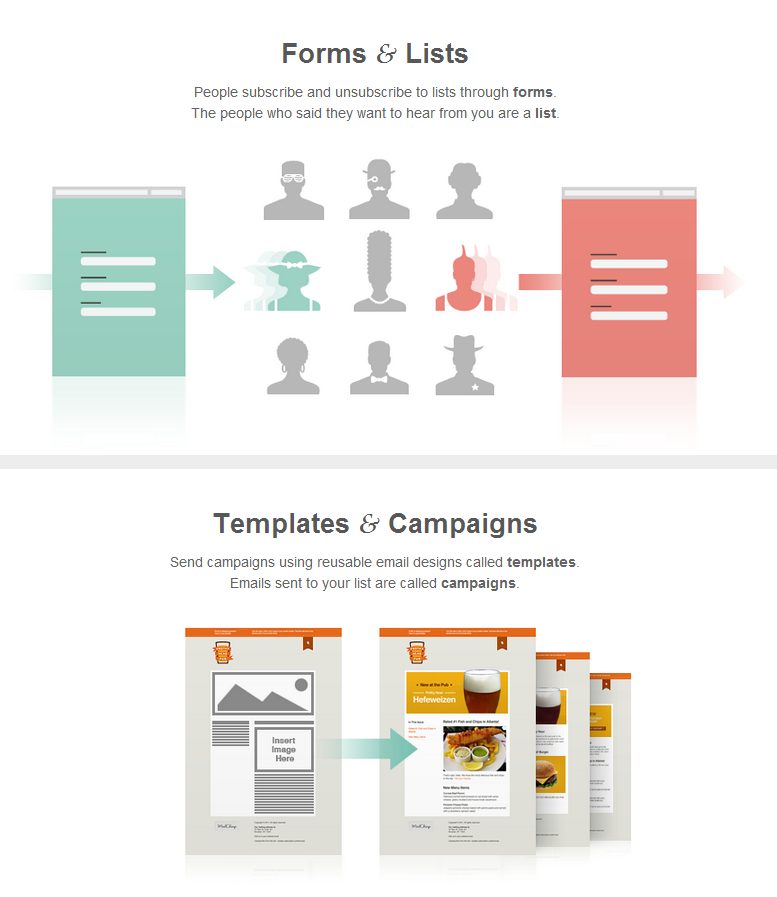 What's the difference between campaigns + autoresponders?
Campaigns are emails you create and send to people using MailChimp on a "one off basis" – every time you write and send a new email in MailChimp, that's a campaign.
Autoresponders are a series of campaigns that you write and schedule ahead of time, and are automatically sent to anyone who meets the criteria or event that triggers those emails (you choose what those events are). This allows you to create an email funnel, so multiple people receive the same emails in the same order with the same time between them, regardless of the date they sign up.
Just like a regular campaign, you write the content for each email, determine when they're sent and under what conditions, and every time someone on your list meets those criteria, MailChimp automatically sends them that email.
Autoresponders are a great way to provide a series of ideas to people overtime. If you're interested in learning more, check out their post on What is an autoresponder? and their tutorial on how to use autoresponders in MailChimp.

Conclusion
Your email nurturing strategy will evolve.
As more people signup to receive your emails, you can spend more time optimizing them and your entire lead nurturing pipeline.
For now, focus on sharing your ideas and building a blog with great content to attract those people, and Spokal will help you refine your email strategy as you grow.
p.s. Not sure why you want to use an email strategy? Check out this post on why lead nurturing is critical to getting customers online.