Before there was mass media, before there was marketing, before there was "business" as we know it today, people relied on word of mouth to spread information.
Before writing, word of mouth was the main method of transferring information from one tribe to another tribe, often by a practiced storytellers whose job it was to remember these stories and tell them to others over and over again.
Later on in our history, we notice that a familiar expression in our various forms of literature begins to appear. The trope commonly appears in history books, fictional novels, poems and movies. You'll recognize it from its allusion to popularity, awareness and geography.
For example, the expression may be "He was known through the land as the most skilled swordsman" or "her beauty travelled by portraiture and word of mouth to England and Europe".
There is even a name for those who would dedicated their lives to spreading information about religion: Missionaries. Who were, if you really think about it, just religious people who were intent on spreading the word of God.
Why Is Word of mouth So Important For Your Business?
It's clear that Word of mouth is a powerful tool for businesses. However, most marketers assume that word of mouth advertisement is an organic process that can't be tampered with.
I don't agree.
Of course, you can't force anyone to spread the word, or refer friends to your business. But you can encourage them to!
Here are 5 actionable steps that you can take to get people talking about your business.
1. Mention Referrals In Your Correspondence
When I first started freelancing a few years ago, referrals and testimonials were of vital importance to how successful I was going to be. However, when I first started asking for testimonials and referrals, I felt awkward and uncomfortable randomly bringing it up after days, weeks or even months of communication with the client without any mention of it.
What I began to do was introduce the concept of referrals and testimonials early on in the process.
It only takes 10 minutes to craft the perfect paragraph that you can then adapt to different clients, emails and portfolios.
And because I love you guys so much, here's mine:
"It's really important to me that you're satisfied with the quality of work that I've produced for you. If you have any issues, questions or criticisms regarding the work that I have completed for you, please don't hesitate to contact me and I'll do my very best to rectify and/or answer any concerns that you may have. Likewise, if you're happy with the work that I produce for you, I'd be very grateful if you could pass on my name to any friends, family or colleagues who are looking for similar work done for them".
This is obviously a very general statement that I have written up. I change it depending on the relationship I've developed with the client, the tone in our correspondence, the context of our working relationship and a variety of other factors.
What always remains consistent is that I send it within the first few emails, usually after I've sent them a pitch or estimated due date of the project.
2. Offer Referral Bonuses
Recently, I purchased something from Etsy as a Christmas present. After I made my purchase, and then a pop up appeared telling me that I could share on social media sites that would allow my friends to get $5 off their first purchase.
I never share things like this.
I really don't.
But this caught my eye. I mean… Who wouldn't want $5 off?
Plus, if two people use the coupon to make a purchase, I get $10 off my next purchase!
They'll literally rewarding me for referring somebody, while also rewarding the new customer for buying with them.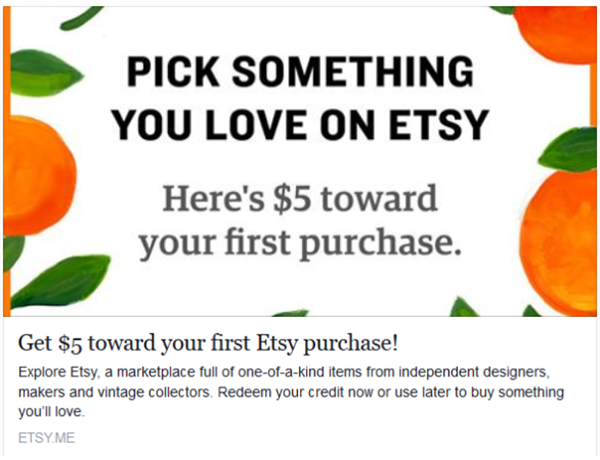 They also monitor your referral process, and you can keep getting discounts up to $100!

Etsy's referral system gets it just right by giving everyone a bonus!
3. Surprise & Delight Your Customers
A referral program like the one that Etsy has also comes with a surprise and delight element to it, but they're not necessarily one and the same.
Delighting your customers can come in many shapes and sizes, and it's probably one of the most effective ways to get people talking about you.
"You will get more word of mouth from making people happy than anything else you could possibly do."
– Andy Sernovitz, author of Word of Mouth Marketing
Adding those little unexpected touches that are there simply for the benefit of the customer really get people talking. Sephora are infamous for their little touches. Just look at how much word of mouth their free samples generate:
"I love the selection, I love the freebies, I love the samples and the fact that you can ask for samples to try at home before you buy on another visit!"
"had over 100 points so when I got up to cash I asked the cashier if they had any moisturizer and was given a great new Lancome product that I'm sure will last 2 weeks at least."
"A sales girl went out of her way to get me a sample of GlamGlow and I really appreciated that."
I think you get the point.
The reviews stating that it was the free samples that really wowed the customers are pretty much endless. It's a simple tactic, that delights over and over again, and people just rave about it.
4. Make How You Would Like Referrals Clear
Simply asking for referrals can leave too much up to your customers' imagination. Instead, have a specific referral process in place.
Referral Questions
Because I communicate with clients through emails, I have a set of questions that I pick and choose from, depending on the kind of work that I've done for them. You can find an example of some questions you might want to ask you clients here.
Referral Forms
There are also referral forms that you can set up on your website, which you can then link your clients to after a project. Wufoo forms is the most popular and easiest to use.
Reviews & Comments
Ebay and amazon use their comments and reviews system as a referral process for each business. After making a purchase, you're encouraged to leave a review of your experience with the business.
5. Highlight Your Talking Points To Influencers
Inside every circle is your influencers. It's a personality type that's difficult to discern from the crowd unless you know them really well. (Which is why I suggest that you do get to know them really well!).
These guys have a powerful way with words, and get joy from spreading information regarding a business or product that they feel passionate about. They have a track record of good advice, so people tend to listen to them.
However, even if you don't know who the influencers are, there are ways to ensure that once they hear about you, it's the interesting talking points of your business that they absorb.
Influencers want to know the new craze, or product, or innovation – So highlight yours to all of your customers.
As Steve Barton, president of the Word of Mouth Marketing Association says
"Word-of-mouth marketing works best when you've got something new to say – not necessarily a new product, but perhaps an innovation on a product," explains Barton. "The key is to identify the 'talking point' – what your influencers want to talk about, rather than what you want to say."
Word of mouth is one of the most powerful tools for your business, and while you can't control what other people say and do, you can encourage them through the buying process. Encouraging word of mouth is just another aspect of nurturing your customers, and in the end, the most crucial thing you can do to encourage it is to be outstanding.