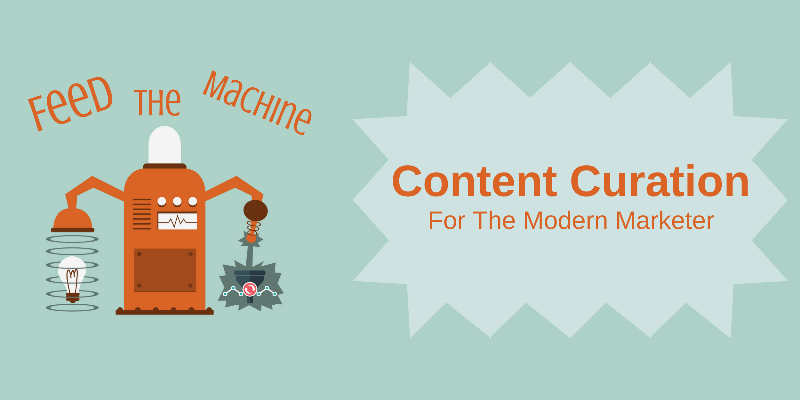 Content is king! Content marketing is the only marketing left! Content isn't just the king, it's the kingdom!
Blah, blah, blah.
You've heard it before. And you're probably still dutifully cranking out content as fast as you can create it. I commend you for your dedication. <fist bump>
But it's not like you have a choice. Content marketing is the de facto godfather of the digital realm. It presides over cyberspace with an iron fist. Disrespect it (by not doing it), and you're swiftly left beaten and bruised by the side of the New Jersey turnpike after being thrown from a moving car.
A little melodramatic? Perhaps (I did grow up watching Scorsese films). But you do take a risk if you're not on Team Content (t-shirts available in the gift shop). It generates leads and traffic, spreads brand awareness, and helps to increase conversions and revenue.
Your competition is doing it. The big guys, little guys, and startups are onboard. 89% of B2B and 86% of B2C marketers are using it. And so should you.
But you're doing it wrong if you're killing yourself creating original content all the time to share with your networks.
You, my friend, need content curation as much – if not more – than content creation.
The Case for Content Curation
It's a win-win scenario: everyone is creating content, which means there's plenty of it out there, which means you don't have to post original stuff 24/7. You can share what someone else did with your followers, fans, and customers.
And the best part? Those creators want you to do that, because it helps grow their reputation and authority. See? Win-win.
Content curation is the discovery, collection, organization, commenting, and sharing of relevant, useful, entertaining, intriguing, controversial, thought-provoking, and/or inspiring content from someone other than yourself.
It's different from content aggregation in that it still requires you – the flesh and blood human being – to pull the strings. And that's a very good thing. No one wants to follow a robot (even a cool one like The Terminator, or Rosie from The Jetsons).
You didn't create it, but you share it with your online followers. Content curation and social media are the perfect power couple. It's the added bonus, the extra value, the free toy with the Happy Meal that is you and your brand. Pretty sweet deal, right?
You need to take it a step further and comment on your curated content, rate it, tag the original creator to establish new relationships, and so on.
It is in no way a lazy or "passing the buck" approach to your marketing efforts.
Aside from being effective, content curation in 2017 is necessary. Facebook, Twitter, Instagram, Snapchat, Pinterest, Tumblr, Google+, email newsletters, blogs, news feeds, websites, Periscope, and on and on and on. If you don't curate from a variety of sources, what chance do you have of meeting the demand for content on all of those channels?
Very little to none. To keep on top of it all, you'd have to quit your job and devote your life to it…which kind of defeats the purpose.
In a world of nearly infinite content, consumers are looking to one-stop shop. ~Mike Kaput
Good content curation should add value, be personal, and prove that you're about more than just selling your audience. Show them that you provide benefit beyond "just" your product or service. Be the "one-stop content shop" they're looking for.
A Simple Formula
So, curation involves finding and sharing content that you believe will benefit your audience.
But there's one more crucial step that many people forget: read. Don't simply share something because it's the right general topic, or written by the latest industry influencer.
Make sure it's worthy and relevant to your audience.
Discover + READ + Share = Quality Content Curation.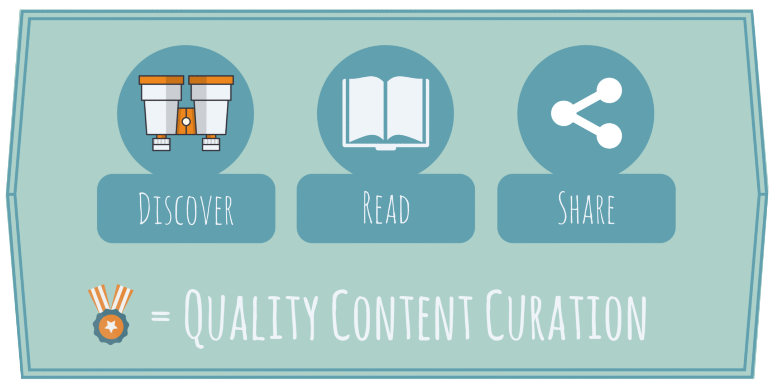 A Few Tools of the Trade
Just as there's an app for everything these days, so too is there a tool for everything else. When it comes to curating content for your loyal followers, you can go about it several different ways.
If you're already in the content game, you've probably at least tried either Buffer or Hootsuite. They make scheduling your content fast and easy.
They were a great choice a few years ago. But today? You can do better. I'm going to give a couple new recommendations, and suggest an even stronger overall solution.
Trapit
Finding enough quality content that resonates with your audience can take a long time. A very long time. Automate that discovery process with a tool like Trapit. When you come across something worthy of passing along to your followers, save it to Trapit.
Once you have a few items placed there, its AI engine will begin scouring the internet for related content and automatically grab and organize it into folders for you. One-stop content shop. You can look through and manually publish items at your convenience.
Pressly is another tool with very similar features.
Curation Suite
Curation Suite is a WordPress plugin. Once installed on your site, you'll have the curation sidebar right on your editor dashboard. You can discover, cite, and publish relevant content with ease. Their new Listening Engine addon can scour the internet for you, creating a list of recent, relevant articles and content about your industry and niche.
Stackla
Stackla does content curation a little differently. It's a user-generated content – or UGC – curator, so it finds reviews, testimonials, recommendations, pictures, and other comments about you, your brand, and your products made by real people in the real world.
Their sophisticated engine allows you to search by keywords, hashtags, even geotargeting, from sources that include Facebook, Instagram, YouTube, Twitter, and Pinterest (15+ in all). It even includes native sentiment analysis and image recognition.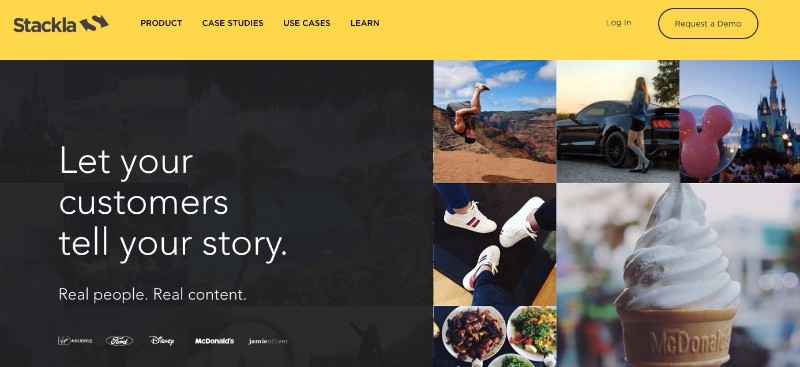 Why does that matter, and why should it be part of your curation strategy?
Because we live in a digital world where that kind of word-of-mouth publicity is more effective than anything you could pay for. Think about it: when you're considering a purchase, what's the first thing you typically do? For most of us, we head online and search for reviews and testimonials to support our decision.
In fact, over 90% of people trust recommendations from people they know, 81% of American consumers are influenced by the social media posts of their friends and family, and buyers rely and trust word-of-mouth content between 2-10x more than paid ads.
UGC = effective, powerful, and authentic.
ContentGems
Locating relevant and timely stuff to share can be tricky. ContentGems makes it easy. It pulls in content from over 200,000 online sources, and you can search through it all from one dashboard using filters, keywords, and social signals. It'll deliver only the content that matches your criteria.
You can even create a custom RSS feed for each set and send it to your Feedly account (more on that in a moment).
Pocket and IFTTT
Pocket has been around since 2007 (a lifetime by internet standards), and it's one of the best tools for saving articles, videos, blog posts, images, and more for later. It collects everything on one platform so you can look through it all with ease. Using tags, you can even organize your items by topic, date, author, or anything else. It boasts an impressive 22 million users, and over two billion items saved.
When you come across something perfect for your audience, you can save it to your Pocket account via the extension (with support for all major browsers), or via any one of the 1500+ app integrations (Twitter, Feedly, Flipboard, and more).
You might also follow @PocketHits on Twitter. This account shares the most saved items by Pocket users, so you know it's fascinating and high quality stuff.
On the Pocket dashboard, you can quickly peruse your saved items and manually share them to your social media accounts and other communication channels.
Or you can eliminate a few steps with a service like IFTTT (If This Then That). With it, you could automatically post items marked as favourite to Facebook or automatically tweet new favorites. There are many more applets to choose from, and you can create your own. Whatever you need.
What's nice about this approach is that it encourages you to collect items and then read them later. You can send items to Pocket as you encounter them through other activities. You then go through them carefully once a week, or twice a week, or whatever from one convenient location.
The strikes against it, though, are that you do have to visit and find items one website or app at a time, which can be slow, tedious, and time-consuming, and there is no ability to schedule posts for a later date.
That's where an RSS reader comes in. Options include Digg Reader, Feedspot, and Inoreader (which also works with IFTTT, but has the same shortcomings as the Pocket-IFTTT combo).
Your top solution? Turn to Feedly.
Feedly and Spokal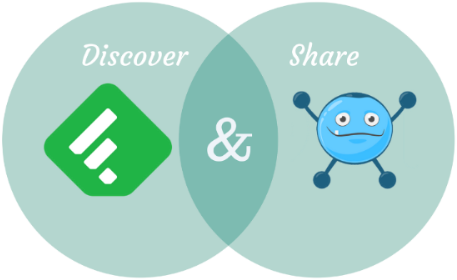 Feedly is the heir to the deceased Google Reader throne. It's an RSS aggregator that collects feeds from a variety of online sources and organizes them into collections on one intuitive dashboard.
You can read, discover, share, search, and organize all from one place instead of hopping from website to website, or app to app. That can instantly cut your curation process to a fraction of the time it takes you now.
Add feeds to your account by clicking the "add content to your feedly" link at the bottom-left. You can chose either Sources (the RSS, name, URL, or topic you'd like to follow), or Keyword Alerts (product, brand, company, or keyword you'd like to track).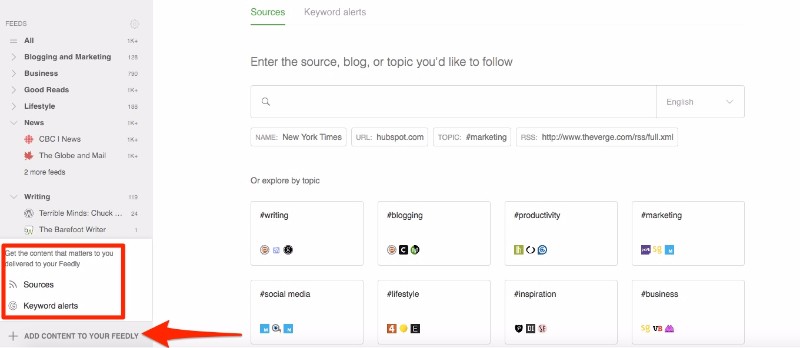 Then the content comes to you.
But…it still needs to be shared. One of the best and most hassle-free ways to harness the strength of Feedly and get those items out to your followers and fans is integrating it with Spokal.
As you may already know, it's a dynamic post editor with in-built SEO, Flickr image search and citation, and many other powerful features.
But it's also an impressive content curator and scheduler. You can connect it to your major social media accounts, and link it to your Feedly profile. Next, create a board called "Spokal" on Feedly, and whenever you encounter something worthy of your readers, simply save it to that board and it'll automatically be ported to your Spokal account.
Once there, you can drag n' drop posts onto your calendar, move them around, change the posting time, and more. It's curation made easy. You get control and access to your social media accounts, your original blog posts, and the curated content coming in from Feedly on one platform.
But it doesn't stop there.
Consider Buffer and Hootsuite. They're both decent scheduling solutions. But they only work if you continue to feed your queue. Stop, and they eventually stop posting on your behalf.
What puts the Feedly-Spokal solution above them is its recurring content feature. You designate a few time slots as "recurring", create a library of evergreen and high quality content, and Spokal will automatically reschedule those posts that really resonate with your audience based on the age and performance of the content.
Younger and more popular posts will get out there more frequently, while older and less appealing ones will eventually disappear altogether. Other re-schedulers can repost, but they don't evaluate. And that's a major drawback.
With Spokal, you still have complete control over the days, times, and frequency of posts, but the system is truly automatic once everything is how you want it…and without the coldness and distance that other "automatic" solutions can create. This one responds to your audience's likes and interests.
As far as content curation goes, you can't get any better than that. Period.
Spokal Social
While we're on the subject, I'd be remiss if I didn't quickly mention Spokal Social, our new social media automation service.
It allows you to subscribe and use Spokal as a powerful and affordable scheduling tool only. With it, you can curate using the Feedly integration (and enjoy the recurring content engine), connect an RSS feed, import previous posts from Twitter, and schedule your own blog posts on the Spokal Calendar.
If you're looking for something that takes your content curation and scheduling to the next level, this is it.
A Few Last Tips
Be mindful of automatically sharing every single post from any single source. For starters, it gives your feed a robotic vibe that no one likes…they quickly recognize that no one is driving the bus (which is unsettling to say the least).
Additionally, no source – no matter how good – will always put out stellar stuff that deserves to be shared with your audience. Everyone stumbles from time to time. Everyone goes off topic sometimes.
A set-it-and-forget-it approach may seem like a slam dunk, but it can ultimately do more harm than good.
A few more snippets of wisdom:
Be choosy. Read the posts that you're considering to put in front of your readers. Take the time to do it right.
Don't just post the original title and link. Add a brief comment, question, or some other personal enticement to draw your readers in and get the click.
Find the best time to post it. Explore the right frequency. Each platform is different, and it's worth the effort to do some research and experiment.
Think about the keywords that drive traffic with your followers, and consider adding a relevant one to a new headline, comment, or hashtag rather than just mindlessly reposting the original information.
It's your business/brand/profile, so include your voice, your tone, and your take on the things you curate and share with your audience. It's easy to click the share button and be done with it. The real curation champs go further and do better.
Find content via Feedly. Follow the curators and creators out there on Twitter and Facebook to see what they deem worthy. Check social media for trending and popular stuff. Look to aggregator sites like Growth Hackers.
In the end, content curation is not a replacement for content creation. It simply complements it. It completes it. It allows you to push out a steady stream of quality posts, infographics, charts, graphs, videos, case studies, and more to your insatiable audience.
They want a genuine connection with a person that actually cares about them beyond just dollars and cents.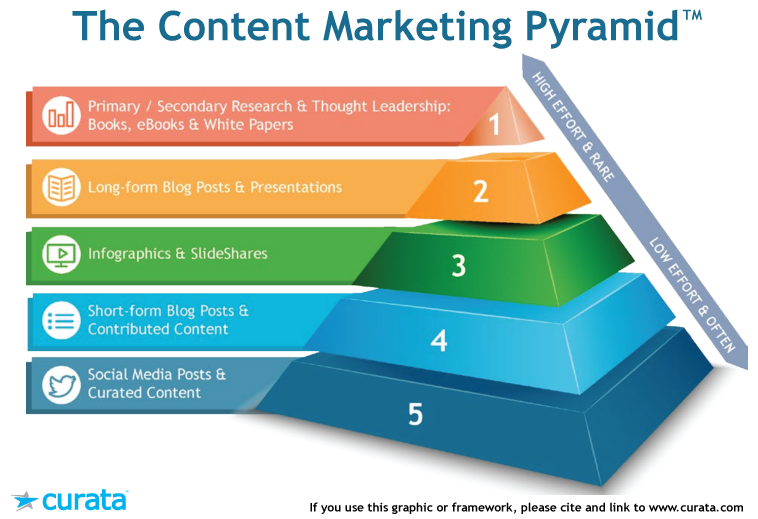 That comes from giving them your finest original content and balancing it out with the best of the rest, too. A good balance of curated to original might be 60:40. Others suggest a 5 from others, 3 from you, and 2 personal status updates ratio (5:3:2). Curata recommends the Content Pyramid seen above (plenty of low effort content – curated, short posts – with much less high effort – original and long-form).
No matter the numbers or mix, remember: quality content at all times. From you. From others.
But all for them.
What's your content curation mix look like these days? What's the process you use for it? Leave your comments below: