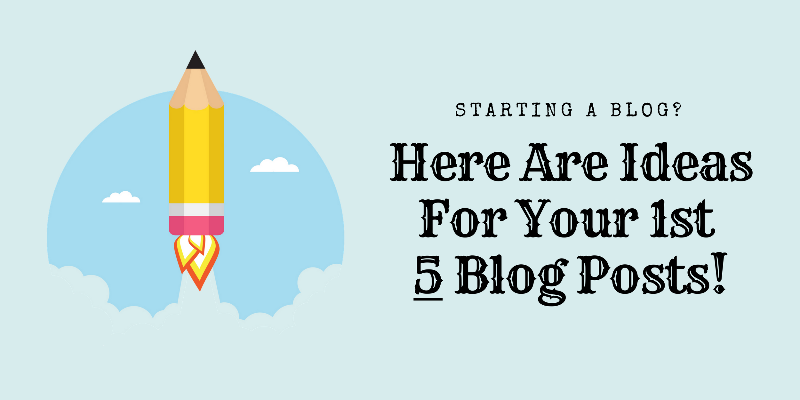 One of the biggest reasons people don't blog is because they don't know what to say.
Sound familiar?
Let's tackle this beast together – here are 5 blog post ideas that you can do when you start blogging for your business. Think of it as a mini "getting started" strategy.
The goal is to get comfortable sharing your thoughts online, hitting the publish button and of course, giving your customers a chance to learn who you are by answering some of their most popular questions.
Blog Post Idea # 1: Who are you?
If we met at a coffee shop and I asked you to tell me about yourself, what would you say?
Now pretend your 1st post is that conversation – share who you are, what you do and why. Don't worry about bragging, just show why you believe you're qualified to do your job.
Do you have a lot of happy customers? Are you known for great service? How much experience and education do you have? Do you speak at industry events or conferences? Had anything published? Won awards? If you've been featured in the press, include that as well.
Add links to your social profiles (that you use professionally), as they give potential customers another place to interact with you. And if you have a photo of you doing your job, include it! Visuals help tell (and sell) your story.
If you're really stuck, make a list of 5 things you like and 5 things you hate.
Blog Post Idea #2: Your approach
Now people know more about you, they'll want to know what makes you different?
Why did you start your business?
The goal of this post is to answer the question, "Why you?" and give someone reasons to choose your service/product over the competition.
Is there something unique about your approach? Do you specialize in an area? What's the mission for your business? What does your brand stand for?
If you're stuck, there's always a story you can tell around working for yourself instead of "the big corporation." Most people I know love to support small businesses, so this angle usually works.
And if you have customer testimonials, include them! External validation builds trust.
Blog Post Idea #3: Common questions
Put together a list of the most common questions you get about your business and answer them, like a mini FAQ section.
You don't need to write an essay. One or two sentences per question is plenty.
And at the end of your post you can say, "Have a question you don't see here? Post it below or give me a shout!" This will encourage potential customers to chat with you, so you can start building the relationship.
Blog Post Idea #4: Create a "how to" list
"How to" lists get shared a lot because they're practical – people can act on the advice so it's more valuable.
Think about what you do and find something you can teach in a few simple steps.
For example, if you're a nutritionist, you can write about "How To Make 10 Healthy Meals In Less Than 20 Minutes." If you're a masseuse, you can write about "6 Easy Ways To Relax At Work." If you're a real estate agent, you can write about "How To Choose A Fixer Upper – And What Mistakes To Avoid."
It doesn't need to be directly related to what you do. Put yourself in your customers' shoes, think about what they're interested in learning.
This is also a great post to focus on one of your keywords.
Keywords are the words people type into Google when they're looking for something. Some of the blogs you write will be focused around keywords, so you have a higher chance of ranking in Google when someone is looking for that topic.
If you want to brush up on keywords, check out these posts on Keyword Research For Your Small Business, 5 Places You MUST Use Keywords and Will Keywords Hurt My Business?
Blog Post Idea # 5: Your top 5 favorite blogs
Share 5 of your favourite blogs that you like to read in your space. Include a quick summary on each, plus a link to one of your favourite articles.
You may be thinking, "Why would I send people to another blog when I'm trying to grow my readership?"
Good question.
It will help establish your authority because you're providing valuable resources, plus it shows you're part of the community and up to date with current trends – that will help you build trust online, which will help you close customers.
And if you don't read blogs, what do you do to stay current that your customers might be interested in? Podcasts? Newspapers? Books?
Conclusion
If you're still thinking you don't have anything to say, get over it.
Many people never find the courage to do start their own business.
You did.
If you can be brave and willing to make mistakes, and share those mistakes, I believe you'll be able to write a successful blog for your business.
So, what do you think? Where do you find your inspiration and ideas to blog about?
BONUS: More Blog Post Ideas
Here are some more resources to help you generate blog post ideas: