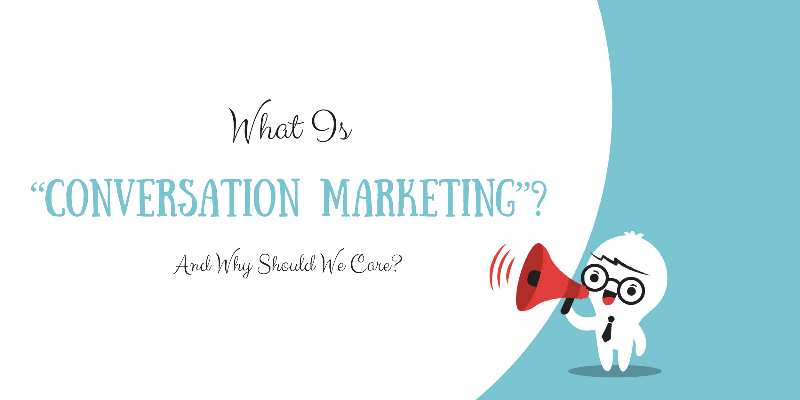 Hey, you! We need to talk about something really important.
I just think – and I don't mean this in a disrespectable way – but I think we need to learn how to communicate more effectively. It feels like you don't really listen to me when I'm trying to say something. I tell you about my money problems, and you keep talking about buying that new car that I can't afford. I tell you about that I'm getting married, and you keep sending me links to dating sites!
It's really annoying.
It seems like all you want to do is talk, talk, talk. You just want to shove your point down my throat and hope that I'll be persuaded to behave how you want me to in the end.
Well, it's not working out for me. I need to feel like we're having a conversation. Like we're both listening to the other's side of the story.
Do you follow?
Of course you do.
We've all had this conversation in some shape or form with a friend, loved one, partner, family member, co-worker etc. at least once in our lifetimes. It's a tale as old as time, a grievance that's plagued us since the dawn of humanity, a loose thread that just doesn't seem to want to be tied up…
It's our inability to get this communication thing really working for us.
As marketers, we'd like to think that we're communicating with our customers, but are we really? And if we are, why haven't we embraced Conversation Marketing?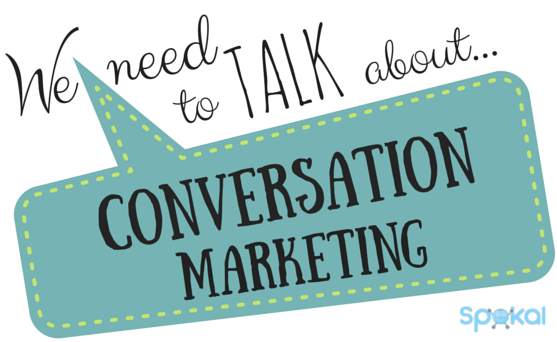 What's "Conversation Marketing"?
Good question. I came across the term "conversation marketing" on Contently's post 10 Content Marketing Buzzwords You're Going to Hear Way Too Much This Year. Shocked that I hadn't heard of the term (or at least hadn't taken it seriously when I did), I decided I'd do some investigating. (Hey, a girl's gotta be prepared!)
Contently seemed to define Conversation Marketing to the very limited idea of "Chat Apps" that promote users engaging with brands, so I had to go further afield to figure out what this supposed up-and-coming buzzword was all about.
However, when I delved deeper, what I found was a world of marketers that were intent on creating businesses that were more customer-centric than ever before.
And that's my kind of marketing.
The Origins of "Conversation Marketing"
The idea of Conversation Marketing isn't new. In fact, it first made its appearance in 2007 with Joseph Jaffe's Join the Conversation. Jaffe's intention was to teach marketers and businesses how to reengage their media-drenched customers in their business through community, partnership and dialogue.
And what was true in 2007, is a thousand times truer today.
Today, consumers are even more drenched in Inbound Marketing initiatives than ever before, and they're tired and bored. They want more. And big businesses (with the budgets to match) are fast to pick up on the cue and deliver some outstanding content that quickly and seamlessly goes viral.
It's frustrating.
It's not fair.
It's life.
But there is still a way to compete.
And that's through a shifting of focus to Conversation Marketing.
The concept is even older than the term. It's what your beloved shopkeepers used to do, what your local florist does every morning, it's why that small local bakery is still alive: It's about having conversations with your customers. Listening to their struggles, their stories, their lives, their woes and their highs. It's about making connections with your community and then using that information to better inform your marketing initiatives.
It's a whole new world! Well… actually, it's an old one.
Conversation Marketing as a Subset of Content Marketing
For years, Content Marketing has been growing and growing beyond the point of recognition. At this point, it's developed into an umbrella term – just a step below "Inbound Marketing".
According to the Content Marketing Institute:
Content marketing is the marketing and business process for creating and distributing relevant and valuable content to attract, acquire, and engage a clearly defined and understood target audience – with the objective of driving profitable customer action.
And while this mightn't have seemed broad 10 years ago, it does today. Now we look at the questions it leaves wide open: What kind of content? How do we know what our customers want to read? How do we define our target audience? How do we make this engagement profitable? Where should I distribute the content? How often? Etc.
It's a little exhausting.
And in the end, the questions we're really asking is: How do I get inside my customer's heads?
And that's exactly why we need Conversation Marketing.
Ian Lurie, author of Conversation Marketing: Common Sense Internet Strategies points out that Conversation Marketing works as a counter-balance for Accumulation Marketing which targets large numbers in the hopes that some stay and are interested in making a purchase. Instead, Conversation Marketing is more direct and conservative. It doesn't scream HERE I AM, SHINY THINGS FOR SALE, I'M SAYING INTERESTING THINGS and instead says, "Hi Jon and Mary. I'm at abc location, and I sell xyz for $123". Then, when customers come in, the Conversation Marketer asks them questions about who they are, how they found the business, what they like/dislike about it etc. and makes adjustments accordingly.
Conversation Marketing ensures that you know your audience, target them with an appropriate message, and then observe their response and adjust that message accordingly. It can do this because of the two-way nature of the internet.
Lurie elaborates on the idea of Conversation Marketing by highlighting 6 key features:
Know the Room: Audience
Dress Appropriately: Design
Sound Smart: Content and contingency
Make a Connection: Email, RSS and more
Brag Modestly: SEO, PR and advertising
Observe and Adjust: Analytics
What Lurie essentially does is take all the things that make Inbound Marketing effective, and demonstrates how the exact same methods can be used and tweaked so that you're encouraging conversations with your customers.
So let's just talk.
Conversation Marketing in Practice
Because Conversation Marketing has been happening as a small sect of content marketing, you'll already recognize (if not actively practice) a fair few of these strategies already:
Email marketing (opt-in only): Provide updates, promote your business and communicate any news or events.
Surveys: Simple, direct – ask for your customers feedback. This is a great way to make decisions if you're unsure as how best to approach a situation.
UGC: Testimonials & reviews are powerful things. In fact, most millennials trust UGC 50% more than any other media. But don't just stop there: Encourage your customers to create content too with competitions etc.
Feedback: Ask for, capture, and then act on your customer's input. This can be through a follow-up email, a survey, organic one-to-one conversations on social media etc.
Customer loyalty: Implement loyalty and/or reward programs that demonstrate your appreciation for return custom.
Relationship building: Talk and listen to customers and others in your industry.
Be accessible: Make it easy for customers to reach out for you. In-app chats, live customer service, social media support, emails etc. that are clearly displayed are all great examples.
Customer satisfaction: Ensure that you're customers understand that you're putting their experiences as first and foremost in importance by implementing a customer satisfaction policy. This means that you can easily remedy any problems and issues, while also retaining customers.
Help lines: Provide support, service, advice, and information.
There are, of course, many ways that you can incorporate conversation into your marketing – and a lot of them will be much more organic than these initiatives. Do what you've always known you should do – reach out to your audience and start a conversation.
For example, after a webinar I hosted recently, some of the attendees added me / Spokal on Twitter. Because I wanted them to know that I was a person, and that I genuinely wanted to make sure that they knew they could ask me any questions, I tweeted out to them like so:

The tweet is simple and straightforward. Everyone got an email from me anyways but this extra outreach is a great way for me to access feedback in a more casual, conversational way.
Conclusion
Conversation shouldn't be just a footnote of Content Marketing. It deserves its very own space alongside video marketing, email marketing, social media marketing etc.
Big shots like Amazon.com, Google, and Flickr have all got Conversation Marketing down to an art form. They design their sites with their audience in mind, market with the user's experience as the focus, make feedback and conversations easy for their customers to have, engage with these conversations and then finally, adjust according to their audience's needs and wants.
But what they've done isn't rocket science. What they've done is adapt marketing strategies so that they can give the best service to their customers as they possibly can.
Conversation Marketing isn't a breakthrough concept – it's a refocusing of our Content Marketing ideals so that we can ensure that we're doing the best for our audience.
In content marketing distress?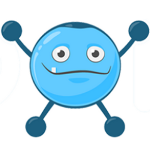 We're here to help! We've an A-Z dictionary of online marketing terms, and some templates & guides to get you off to a blogging good time!