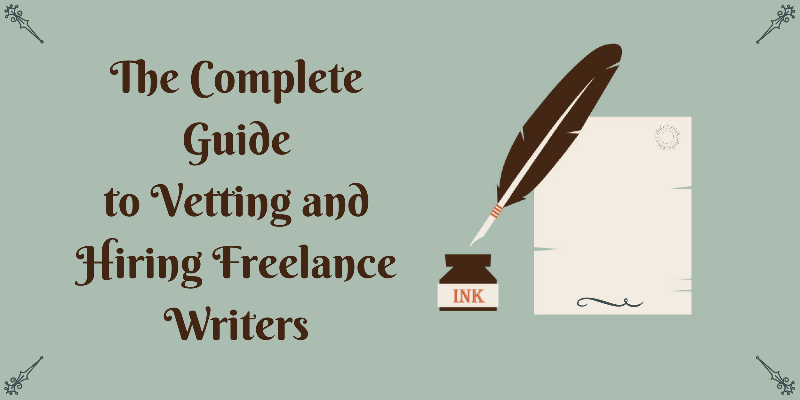 2017 means a fresh start and new budget. While many businesses are excited at the prospect of new resources, they might not know where to employ them to their maximum effect. However, it's easy to stretch your budget when you work with freelance creatives, especially when the alternative is working with an agency or hiring additional staff.
Freelance creatives remain a mystery to many marketers. They want to tap into this talent pool of mystical elves that magically get work done with minimal supervision, but they're not sure how to hire them.
Some can't find the talent they need for their specific industry, while others have found freelance gremlins that produce subpar work and then demand higher pay.
As the gig economy continues to grow, more freelance creatives are offering their services, further clouding the market and confusing companies who are looking to hire them.
To make it easier for brands who need a few extra hands to hit their marketing goals, check out this guide on attracting top freelance talent, extending a job offer, and making sure they're onboarded to produce amazing work for years to come.
Why You Should Hire Freelance Creatives
In 2016, almost 90 percent of businesses employed some form of content marketing strategy, and more than 75 percent said they plan to produce more content this year than last. That said, 60 percent struggle to produce engaging content on a consistent basis. In short, marketers want more content, they're just not sure how to get it. This is where your freelance creatives come in.
Contractors Facilitate Scaling
Most in-house marketing teams produce their own content until something snaps inside. Eventually your writers and editors will hit a wall (especially if they're the same person) and limit the amount of content they can produce each week. However, you might not be able to scale enough to hire an additional full-time person. Contractors are significantly more affordable than hiring a new person (even if they're part time) because they're paid on a per-project basis, which means you can scale out production without a significant increase in cost.
Contracting Instead of Hiring Allows for Greater Flexibility
Many in-house marketers are worried about handing the keys over to an outsider and letting someone else represent their brand. However, it's their job to match your tone and style, and you have the final say in anything that's published. Furthermore, hiring a contractor allows you to be flexible with your content strategy.
Think about the ebbs and flows of your business. If something happens to your marketing budget, you either have to find work for your content employee or lay them off. With contractors, you simply let them know that you're scaling back and less work is needed. This also means that your department will stay on budget if there are ever cuts.
External Talent Brings in a Fresh Perspective
Your contractors will view your brand with fresh eyes and see things that you might have missed on your website. Furthermore, they're bringing their own experience and knowledge of your industry to the table. This increases the number of ideas that are passed around and makes your blog a valuable resource to your audience.
Many marketing departments end up building long-lasting relationships with their contractors, some of which are as loyal as employees. The key is finding the best fit for your business, and giving them the tools to succeed.
What Your Job Listing Should Include to Recruit Top Talent
Not all marketers have had success finding the right talent for their company. While there are certainly bad apples out there (as there are in any industry) the problem might be the way they're advertising themselves and who they're appealing to. From a freelance writer's perspective, here is how to find top talent and what they look for from an employer.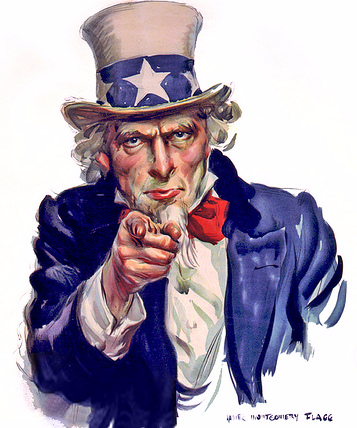 Find the Best Freelancing Websites
Gareth Simpson created a useful list of websites for freelancers to check to find top jobs, from designers and developers to SEO specialists and copywriters. Before you create an ad, we recommend visiting a few of these websites to find the right niche audience that meets your needs. After all, you might be posting on Indeed or Craigslist when your ideal contractors are looking at ProBlogger.
While you're looking at these sites, click on a few job postings to learn what's out there. You will find everything from two-sentence asks to page-long descriptions, both of which will help you craft your own advertisement.
Be Clear About the Logistics Involved
Many freelance writers have found a potential job client but turned it down because the work wasn't in line with their expectations. This is frustrating for contractors who took the time to apply to the position, and discourages marketers from pursuing freelance creatives in the future. To save everyone's time, make sure your ad includes these four factors:
Project scope (i.e. word count, infographic size, website needs)
Compensation (This can be a range decided by experience)
Experience Level (especially for niche industries)
Length of Project (Is it a one-time design? A weekly article? A monthly infographic)
Clearvoice created an amazing infographic that highlights the industry standard for freelance pay (at least in 2016) which can guide your expectations for pay rates and experience. It's not uncommon on a few of these websites to find outlandish advertisements that won't generate interest.
For example:
Freelance writers wanted for newly-launched medical website! Must have at least five years of experience in the medical field or microbiology and be able to write weekly in-depth articles at 1,500 words minimum. Payment is $50-$75 per article depending on experience.
While this article has all four logistics factors, the marketer is barely offering $.03/word for content that requires significant knowledge and research.
Pro Tip: if you're able to find qualified talent but can't get them to accept the job, they're probably balking at what you're trying to pay them.
Vet Writers Before They Even Apply
While some marketers struggle to find contractors that accept their pay rates, others end up with a large pool of unqualified talent. Again, this can be fixed — or at least reduced — in your advertising copy. Like any job offer, make sure you explain what experience level you require and ask them to talk about it in their applications. Considering many of these websites facilitate communication through email or specialized forms, they shouldn't have a problem speaking about their history.
We're looking for writers who have X years of experience in Y industry. We expect well-researched, expert level articles and will not tolerate plagiarism.
Please tell us about your experience working with and writing about X, Y, and Z topics.
Please send 2-3 writing samples relevant to our company.
Look at the example below of a failed job listing:
Freelance writers wanted for high-level marketing blog! Compensation based on experience, please send 2-3 writing samples.
The vagueness opens the door to anyone with marketing experience, including interns who have only been in the field a few months. Furthermore, it will probably scare off qualified applicants who are unsure about replying to such a vague post.
Will adding this stop all unqualified writers from applying? No. But it should limit some and allow you to better vet candidates who do apply.
Get Creative With High-Traffic Websites
Some creative job boards can drive hundreds of emails into your inbox with prospective applicants. It's overwhelming and time consuming to vet all of them, so there's a secret Pro Tip that marketers can use to limit the pool.
Within the body of your advertisement, tell applicants to use a specific word or phrase in the subject line that has nothing to do with your company, like Star Wars or chupacabra. This eliminates candidates that are copying the same pitch into every job board that's posted, along with contractors that didn't actually read your advertisement.
After all, if your freelance writers aren't even going to read the job listing, how can you expect them to read instructions or feedback on their work? This method significantly cuts down on applicants while highlights the best options.
How to Test Your Freelance Prospects
Once your job listing is posted, you should have a flood of emails from freelance writers excited to work for you. The next step is vetting the talent and deciding who to reach out to.
Note: this process heavily depends on the quality of work expected and experience level. It's not uncommon for high-level industry websites that are read by Fortune 500 CEOs to have a Skype interview to talk to potential creatives outside of email. However, if you're looking for low-level product descriptions and entry-level copy, some candidates might balk at a heavily-involved process. You might just choose a handful of prospects for test pieces and decide from there.
Start With a Few Follow-Up Questions
Draft 3-4 questions for your applicants that they might not have answered in the job listing. These can be based on their experience or relative to the industry to test their knowledge. This will further eliminate candidates who aren't as experienced as they say and aren't able to respond in a timely manner (1-3 days). Examples include:
What are some of your favorite features in X software/programming language/industry tool?
What are your thoughts on X industry trends and news?
Have you worked on X before and what did you think about it?
These questions also highlight a candidate's personality and their thought process when approaching clients. Think of it as a quick interview to peek behind the resume and writing samples.
Want Help With Your Content Marketing?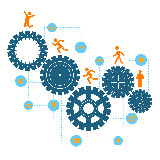 The 3 Pillars Guide Will Get You Focused on The Right Things - At The Right Time. Enter your email address to get it now
What Creatives Expect in a Test Piece
Once you have your top list of potential creatives, it's time assign test pieces. You can either choose 2-3 creatives to work with or up to 10 depending on the size of the project and your budget.
Pro Tip: creatives expect to be paid for test pieces — after all, they're setting aside time they could be making money for other clients. However, they will accept a lower rate before they prove themselves. (I.e. if you're offering $100 per content piece per week, they will probably complete a test piece for $75 to prove their worth.)
The content itself is only one part of the evaluation process. This piece is more for you to test drive what it's going to be like working for them and what you can expect from their experience. To differentiate the two, here are two lists. One for actual content evaluation, and one for creative evaluation.
Evaluating Creatives Based on Their Work
Was the content free of errors, typos, and formatting issues?
Did the content meet your expertise level required for your brand?
Did the content include all necessary elements that you required? (links, images, headlines)
How well did the writer observe your website's content style and brand in order to match — or at least mimic — it?
Evaluating Creatives Based on Their Work-Style
Did the freelance writers ask follow-up questions about the assignment or your brand?
Did the freelance writers submit the content in a timely manner and in the correct format?
When you gave feedback, did the writer accept it and make changes immediately? Were the changes up to your standard or were they rushed?
When asked to take extra steps or add sections, did the writer balk at the work?
Additionally, you might want to send skills tests — either of your own creation or online versions — to test their proofreading or design skills. Freelancer has a wide selection of tests to choose from.
You wouldn't hire an employee that submitted sub-par work and then refused to make changes, so why should you allow that in a freelance creative?
Making an Offer to Your Creatives
Once you have selected your freelance writers or creatives that you want to work with, let the other candidates know that you appreciate their interest, but the position has been filled. If the contest was close, suggest they add you on LinkedIn in case there's opportunity in the future.
As for your chosen candidates, extend a writing offer to them with the same level of detail and professionalism you would use with a full-time employee. This proves that your decision to hire contractors was thorough and you're serious about building a relationship with your newly-acquired talent. Remember, if you're not sure what you want from them, then they're not going to be sure how seriously to take you. The offer should include the following:
Expected content length, size, or scope depending on the creative type.
Pay rate per content piece or project.
Frequency of work, hours required, and additional tasks necessary.
Deadlines and submission information.
Below is an example of a contractor offer that covers all of these clearly:
We would like to hire you for one expert-level blog article per week, at $XX per article. The expected length is 1,000 words at a minimum (but you're welcome to write more). Please submit the article before the Friday that it's due. Additionally, we would like you to submit 6-7 ideas at the start of the month for topics to write about.
From reading this offer, the freelancer can schedule their client's work every week before Friday, as well as an additional hour at the start of the month for brainstorming. This makes the client a priority over others who only contract them occasionally.
By creating this base of expected work, you're ensuring a set number of hours per month that they will pay attention to you, and it's okay if your work fluctuates. Contractors expect their workloads to increase and decrease each week. However, always ask them if they can take more work before assigning it, and try to provide as much notice as possible if you need to cut back on their services.
Onboarding Your New Freelance Writers
Even if you hire the best creatives out there, they're still new to your brand and your goals. Once they have accepted your offer of work, ask them to set aside an hour or two for onboarding — either through a personal Skype call or through a welcome packet.
Pro Tip: Some people prefer to include onboarding as part of the test piece and vetting process. This is doable, but can be time consuming for all parties. Instead, create a mini-onboarding doc with a few writing samples and brand guidelines to work off of, and then go through the full process with your final freelancer of choice.
Share Your Content Goals and Plans
It's in your freelancer's best interest for your content marketing strategy to succeed, so start the onboarding process with your short and long-term goals with your content.
What is the purpose of the content they're creating? (ex. SEO, traffic, engagement, lead generation)
How has your blog or website performed in the past, and how will working with a contractor change it?
How do they see the blog growing in the next year or two?
What audiences do they target now, and what audiences do they hope to target?
Where is the business going in the next year?
For example, a blog that typically created low-level short form content for social shares would hire a freelancer to create long-form content that generates leads and helps SEO. This comes as the company is rebranding and trying to attract high-end clients for additional services.
Provide a Style Guide That Includes Tone and Branding
Many companies have in-house blogs that are run by teams who live the brand 40+ hours per week. They might know the brand, but their freelancers don't. Unspoken rules about tone and word choice need to be spoken — and preferably written — to reduce the work of both parties.
Your style guide is a living document that will continue to grow as industry jargon and branding issues pop up. In the fashion industry, writers are expected to say "on-trend" instead of trending, while experts in the tech industry are still debating whether or not Big Data should be capitalized. These little rules are rarely written down until someone submits content that breaks them.
Along with your mini AP Style rules, your style guide should also cover the tone and branding of your company. When possible, provide examples that your freelance writers can read and test themselves. This way they can see the rules in action and apply them.
Review Any Company-Specific Technology and Software
The benefit of holding the onboarding process on a Skype call or screen share is that it allows in-house teams to conduct tutorials and reviews of company software. From Grammarly and Buzzsumo tools to submission platforms and guidelines for approval.
For example, Spokal has a Contributors feature that allows creatives to upload their work (saving the time on in-house marketers who would otherwise format it themselves) and submit it for approval. This way 95% of the work is done by the freelancer, while the in-house team simply edits and approves. While this software is easy to use, some freelance writers prefer to watch video tutorials and ask questions about it the first time they encounter the technology.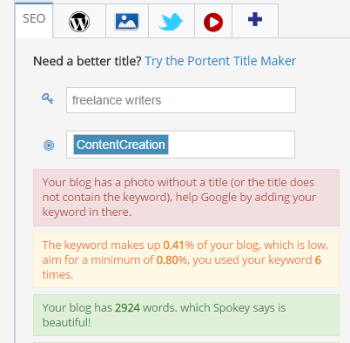 Provide Project-Based, 30-Day, and 90-Day Feedback
Even the best onboarding process is going to leave gaps for errors. Even the best freelance writers won't completely conform to your brand overnight, and will need some coaching to improve. To cover this, make sure you provide specific feedback and ask for edits on each project — especially the first few times they work for you. Not only does this teach your contractors about your brand, it also shows them what you notice and look for as an editor/manager.
If you're hiring a contractor for weekly work, schedule a 30-day check-in, or a 90-day check-in if they're working for you monthly. Again, this process follows the same steps as traditional employees. You can either conduct this as an email or quick Skype call, but the goal is review their performance and offer feedback for continued growth.
This review should also be a two-way street. Ask them what they thought of the onboarding process and if they have any suggestions or ideas for improving communication. What do they need from you to perform better? Remember, if they're not performing as expected, it may be because you're not giving them the tools and information they need.
Building a Foundation to Last for Years
The vetting, testing, and onboarding process is long and laborious for all parties — and your freelance writers might not even fully understand your brand goals and needs until six months after they start working for you. However, by following these steps you're ensuring that you're getting the best talent out there, paying them a fair wage to keep them around, and setting the foundation for years of quality content creation.
Keep your good employees close, but keep your top-performing freelance writers closer.