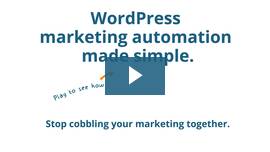 You create content – blog posts, videos, white papers or podcasts talking about your industry, your thoughts, your beliefs.
We optimize that content so you get found in search engines, and on social media
You don't have to learn the technical details
of SEO or cobble together a dozen different products and plugins and figure out how to get to get them all working together.
We tie everything together and provide a framework that just works.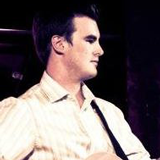 It's like having a SEO expert, a blogging expert, and a content marketing expert all on staff for a low monthly fee.

Collin Stewart, CEO, Carb.io
Get Your Message Out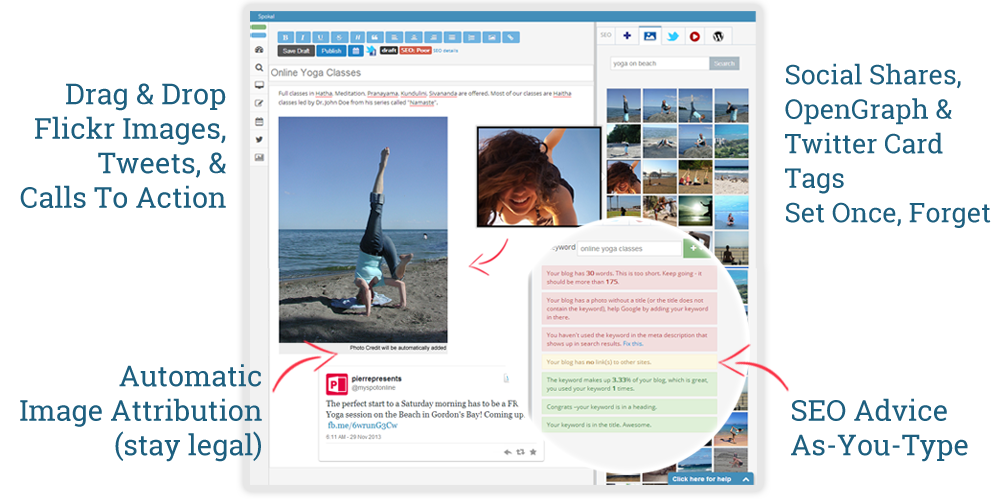 Getting your message out has never been easier. Drag and drop tools to make it fun, faster, and looking professional.
No worrying about SEO – our SEO grader will tell you what you're doing right and suggest improvements as you type. It'll also work in the background to optimize a bunch of the technical details.
Search Flickr for beautiful images you can use in your blog posts from within the editor. Drag and drop them into your post to create compelling-looking blog posts that people want to read. We'll even automatically add the attribution for you so you stay legal.

Spokal – actually making Marketing Automation fun.

Rik Williams, Sales Manager at e-DBA.com
Easy A/B Blog Title Testing
8 out of 10 people will skip your content entirely because of your title.
Just becoming good at writing compelling titles can make a huge difference in driving traffic from social media and search engines. Getting good at writing titles will increase your website traffic, and in turn, how many people become aware of your business, join your list, and become customers. Titles are really important!
We make it easy to try 2 different titles (A/B testing) with each blog post on your blog AND on your social stream. So you can see what's working best with YOUR audience.
And when a clear winner becomes obvious – we'll automatically swap your title to the winning variant. How's that for sweet?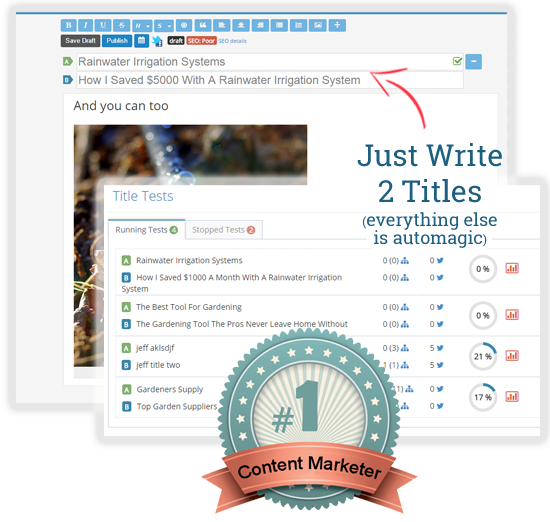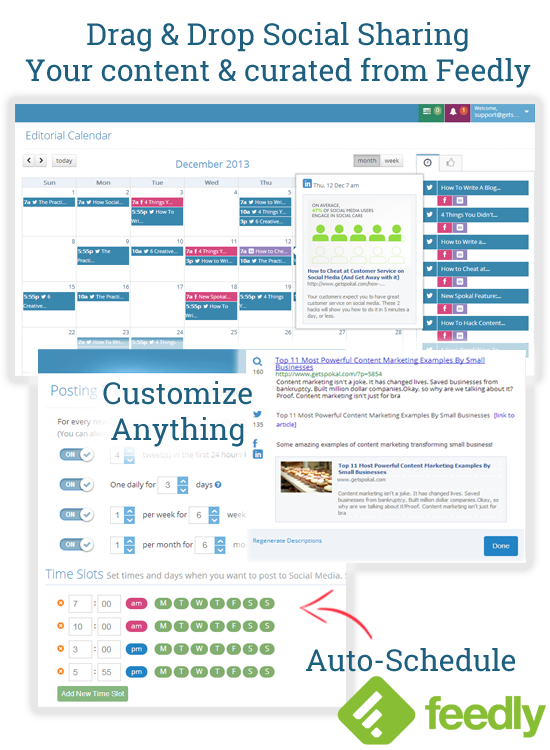 Automatic Social Sharing
Social Media is no longer optional. It's critical to driving more traffic, creating more business, and responding to queries. It gives small business a platform to be heard.
Spokal automatically shares your content on a custom schedule (that you set up).
A drag & drop editorial calendar lets you modify anything you want to;
Feedly integration lets you curate other people's content on the same calendar and become an expert in your space.

The ability to visually see blog posts in draft and scheduled to publish over the coming weeks and months was a key benefit. Tracking this in spreadsheets is too hard. we can even post blogs as topic idea, pre draft, draft and final and schedule in advance so we can visualise the messages we want to communicate. Creation Of tweets and Linkedin posts is done for you automatically. Simply drag the blog post to the time slot, day, week or month. This is a lot quicker than Hootsuite.

Rik Williams, e-DBA
Research & Intelligence
Get post-level analytics for SEO and Social all in one place so you can quickly see which blog posts are working best, so you can do more of what's working, less of what's not.
You can see which posts are getting the most traffic from search, which are getting the most social shares, the most clicks from social, comments, which are being linked to the most from other sites – a 360 degree view of how each of your posts are performing.
You'll also get an easy keyword research tool that integrates with your content, automatic rank tracking so you can see where you're ranking in Google, and backlink monitoring too.
Works in multiple languages and countries.

60 days using spokal and I went from 0 keywords in the top 100 to 9 in the top 10 and 40 in the top 100.  Im an evangelist for sure!

Paul Johnson, Urbanvue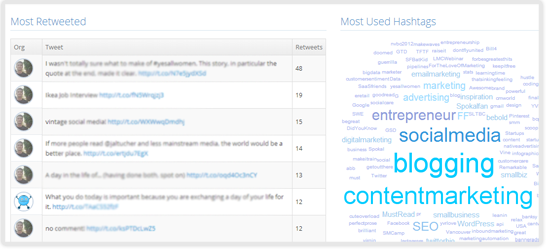 Convince + Convert
See who's unhappy with your competitors with negative sentiment analysis of tweets that @mention them. Reach out to your competitor's unhappy prospects and clients.
Get insights into what content is performing best for competitors and companies with complimentary services. See what hashtags are the most popular, and what content is getting retweeted the most.
Dynamic Email Segmentation
The natural evolution of email marketing. Now you can target your prospects based on their behaviour on your website.
Spokal knows what each visitor is most interested based on their browsing profile – so you can send them the most trageted emails possible. And when their interests change – your emails to them can change to reflect that.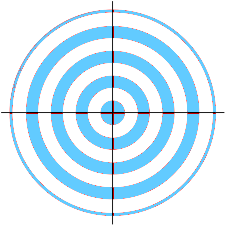 Spokal helped me grow faster than I'd done in 3 months, in 14 days. Spokal was the best thing that could have happened, I [am] getting more recognition than ever.

Fletcher Stott, Hybrid Strength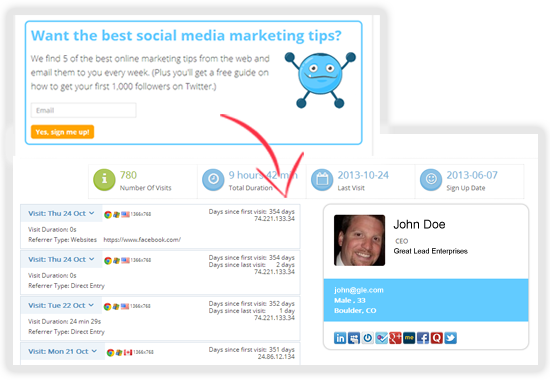 Turn Visitors Into Clients
We'll show you who's signing up, what pages they've visited, what emails they've opened and clicked on. We'll pull more data back for many of them – from social media profiles, to demographics, occupation and employer. We'll score them based on their activity with your content so you can target people who are more engaged differently from people who are less engaged.
Capture leads from your site by using Spokal's widget, Scrollbox, Smartbar, exit intent popup or our drag and drop in-content CTA. Or with Gravity Forms, ContactForm7, NinjaForms or Jetpack (and quite a few other plugins too)
Nurture leads through regular emails via Mailchimp, or get advanced and send different types of emails to different types of people based on how they interact with your content.
Export contacts to your CRM via Zapier