Spokal is a Top Of The Funnel (TOFU) focused inbound marketing automation platform for WordPress.
It automates grunt work, accelerates results, reduces time to execute inbound campaigns, and helps highlight the creative aspects of your work that are working best so you become a better marketer, increase sales, and grow your company.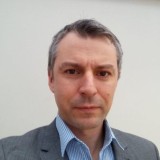 The minute I discovered Spokal I knew it was something special and has become an integral part of my business. I'm currently in the process of rolling it out across all clients. I run a small business and Spokal has significantly streamlined my operation making time savings and freeing me up to concentrate on business development.

Matt Wilson, Chily Digital
Create content faster than ever.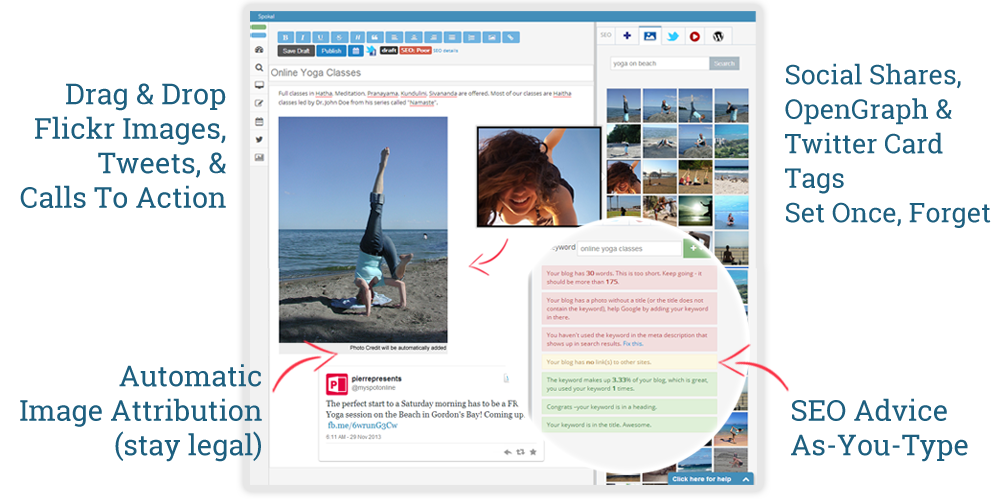 Advanced image editing options.
Automatic internal keyword linking for an easy SEO boost.
Styles are enforced, so you get a consistent, professional-looking blog without needing a style guide, even with multiple authors.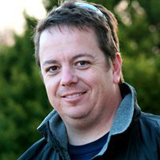 We can definitively say that we've cut our content creation / curation time down by about 40% while INCREASING the volume of quality relevant content that our audience expects.

Chris Purser, Lead Crafters
Easy A/B Blog Title Testing
8 out of 10 people will skip your content entirely because of your title.
Just becoming good at writing compelling titles can turn you into a content marketing superstar. A/B testing every blog post title will see your results skyrocket, and will hone your skills – almost on autopilot.
We'll automatically test both of your titles on your blog AND on your social stream. So you can see what's working best with YOUR audience.
And when a clear winner becomes obvious – we'll automatically swap your title to the winning variant. How's that for sweet?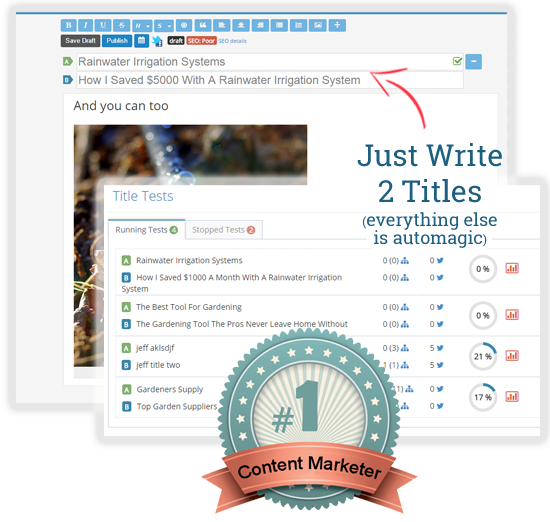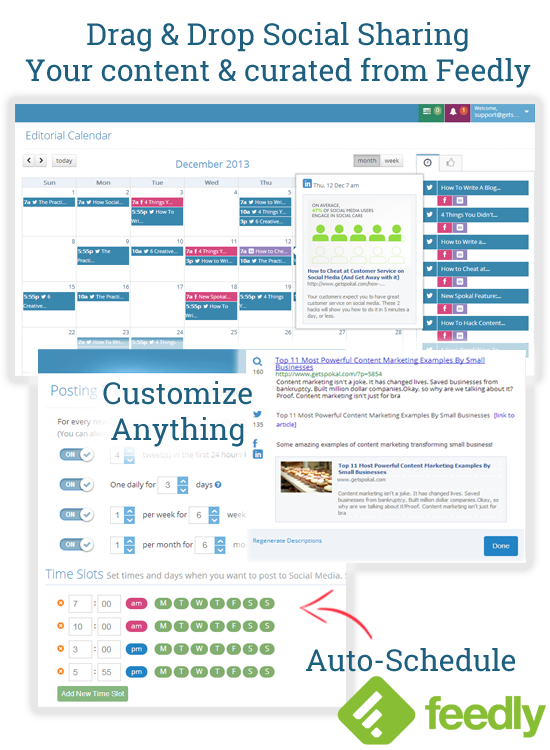 Automatic Social Sharing
Social Media is no longer optional. It's critical to driving more traffic, creating more business, and responding to queries. It gives small business a platform to be heard.
Spokal automatically shares your content on a custom schedule (that you set up).
A drag & drop editorial calendar lets you modify anything you want to;
Feedly integration lets you curate other people's content on the same calendar and become an expert in your space.

The ability to visually see blog posts in draft and scheduled to publish over the coming weeks and months was a key benefit. Tracking this in spreadsheets is too hard. we can even post blogs as topic idea, pre draft, draft and final and schedule in advance so we can visualise the messages we want to communicate. Creation Of tweets and Linkedin posts is done for you automatically. Simply drag the blog post to the time slot, day, week or month. This is a lot quicker than Hootsuite.

Rik Williams, e-DBA
Research & Intelligence
Get post-level analytics for SEO and Social all in one place so you can quickly see which blog posts are working best, so you can do more of what's working, less of what's not.
Get streamlined Keyword Research & automatic Keyword recommendations.
Rank Tracking and Backlink monitoring included too.
Works in multiple languages and countries.

60 days using spokal and I went from 0 keywords in the top 100 to 9 in the top 10 and 40 in the top 100.  Im an evangelist for sure!

Paul Johnson, Urbanvue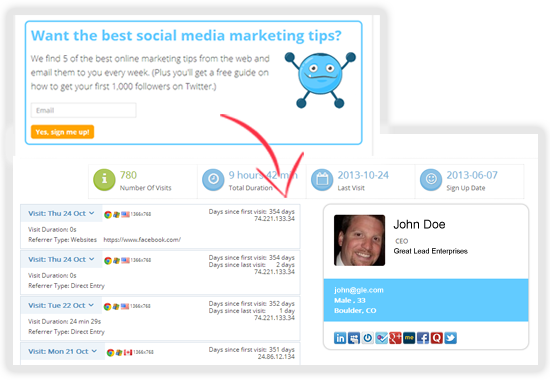 See who's who (Lead Scoring)
See who's visiting your site and reading your emails. See what emails they're opening, and what pages on your site they are visiting. Get lead intelligence data on them from FullContact that includes social profiles and demographics.
Reach out to those who are interacting with your content the most and keep the rest 'nurtured' with automated emails, or entice with special offers.
Capture leads using Spokal's Scrollbox, Smartbar, widget, exit intent popup and in-content CTA. Or with Gravity Forms, ContactForm7, NinjaForms, and Jetpack. Also works with most 3rd party plugins.
Export contacts to your CRM via Zapier
Email Marketing Automation
Nurture leads with either Mailchimp or ActiveCampaign with our native integrations
Use advanced conditional flows with ActiveCampaign, or keep things simpler with Mailchimp.
Treat people who are highly engaged differently from those who are just browsing.
Segment based on lead score, interaction with a particular page, email opens, clicks, or just about anything else you can think of.
Works with existing lists.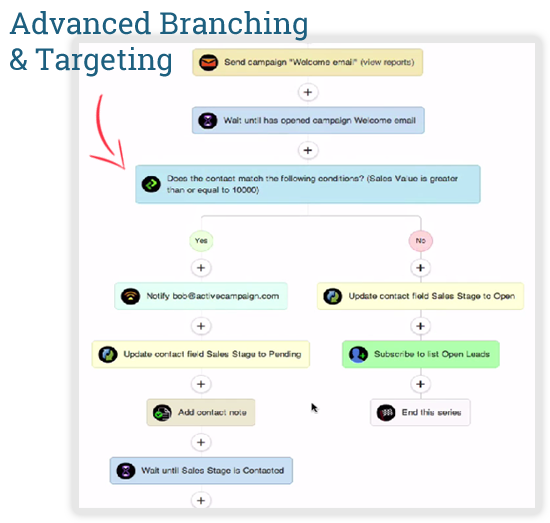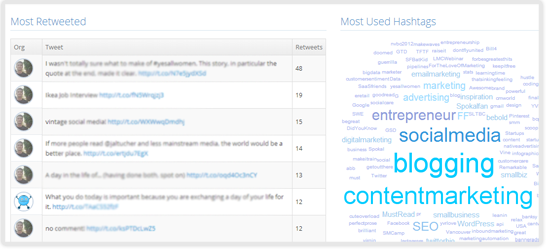 Convince + Convert
See who's unhappy with your competitors with negative sentiment analysis of tweets that @mention them. Reach out to your competitor's unhappy prospects and clients.
Get insights into what content is performing best for competitors and companies with complimentary services. See what hashtags are the most popular, and what content is getting retweeted the most.
Dynamic Email Segmentation
The natural evolution of email marketing. Now you can target your prospects based on their behaviour on your website.
Spokal knows what each visitor is most interested based on their browsing profile – so you can send them the most trageted emails possible. And when their interests change – your emails to them can change to reflect that.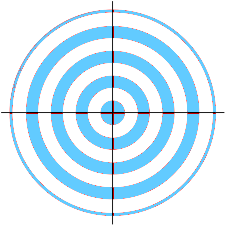 Spokal helped me grow faster than I'd done in 3 months, in 14 days. Spokal was the best thing that could have happened, I [am] getting more recognition than ever.

Fletcher Stott, Hybrid Strength