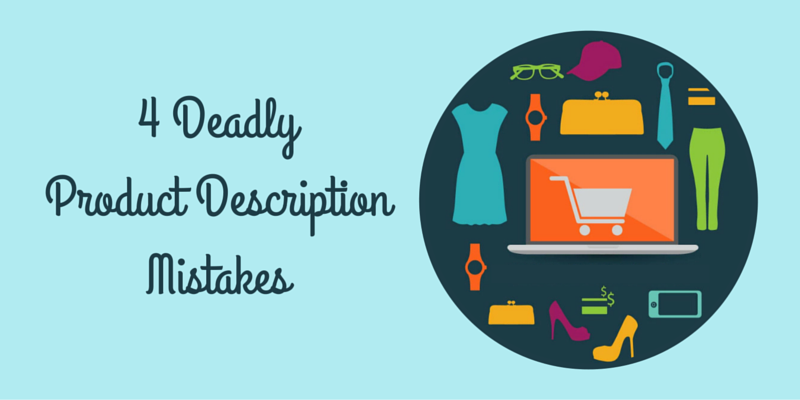 10 to 20 seconds. That's the average amount of time a person will spend on your website, according to Nielsen Norman Group. That's not a lot of time to capture their attention. If you have something to sell them, you have to wow them in that 10-20 seconds. Otherwise, you just lost a potential customer.
Pictures are great. But they are not enough. First of all, not everyone can see that wonderful picture. There will be people who are browsing your website who are visually impaired. That is why you need product descriptions.
There are good product descriptions and bad ones. Good product descriptions will grab visitors' attention. Bad product descriptions will make them go somewhere else.
Below are 4 deadly product description mistakes that can cause you to lose sales.
Not Thinking Like an Infomercial Pitchman
We all have seen them. Those annoying commercials that have really loud and excited people selling items that probably do not do anything they promise it will do.
But people still buy anything and everything. And there are four reasons why people want to believe the promises that they make.
Enthusiasm – One of the most enthusiastic infomercial pitchmen was Billy Mays. His breakout pitch was for OrangeGlo. He sold 6,000 of them in just 11 minutes at a price of $18 apiece on HSN on his first day. It's no wonder that every time you saw an infomercial chances are he would be on it.
Solves a Problem – Everything that is sold on an infomercial has one thing in common – it solves a problem that just about everyone has. From bad odors to whiter whites to easier chores, there are many things that products on an infomercial will promise to give you.
Limited Time Offers – One thing that I have noticed about many infomercials and even some regular commercials is that they are often 'limited time offers'. Either they will have a little counter down in the corner that counts down the minutes and seconds, or one commercial even says callers with a last name starting with A to M call today, callers with the last starting with N to Z call tomorrow. But when they always run the commercial, it really doesn't work. But people don't even think about that – they are just excited to try the product.
Money Back Guarantee – Those three magic words – money back guarantee. It's okay if you don't like the product. If you don't like it just return it and you'll get your money back. Unfortunately, if you read the reviews of many, not all, of these products, people have a hard time getting their money back.
So how do you use the properties of infomercial pitchmen work for you and your product descriptions?
Be enthusiastic about your products – If you are blasé about your products and you're the one selling them, why should people buy them? You have to be your products' cheerleader!
Find a problem your product solves – Every item will solve a problem. Whether it's giving you a bigger television, clearer picture, or even finding the perfect gift for someone, every item on your website can solve some kind of problem for someone. Find the problem each product solves and use it to your advantage!
Limited time offer – If you have a specific item that you want to highlight on your website, you can have it marked down for a special price. Or you can offer them an incentive for purchasing it, like if they buy it you'll give them a complimentary item for free or half price. Just make sure that you list the ending date for the special on your website. You could do a product of the month and list it on the first day of the month to go the whole month. If you do that every month, people will keep coming back to see what deals they can have.
Money Back Guarantee – This is an easy one. Always have a return policy. But don't give your customers the run around like the companies who sell a lot of infomercial products do.
Giving the Bare Minimum
Bare minimum product descriptions are another common mistake that we see many retail websites make. Let's look at an example of a bare minimum product description.
This is a screenshot of a description of an open cardigan from the Gap website.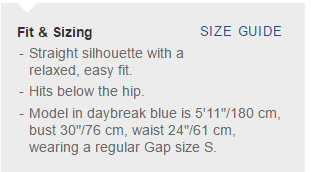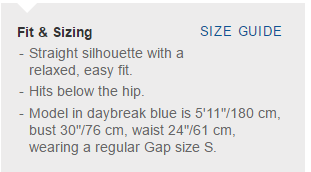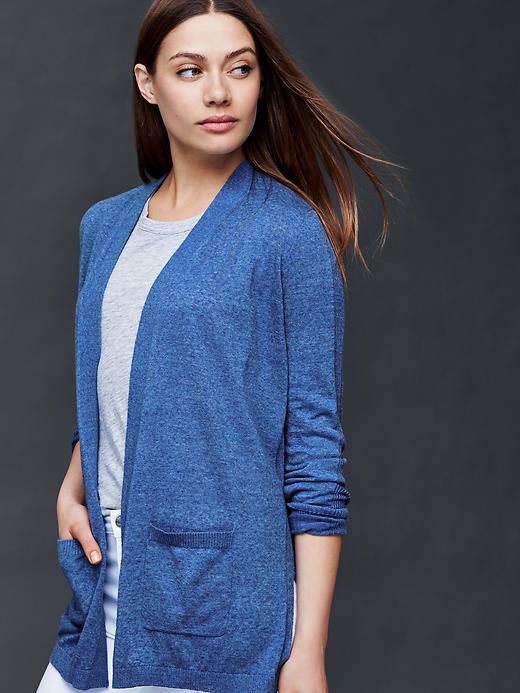 This gorgeous sweater looks so soft and comfortable. The color is absolutely gorgeous. But if you can't see the picture, all you have to go on is the description above, which only gives the barest information.
If I had been asked to write the product description, I would have written the following:
This gorgeous sweater is made from a soft and comfortable linen blend and will easily complement any casual outfit. This medium blue sweater has an easy, relaxed fit and comes to just below your hips. Its slide slits and open provides ease of movement to provide warmth without feeling closed in. Completing the look are its front patch pockets and ribbing on the pockets and sleeves.
Not Being Careful with Grammar
Anytime you are writing something for the online community, it's important to use proper grammar. It only takes a minute to read over what you have read and see how it sounds. This goes for product descriptions as well. If English isn't your first language, you can use a program such as Microsoft Word or you can hire a copywriter to write the descriptions for you.
Let's take a look at two product descriptions for the same item from two different websites. The product is a Mabella .925 Sterling Silver 4.03 Cttw (10mm*10mm) Heart Cut Created Ruby.
This first screenshot is from the Rakuten website.

As you can see, there are many grammatical errors in this product description. It should read:
This is a woman's highly graded ideal cut lab-created ruby gemstone pendant. The pendant features a heart shaped red colored ruby stone (10mmx10mm) in a .925 sterling silver pendant. It comes with a free 18 inch chain and a free custom gift box. It's a highly valuable pendant for all formal events and it's a gorgeous handcrafted pendant which you and your partner will love.
This screenshot is from the NewEgg website.

Not only is this product description written in proper English, but it also evokes emotion and gives suggestions on when you might give someone this as a gift.
Want Help With Your Content Marketing?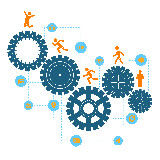 The 3 Pillars Guide Will Get You Focused on The Right Things - At The Right Time. Enter your email address to get it now
Not Educating Customers
I remember some years ago when my husband and I were making jewelry as a side business. My friend asked us to make a ruby necklace for her sister's 30th birthday. We purchased a real ruby and set it in a gold setting for her.
But when she picked up the necklace, she was really upset because the stone was more purple than red. What my friend didn't know is that rubies come in many different shades and only the most expensive and lab-created rubies are a pure red color. It almost ended our friendship. But over 10 years later, we are still friends and that is put behind us.
Another thing that my husband and I learned about making jewelry is how many gemstones have the same color, and even gemstones that you think should be a shade of a certain color aren't. When Associated Content was still live, I wrote an article called Rubies are Red, Sapphires are Blue? Not Always True! It was all about the different gemstones and the different colors they are. According to the GIA website, there are many different colors in which sapphires can come.
What is the meaning behind this story? It's important to educate your customers about what they are purchasing. If my husband and I still would be selling our jewelry and we'd have a website, I would be sure to let customers know how the colors of rubies can vary.
Another good example of how to educate someone is when it comes to scented candles. Unfortunately, not everyone knows what a certain scent is. Let's take a look at descriptions for three different sandalwood candles.
The first description is for a Chesapeake Bay Sandalwood Candle from the Shopko website:
This Chesapeake Bay Candle® Sandalwood 10 oz. Jar Candle would be a wonderful way to add a delightful scent to your home.
Brand: Chesapeake Bay
Scent: Sandalwood
Size: 10 ounces
Ok, so it has a delightful scent of sandalwood. Wonderful. But what if you have no idea what sandalwood smells like? This description has no educational value whatsoever.
This next description is for a Sandalwood Soy Wax Aromatherapy Candles, 8oz. This is taken from Amazon's website:
Soy candles are made from soybeans. therefore they are not toxic like paraffin waxes. They are biodegradable. They are longer lasting and burns cooler since the melt point for soy wax is relatively lower than paraffin, petroleum or beeswax. It is renewable, sustainable, environmentally friendly, and biodegradable, water-soluble. The maximum recommended burn time for soy Candles is four (4) hours per burn. Burning longer than this time is dangerous especially when combined with improper wick trimming. An improperly trimmed wick can create a high flame and temperature forming a deep melt pool that may fatigue even our heat-safe glass over time. Each time before you light your soy candle, trim the wick down to ¼". Do not allow wick trimmings to fall into your wax melt pool. Always burn candles in areas free from drafts. Burning natural-based candles will result in less toxic air, headaches and lung irritation than with their ubiquitous paraffin cousins. Plus, no black soot on your walls or tables when you enjoy eco-friendly candles!
OK, this product description does educate us, but it doesn't say anything about what sandalwood smells like. In fact, it's probably the same product description used for all of their soy candles. Not only that, but it's insanely long. So, if you have no idea what sandalwood smells like, you still don't know.
Now, this final description from the Pacifica Beauty website for their Sandalwood Pillar Candle tells you what to expect. You don't have to go looking for other places to find out how sandalwood smells, since it's right there in front of you. Now, all sandalwood candles are not created equal, since some are blended with other scents, but you get a good idea of what to expect.
Rich Indian Sandalwood is at the heart of this moody, warm, velvety and woody blend, tempered by slightly sweet top notes of Tangerine, Sweet Orange and Mandarin – providing a beautiful lift. This is a deep and nuanced Sandalwood like no other.
When a visitor comes to your website, you have only a few minutes to capture their attention and make them want to purchase an item from you. This will hinge a lot on how your product descriptions read. If you want to be successful with your online store, you want to create product descriptions that are perfect.
Think about the kinds of product descriptions you want to read when you're shopping online. This will give you a good idea of how your product descriptions should look. In essence, write a product description that makes it hard for them to say no when it's right there in front of them. That is what will help you be successful.
Product descriptions are what help your customers feel, taste, smell, and sometimes see your products. The better your descriptions are written, the more likely your customers will purchase your items. Let your descriptions tell a story and soon your customers will have their own story to tell with using your items!