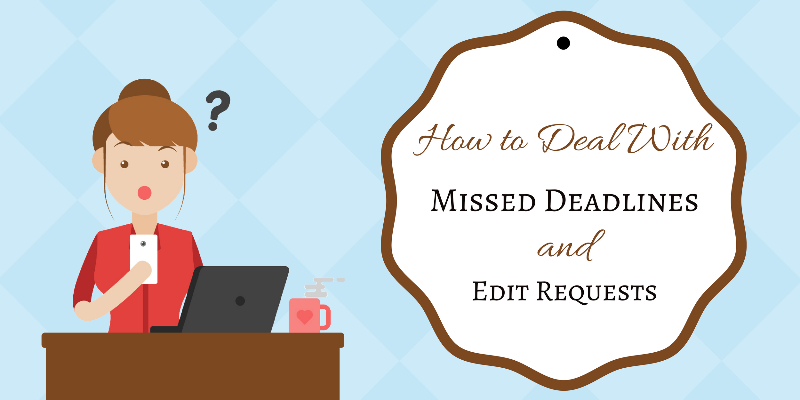 Managing a team of writers and designers is a delicate process. While you're running the business side of a blog or agency, you also have to tap into the human and creative side of content marketing.
Oftentimes these two sides can pull against each other, leaving writers and editors alike to cope with each other's egos and insecurities.
This is when arguments flare up, deadlines are missed, and both parties are left feeling frustrated or taken advantage of.
Here are two common examples of writer problems that content managers face, and a few steps to solve them in a way that is fair and keeps the peace.
Dealing With Missed Deadlines
Dear Spokal:
I manage a team of 10 freelance writers to help with client work. Most of the time my writers submit great work, but sometimes they miss their deadlines. This puts me in a bind because I have my own deadlines our clients and don't want the agency to look bad. Even worse, I can't seem to get my writers to understand the importance of meeting deadlines. What can I do? Help!
Late in Longueuil
Dealing with missed deadlines can be frustrating when you manage a content marketing team, but they become a nightmare when you have to present the work to a client. Fortunately, there are a few processes you can implement to increase your chances of getting work on time while identifying the bad apples.
Reach Out to Your Writers
While this seems like a fairly obvious step, it's possible to isolate or anger your writers when it's not done well. Like most aspects of your onboarding and writer management process, the more you explicitly write out and create steps for, the less uncertainty there will be in your communication.
For example, how soon after a missed deadline should you reach out to the writer? Will you give them the benefit of the doubt for 24 hours or check in first thing after the deadline passes?
Reviewing these policies also gives you an opportunity to draft templates for your writers. These templates can include a "check-in" email to make sure the content is on its way, along with "third offense" and "final warning" emails for repeat offenders. This gives you a set process to enforce your deadlines and know exactly what to say when the missed deadlines occur.
Build Backup Plans Into Your Content Calendar
You can't control your writers, but you can control how you handle a missed deadline. Experienced editors tend to build several backup plans into their content marketing calendars to account for writers missing deadlines or requiring excessive edits and rewrites. Depending on the size of your writing staff — or how often you have been burned by bad writers — you have a few choices for improving your calendar security:
Extend the Window from Deadline to Publish: Set a publishing deadline for a week or two after the expected submission date. This gives you more time to request edits, rewrites, and changes.
Set Multiple Content Pieces on the Same Deadline: This applies even if the content is going to be published a few days apart. This allows you to push the better one to the earlier publish date and send the worse one back for edits.
Pair Experienced Writes with Beginners: If you're giving a new writer a chance, set their deadline on the same day as one of your senior or more reliable writers. If the new writer requires a full re-write, then you can fall back on your senior content creator.
The goal of these three steps is to limit the chances that your website goes dark because of missed deadlines. At best, this means you have a light traffic day. At worst, you look bad as an employee or as an account manager for a client.
Take Notes on Writer Behavior
As you build out your content marketing team, develop writer "report cards" or "baseball cards" to document their performance. While you might have a strong personal relationship with a few contractors, the rest of your team does not. What will happen to these writers if you leave the company? What happens if you get promoted or get an intern to help with the workload?
Every company's writer "baseball cards" will look different depending on your content needs and industry, but there are a few universal criteria that most companies can include:
Home runs: what are their top performing pieces that went viral?
Base hits: what is their background and what can they specialize in?
Strikeouts: how many missed deadlines do they have on record?
Errors: on average, how much editing does their content require?
Batting Average: how long have they worked with the company, and how often do they write for you?
This information can help you and your co-workers understand your writers if something goes wrong. For example, if you manage a writer who has worked with the company for five years and has never missed a deadline, then something might be seriously wrong if they suddenly skip one or two. The writer's "baseball card" proves that he or she has more reliability than a writer who has been working for your team for a few months and is already missing deadlines. The action you take and your level of forgiveness will change.
Develop a New Freelancer Contract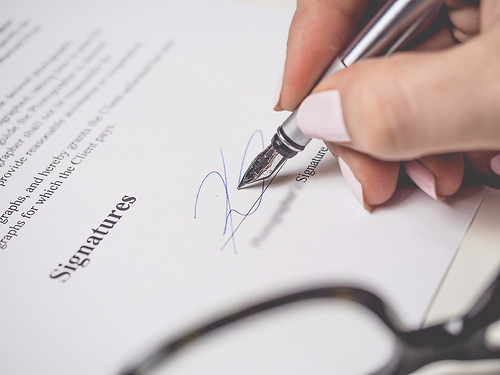 If deadline problems persist, then it may be time for your team to develop a new freelance submission contract (or to develop a freelance submission contract if you don't have one already).
Quora user David Gargaro suggests decreasing the writer's pay for every day that the content isn't submitted. This can be as dramatic as you want. I've seen some editors set a 50 percent pay cut for a missed deadline while others cut the writer's pay by 10 percent each day.
Naturally, you can also include provisions and exceptions like family emergencies in this contract. Another useful section to include is clarifications on deadline extensions. For example, if your writer reaches out to you for an extension three days before the deadline, will they be exempt from the pay cut?
The goal isn't to punish your writers, but to add teeth to your content marketing goals. This is particularly important for new hires and repeat offenders. If they think they can get away with missing a deadline or two, then your publishing calendar will be a constantly-changing nightmare.
Pro Tip: When a writer submits a late article, make sure you accept it, thank them for submitting it, and let them know that their pay will have to be cut (and by how much). If necessary, copy your accounting department or essential finance people on the email. This will leave a paper trail and make it easy to accurately respond to invoices at the end of the month.
Centralizing this information will make it easy for future editors to learn about writers and manage them easier. Just by glancing at a writer "baseball card," they can see if the writer needs to receive a warning email, and what financial incentives they have to submit the content on time. This also gives your writers the information they need to know how flexible (or not) they can be with your content marketing deadlines.
Want Help With Your Content Marketing?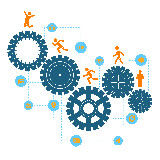 The 3 Pillars Guide Will Get You Focused on The Right Things - At The Right Time. Enter your email address to get it now
Managing Writers Who Require Excessive Edits and Rewrites
Dear Spokal,
I've been hearing a lot of grumbling from my writing team about edits lately. They ignore some of my comments, push back on requested changes, and ask for editing deadlines longer than a week! I feel like editing is part of the agreed upon process and every writer should be expected to handle edits and respond to my critiques. What gives? How do I get my writers to accept my edit requests without complaining?
Sincerely,
Frustrated in Fresno
Editing is a contentious topic because it varies widely across the content marketing industry. Some editors will send back articles for seemingly nitpicky changes, while others will only make a request for major fixes. This lack of an industry standard means writers often push back or ask questions when the editing isn't in the style they're used to.
Specify the Types of Rewrites Needed
Before you can solve the problem of writers pushing back on edits, it's important to note exactly what kind of edits you're requesting. The categories will change depending on your internal needs but should follow a best-to-worst path.
You can also keep these criteria as an internal process for yourself or share it with your writers to help them understand the severity of the edits.
Category One: A couple of sentences need to be changed for structure or clarity, mostly because the editor wants to make sure they're not changing the writer's meaning.
Category Two: A few sections need to have more information, either to further expand on the idea or provide more information. The goal is to take the writing from good to great.
Category Three: The writer hasn't followed client instructions and needs to make changes before the editor can accept them. This might include adding sections or changing the tone to meet the directions.
Category Four: Major rewrites are needed, but about half of the writing is salvageable. These rewrites might be sent because of tonal issues or the client might be replacing some existing sections with others.
Category Five: The article needs to be completely scrapped and the writer should start over. Facts are either missing or inaccurate, the tone is wrong for the client, the body isn't related to the topic, and there are countless grammar and syntax issues.
Depending on your records and your level of detail, you can include the average types of edits that your writer receives in their "report cards" mentioned earlier. For example, if a writer has three Category Five edits within a few months then it may be time to cut back their workload or talk to them about your writing standards.
However, you should also take into consideration whether the Category feedback is coming from the client or the editing team. Some of your best content marketing specialists might have the highest number of rewrites because you tap them to work with the most difficult clients. We will touch more on that in the next section.
Know When to Provide Additional Compensation
For all of the problems that writers cause, clients can be even worse. Many editors have seen a piece of content that they thought was amazing get shredded by the client. If a piece of content meets your standards as an editor, but then gets rejected by the client, you may need to provide additional compensation to the writer.
At the very least, this is a gesture of goodwill. If the writer followed the instructions carefully but the client came up with new instructions or feedback, then the writer typically isn't at fault for the edits. They held up their end of the contract by following the style guide and brief to the best of their ability. If you don't pay them for these unexpected changes, then you're essentially taking bread out of their pockets by preventing them from dedicating their time to paying work.
Not every set of edits will result in compensation. Most editing teams stick to a policy that a writer will be paid for edits if the article was already approved, or if the rewrites are because of a mistake made by the client or editor during the instruction process. General rewrites because of sloppiness or a failure to follow directions don't need to be rewarded with extra cash.
Pro Tip: If you're working with a difficult client that requires major changes, consider asking them to sign off on an outline beforehand. This is similar to approving a wireframe in the design world. In the contract, state that if the client wants additions to an article that weren't specified in the outline they will be billed for the additional cost. This allows you to pay your writer for the rewrites without hurting your business.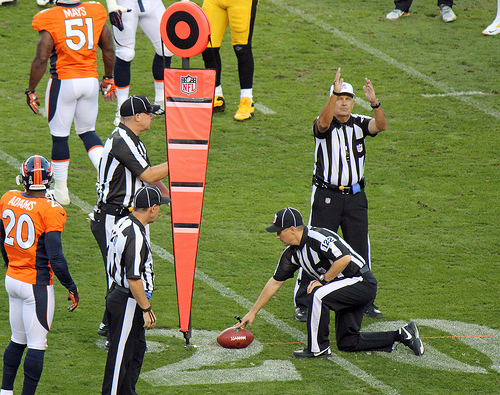 Create "Challenge Flags" to Let Them Push Back
You have every right to run your content marketing team with a totalitarian fist and require your writers to make any change you request, but as the saying goes, you catch more flies with honey than with vinegar. Let your writers know that they can push back on your comments if they can provide a strong reason for it.
For example, if you flag a source that's questionable, your writer might push back with SEO rankings, the author's byline and background, and other sites that link to it to prove that it has earned a link on your page.
If your writers continue to push back on everything you ask them to do, limit the "challenge flags" to three per article — just like they do in football and baseball. This allows your writers to be heard, but makes them limit their battles to the ones that mean the most to them. Even these challenge flags can get overruled if they don't have merit.
You should also specify when a writer isn't allowed to push back on edits. Typically, comments straight from the client (as opposed to you or the editor) are non-negotiable and need to be addressed in a timely manner. In your writer contract, you can specify that failure to make change requests from the client could result in docked pay or probation. This will also help your writers learn to pick their battles.
Praise Your Writers When They Improve or Face a Challenge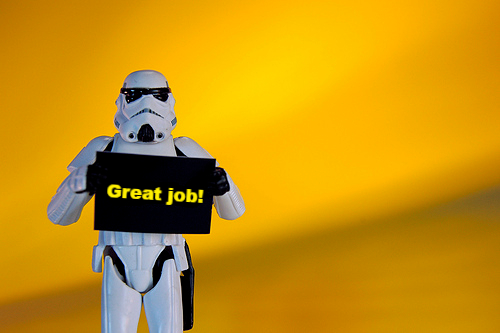 A recent study reported by Psychology Today found that employees respond better to praise instead of money. More than 80 percent of employees say that recognition for their contributions was more meaningful than any rewards or gifts. While money is certainly nice, your contractors want to know that you think they're doing well.
If you have seen a significant improvement in one of your writers, take a few minutes to let them know. This might include a few compliments at the end of an email, or a quick side message specifically to praise them. This lets your team know that you notice the hard work they put into writing and making changes, which can motivate them to have a positive attitude toward your edit requests.
To take this concept a step further, consider starting a "content marketing writers newsletter" that highlights some of the best pieces and hardest workers from the week. This gives you the opportunity to brag about their accomplishments on a stage of their peers.
One of the main reasons that writers get defensive about edits is because they're insecure about not being good enough or they think something good they created is being attacked. By praising your writers for amazing work, you're able to boost their self-confidence while assuring them that the changes are only requested to make their pieces better.
Just like every other field, the content marketing industry has its bad apples and gold standards. While these processes won't completely fix the behavior of your bad apples, it will help you identify them and prevent you from hiring others.