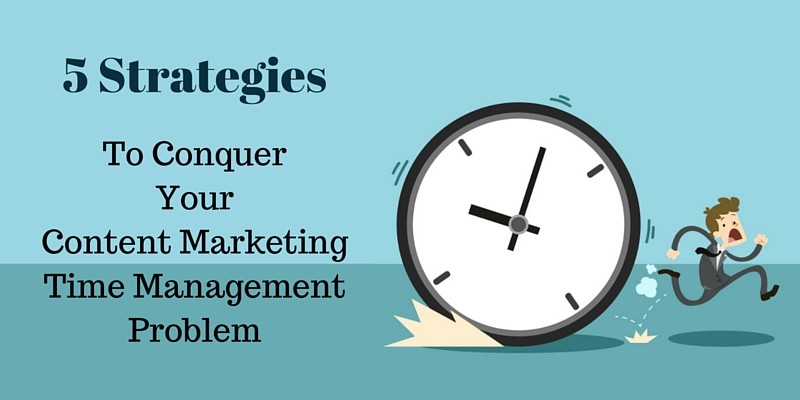 You're a smart content marketer.
You've embraced the power of inbound. You recognize the need to be consistent with your content production schedule.
Heck, every single post on every single authoritative content marketing blog you regularly read hammers all this home.
But you're struggling to get on a consistent schedule with your content production. You just don't ever have the time to get it done.
You've got a time management problem.
Whether you're just procrastinating, overwhelmed, or truly don't have the time, it's keeping you from doing something you know you need to do.
And if you've ever wondered if it's just you — it's not just you.
In fact, of the top five challenges identified by respondents to a survey conducted by the LinkedIn Technology Marketing Community, three touch on time management and productivity problems:
Lack of Time/Bandwidth to Create Content (51%)

Producing Enough Content Variety/Volume (50%)

Developing Consistent Content Strategy (34%)
And it's not just B2C marketers, by the way. Another study, this one conducted jointly by Content Marketing Institute and MarketingProfs, found that a full 57% of responding B2B marketers named "producing content consistently" their top content marketing challenge.
So yeah, Houston, we all have a problem. I think it's especially true if you're in business for yourself or are a freelancer — two types who tend towards maverick-y, go-it-alone-ness, by and large.
Yes, we're self-starters by nature — that's the shiny side of the entrepreneurial coin.
But we also get the not-so-pretty flip side: it's all on us, and we just feel icky about shuffling stuff off on to others. We resist hiring, delegating, outsourcing. But we also (too often) resist doing.
Couple that with the fact that we want to do our actual work, not market our businesses, and really, is it any wonder that we have a time management problem?
Even freelance copywriters fall victim to the trap by getting out of the habit of content marketing — or so I hear. I have no direct, personal experience with this. (I have a lot of direct, personal experience with this.)
The solution depends on the exact nature of the "why" behind your procrastination problem.
There are no short cuts.
There is no one weird simple trick.
There's no magic tool or app that'll straighten it all out for you once and for all.
Yes it's important to have a streamlined, effective system for creating content in place, to reduce the time it takes to create each piece of content you publish.
But that's just one piece of the solution. If you want to up your time management game and get your content marketing back on schedule, read on.