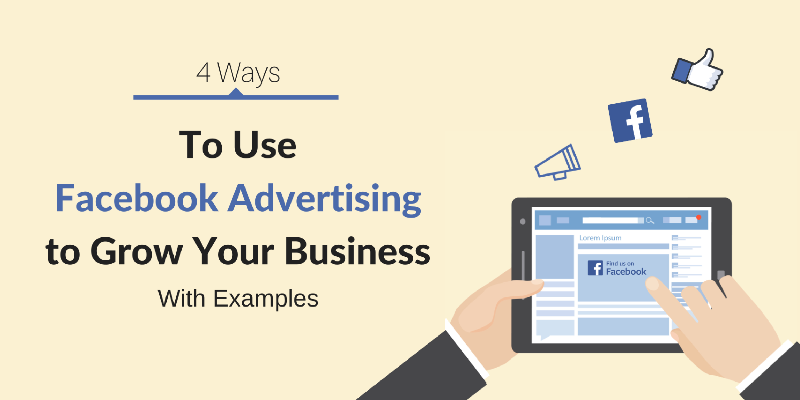 Facebook advertising has taken targeting to a whole new level. It is no longer just keywords' game like in AdWords where keywords are used as the primary factor of targeting in both search and display network.
In Facebook, the entire social graph of likes and behaviors are used for better targeting ads to end users. As an advertiser, you can drill down your campaigns by demographics such as age, sex, geographical location, etc.
In fact, on average, Facebook ads are a third of the cost of Google AdWords. So if you have never considered advertising on Facebook, you might want to take a look into it.
In this post, I'll show you a few different ways to leverage Facebook advertising to grow your business with relevant examples.
1. Expand the reach during a product release
Facebook advertising is one of the best ways to let your audience know about your product launches.
For instance, if your potential customers didn't visit your website for a while, chances are they might not be aware of your newly released products.
With Facebook ads, you can target your potential customers on Facebook and let them know about your new release.
While there are many ways to target your potential customers, Custom Audience feature stands out from the rest.
Facebook Custom Audiences allows you to target you potential customers based on your email list or other customer data like phone numbers. All you need to do is to upload the customer data, create an ad and display the ad specifically to your audience based on the customer data.
Product launch – Example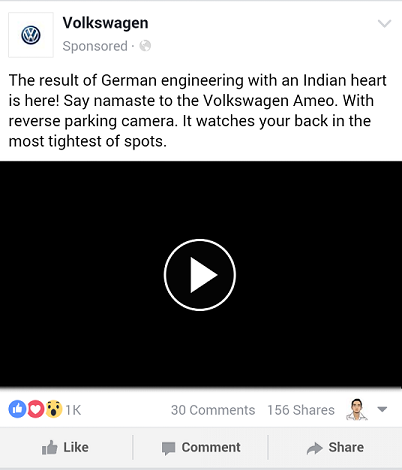 The above ad is targeting me on my Facebook newsfeed because I've previously shown an interest in Volkswagen cars. As they're launching a new car in Indian market, they're targeting me through my email address with Facebook Custom Audience.
If you're looking to utilize Custom Audience on your next Facebook ad campaign for expanding the reach, below are a few tips that might help.
Bidding- CPM vs. CPC: When you're advertising to spread the word out of your new product release, it is highly recommended to choose CPM bidding to ensure minimal spend. However, if you're new to Facebook advertising, you may need to try CPC bidding before start going with CPM.
Update your list: If you're advertising for a long period, make sure you update the list often on Facebook to ensure you're reaching out to new leads as well.
2. Build an email list
AdWords is the favorite ad platform for most marketers when it comes to selling a product or growing a list.
But did you know you can effectively grow your list with Facebook advertising as well?
If you're growing your list with Facebook ads rather than promoting an existing Facebook post, which you've already shared with your followers, it is always better to create a unique post for ad and promote it on your potential prospects' newsfeed. By this way, you can personalize your ad by addressing each prospect's interest and behavior.
List building – Example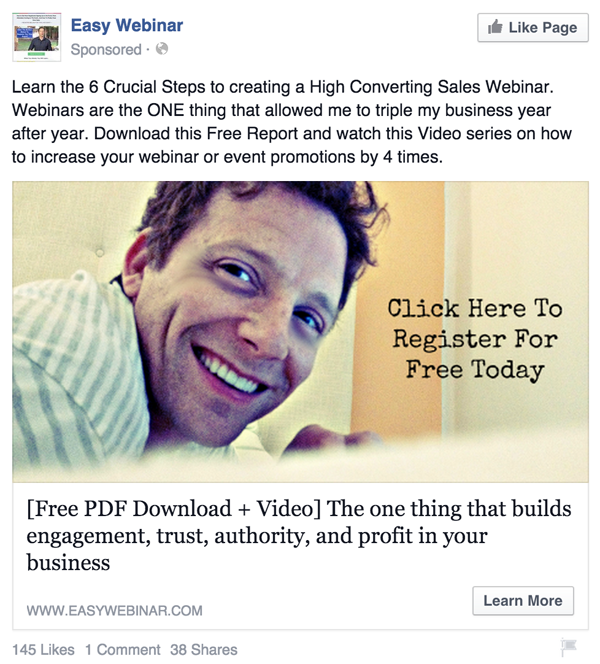 The above ad from Easy Webinar is created specifically for growing their email list. What I liked about the ad is that the call-to-action is very clear. It clearly tells the audience what they'll get once they click the ad and visit the landing page. On top of the ad, it also entices the audience to like the page as well.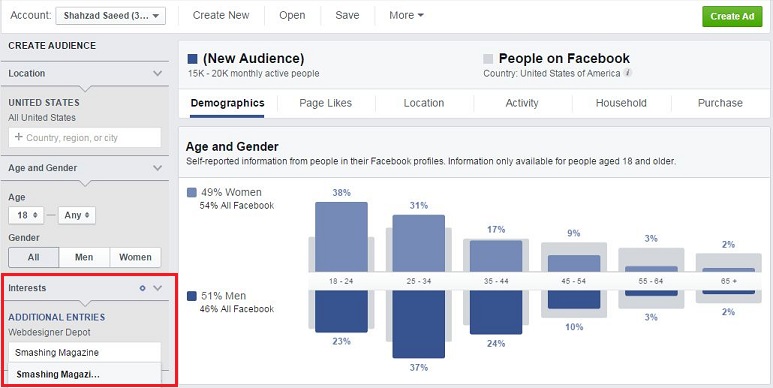 Interest targeting: While you can't get laser-targeted prospects on Facebook, you can still find the right audience by using interest targeting feature. For example, if you're looking to grow your email list in the web design niche, you may target people who have previously liked popular design blogs or Web Designer Depot or Smashing Magazine.
Always create a landing page or a microsite: Unlike other types of ads we discuss in this post, ads for growing an email list is conversion oriented. Make sure you create a customized landing page tailored to your ads, so you don't lose potential leads down the line. If you're on WordPress, you don't necessarily need to be a designer for creating a customized landing page. Install any landing page plugin on your site and start creating a page right away. Alternatively, if you're not fond of WordPress as CMS, you may create a landing page or a micro site with any website builder to grow your list. Microsite could be a right choice for you especially if you need multiple landing pages for a specific ad campaign.
3. Building a loyal fan base
It's been reported that 53% of Americans who follow brands in social media are more loyal to those brands. Evidently, connecting with your regular customers on social media increases their loyalty to your brand, resulting in converting your regular customers to loyal customers.
Why loyal customers matter for your business?
It is because loyal customers are more likely to become your brand advocates who would talk to their friends about your product and recommend them to use it.
By connecting with your loyal customers on Facebook, you're connecting with those who are ready to promote and recommend your brand on social media. And this is one of the primary reasons why popular brands like CocaCola, RedBull and Nike are focused on building a loyal fan base on Facebook.
Example- Building loyal fan base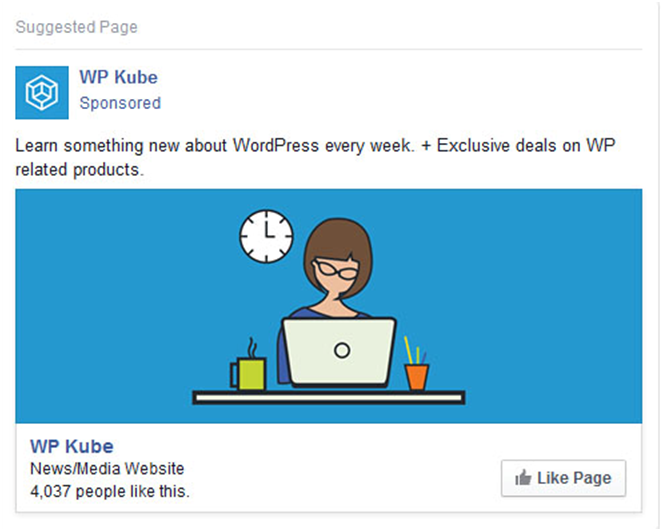 The sole purpose of the above ad is to entice users to like the page on Facebook.
Best of all, if you can entice your audience to like your Facebook fan page by advertising, you are not only retaining them for a strong bonded, long-term customer relationship but also increasing the chance to gain free word-of-mouth advertisement from your loyal customers on a regular basis.
If your customer liked your Facebook Page, they are allowing Facebook to show your posts and updates on their Facebook newsfeed.
If you're looking to build a loyal fan base on Facebook, below tips will help you.
Remarketing: Remarketing lets you target your website visitors on Facebook by showing a customized ad that is relevant to your audience. With remarketing, you can encourage those who have previously engaged with your website to like your Facebook page, which is one of the best ways to build a loyal fan base.
Add a Facebook like box: If you're looking for a free way to connect with your potential audience, make sure you add a Facebook like box on your website. For example, you may add a like box to the sidebar or display it as a popup box.
4. Building traffic
Many Facebook page administrators have been complaining about the decline of their Facebook page's organic reach. If you're looking to build traffic to your blog or website and found that your reach is consistently declining, you might want to try Facebook advertising to increase the reach.
WPBeginner.com has found an increase in the reach by advertising on Facebook. This strategy also helped them improving their Facebook traffic by 332% in the long run.
That said, should you really spend on advertising for simply driving traffic to your website or blog?
Let's look at it this way.
Would you rather try those entire so-called recommended tactics only to end up with disappointment down the track or spend a few bucks to increase the organic reach and drive more traffic?
Obviously, spending a few bucks for increasing the reach is the easiest way to get consistent traffic from Facebook. When done right, it can be effective in increasing the reach, which results in driving more Facebook organic traffic in the long run.
Example – driving traffic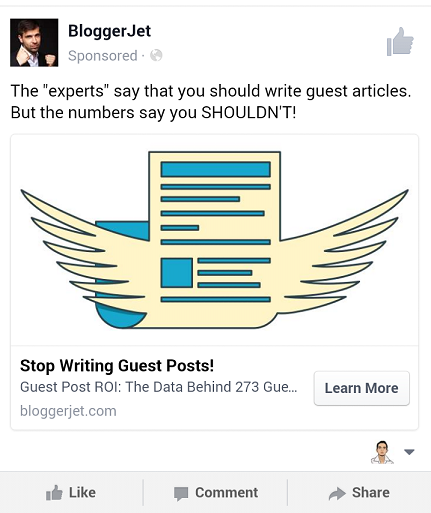 The ultimate goal of the above ad is to improve the organic reach and increase traffic to one of BloggerJet's blog post.
If you're looking for a step by step guide to increase your website traffic from Facebook, follow the below steps.
Add remarketing pixel: Add a remarketing pixel on your website, so you can target who have engaged with your website on Facebook by advertising.
Boost your blog posts: Boosting your blog post is one of the easiest ways to advertise on Facebook. All you need to do is to click on the 'boost post' button below your Facebook post. Once you set your budget, it will start showing ads to the audience you specify.
Over to you
Have you ever tested Facebook advertising? What are your experiences so far? Share your thoughts and comments below.
Author bio:
Shahzad Saeed specializes in content marketing for startups and small businesses. He blogs on CRO, ecommerce, marketing and design. You may hire him for your next writing project.