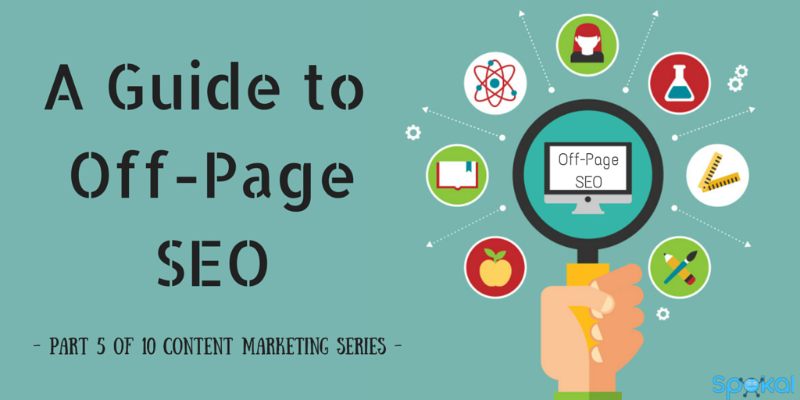 Last week we talked about On-Page SEO and Usability. In that post we gave you an in-depth discussion an insight into the connection between the 2 topics, and then we moved on and looked at what factors affected on-page SEO and usability, such as site design, mobile optimization and internal links, and how a business can optimize each so that their site performs to the best of its ability.
This week, we'll be talking about off-page SEO.
What is Off-page SEO?
Off-page optimization concerns factors that have an effect on your website or webpage listing in natural search results that aren't controlled directly by you or the coding on your page, for example: links from other sites.
Why is Off-Page SEO important?
Search engines are always trying to figure out ways that they can provide the best results for their users' queries, and off-page SEO has become an important factor in how they rate the usefulness of a page or website.
For search engines, off-page SEO factors indicate how others see a website. A useful website with valuable content will usually also have 1 (or 2, or all!) of the following 3 traits:
External links from other sites that are trustworthy
Lots of engagement on social media
User signals that point towards interest and engagement
Each of these traits are signals that a website is good, and therefore search engines use this information in their ranking metrics.
Of course, you'll have noticed that these factors all happen outside of your website, and therefore out of your direct control. So the question is, is there anything you can do to influence them?
Relationship-Based Link Building & Off-Page SEO
With the introduction of the Google Penguin update in 2012, the term "link building" has become somewhat outdated because it was associated with black-hat (spammy) SEO. Instead, marketers shifted their terminology to "relationship building" or "relationship-based link building" which focuses more on building relationships with people connected with related authority sites, in the hopes that eventually they'll provide you with a backlink in a non-transactional and organic way.
How Do External Links Help My Off-Page SEO?
Like we discussed in the previous post, Usability and ON-Page SEO, links (and the effects they have on search rankings) are easier to understand when they're thought of as a kind of "vote".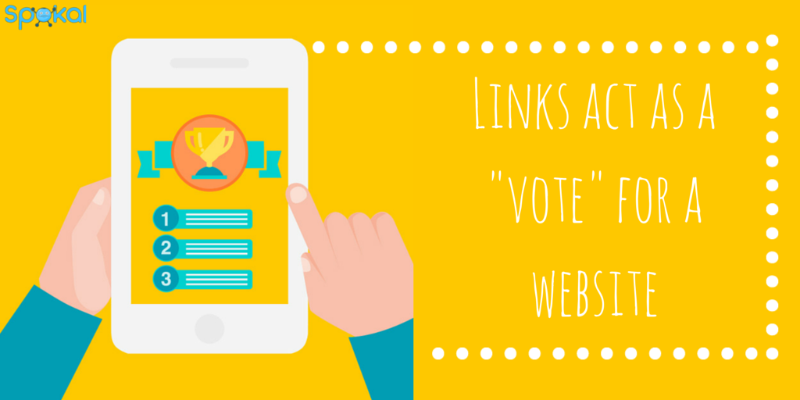 For example, if Website X links to Website Y, then Website X is "voting" for Website Y. The more votes, the more popular a website is.
But not all votes are created equal.
The strength of a link or "vote" is determined by a variety of factors, which includes – but is not limited to – how popular and trustworthy the website that's linking is and how relevant Website X is to Website Y.
Marketers often (but not always) view external links as more powerful than internal links. This is because search engines try and "read" human behavior so they're naturally going to listen to what others are saying about you, rather than what you're saying about yourself.
Just imagine you're running for class president. Of course you're going to vote for yourself (internal links) but it's who else votes for you (external links) that is seen as a deciding factor.
Of course, Google can spot unnatural links a mile away so the practice of simply asking or trading backlinks is no longer considered an effective marketing strategy. However, there are ways that you can nurture relationships with targeted industry-related websites that you'd like to get backlinks from.
Identify Influencers
Obviously, the first thing you need to do is figure out who you'd like to get links from in an ideal world. These people should have influence over websites that are popular, related to your industry and trustworthy.
FollowerWonk, Buzzsumo, Topsy all offer tools and features that help you identify key influencers in your industry.
Making First Contact
Imagine for a moment that you're an alien trying to make first contact with the human race. Your planet is low on water, and you need some help. What would you do?
Option 1: Plop your space ship down right into the center of the biggest city and run around screaming "I NEED HELP, I NEED HELP!" in a language that no one understands until everyone is so frightened that they either try to capture you, or kill you.
Or…
Option 2: Discreetly send hints that you're out there. At first maybe you send a few messages, then you land once or twice, get to know a few people, get the message out there that you're not going to kill them or hurt them and then eventually you can ask for help without seeming too intimidating or needy. Or, you know… downright weird.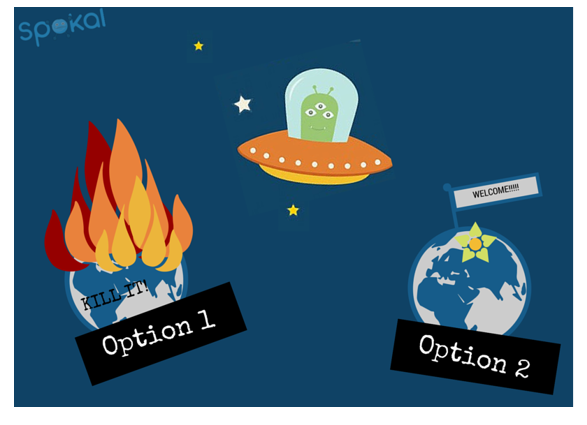 So, which one do you choose?
Option 2 is my bet.
Making first contact with an influencer is a lot like making first contact with an alien lifeform. You've got to ease your way in there, get to know them and make sure they're familiar with you so that they don't run away screaming when you need their help.
OK… so maybe the analogy is a bit off, but you get where I'm going with this.
To get onto your influencers radar, reach out subtly by connecting with them through commenting on their blog posts, sharing their content on social media, or even emailing them with a thank you or with praise for their work (who doesn't love those emails?).
The idea is that you make a lasting impression on the influencer, without looking for anything in return.
Offer Value
So you know who the aliens your influencers are, and now they know who you are too. It's time to offer some value.
Let's go back to the alien analogy for a moment.
You know earth, earth knows you – great! But now you need help. You need to bring back water to your planet, but why should earth help you? What can you offer them in return for their help?
Again, you have 2 options.
Option 1: Don't offer anything of value, but ask for help anyways.
Option 2: Offer something of value, so that they're more than happy to return the favor.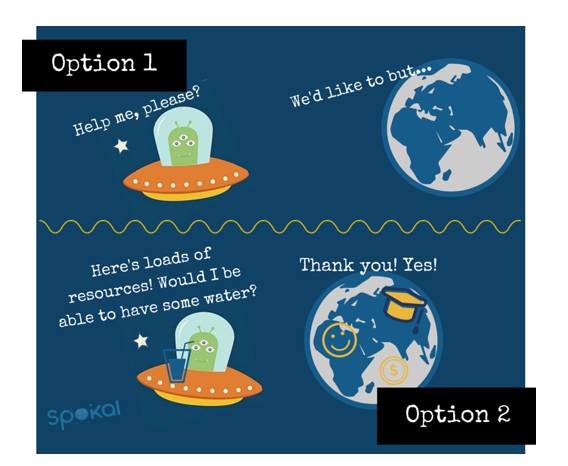 There are, of course, plenty of ways to offer value to an influencer in the hopes of gaining backlinks. 2 of the more popular tactics are
Guest posting
Creating great content
Guest posting is a match made in heaven for bloggers and influencers. Influencers are always looking for great high-quality content, and you need backlinks – it's a situation that works really well for both parties.
But before you run off and email them offering to guest post on their site, it's advisable to first research and see if them. Ideally, they will have it clearly stated on their website that they do or that they don't, and other times you'll have to look through their blog posts to see if they've ever taken guest posters before.
Alternatively, you can search these terms that can help you discover if a blog has accepted guest posts in the past:
site:targetblog.com "guest post"
site:targetblog.com "post written by"
site:targetblog.com "guest author"
Obviously this is no guarantee that they always accept guest posts – this could be a one-off occurrence or their policy has changed, but it's usually a good indicator that your outreach won't be a complete waste of time.
Creating great content that's relevant to your audience and offers value to their lives should always be a top priority, whether you're guest posting or not.
And while we don't always create content with influencers in mind, it doesn't do any harm to consider them in your content strategy. If the content you're creating adds value to the influencer's own content (and therefore to their readers), they may link back to your website.
For example, if you're reading a blog post and you come to the end of it and think to yourself: "wow, that was great! I really wish they had a checklist I could download based off of this post though" then that's a huge opportunity for you to create that checklist. Once you do, you can share the link to the checklist with the influencer and they may very well provide others with a link to your content.
More generally, any content that provides really great value may be picked up by influencers at any time. The reason influencers are so, well, influential is because they want their content to be the best it can be – so if your content can offer even more value to their readers, the chances are that these influencers will be more than happy to provide you with a backlink for your efforts.
Social Media & Off-Page SEO
According to Pew research, as of January 2014, 74% of online adults use social networking sites. Because most internet users are on at least one social media platform, and because this is where content often gets shared and liked, search engines take social signals as an important metric for ranking web pages.
This is even truer today than it was a year ago, as can be seen by Searchmetrics 2014 correlation study that shows that social signals have become quite a bit more influential as a ranking factor since last year.

How To Improve Your Social Signals
Step 1: Make sure you have pages set up (and fully filled in) on the top three social media sites: Facebook, Google+ and Twitter. I'd suggest starting with one of them, getting into the flow of social sharing, and then setting up more as you get more comfortable with using social media for business. Also, you can do some additional research to see which social media websites are best suited to your business.
Step 2: Post relevant content that your audience loves on a consistent basis.
Step 2.5: Head on over to A Guide To Creating A Social Media Automation Strategy That Works to get a really comprehensive look at how to get your social media game on point.
Step 3: Ask questions, add images, test what times you get the most engagement, and talk with people on social media. Encourage people to share your content, and share content (as long as it's good!) from other people too. Be active and, well, social.
User signals and Off-Page SEO
Searchmetrics correlation study also revealed that user signals have become a more influential ranking factor as well:

How long people stay on your page, and how often they click through to another page and your page's bounce rate are all now important ranking factors.
User signals inform search engines how relevant and good a webpage or website is.
If we return to the alien analogy (this is the last time, I promise), and imagine ourselves as aliens looking for a planet with water on it. When we find a planet like earth, that's blue and covered in water, we know straight away that it's the one for us. Because it's just what we're looking for, we stay around for a while in order to get what we need. But when we see a planet that's all radioactive looking, we're going to leave pretty quickly, right?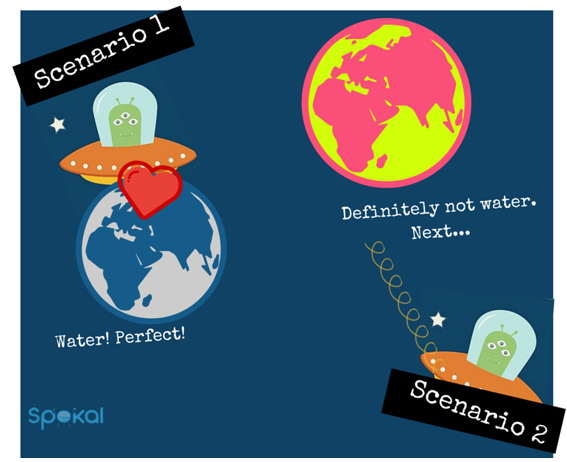 That's exactly how people react to search engine results.
When you go into a webpage and the content is not what you were looking for, you'll either click the back button and hightail it out of there, or you spend only a few seconds looking at the page before leaving. Search engines will naturally see this as a sign that the content doesn't match the search query and rank it lower.
On the other hand, when you do find content that gives you the right information and is amazing – and not only that, it also gives you some other awesome resources in the form of links (which you then click on!)… well that tells the search engines that your site is awesome.
Obviously, content, which we discussed in part 2 and 3 of this content marketing series plays a huge part in user signals.
But usability, which we discussed in detail last week, can also have a huge impact on it too.
Check out those blog posts if you missed them to gain some more insight into how to improve your site's user signals (i.e. how to not make people run away!).
Conclusion
While off-page SEO isn't technically under your direct control, that doesn't mean that you can't do certain things that can influence it. That includes building relationships with influencers in your industry, creating great content that people want to share, like and comment on, and creating a site (with said content) that people enjoy spending time on.
Next week we'll be talking about social media marketing, so stay tuned in!
Join our growing list of subscribers!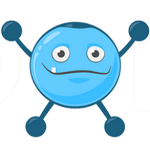 And keep up to date with our latest inbound marketing blog posts! (Plus we got some nifty templates, guides and a dictionary for you to download too!)
Spokal's 10 Part Content Marketing Series