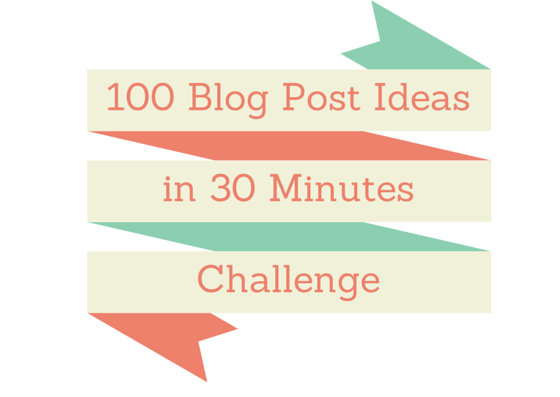 I came up with the idea to challenge myself to come up with 100 blog post ideas in 30 minutes after I misunderstood the title a post I stumbled across called: How to Come Up With 100 Blog Post Ideas in 30 Minutes.
I'm not sure if it was intentional or not, but I clicked in to that post thinking that they would show me how they had come up with 100 ideas in 30 minutes.
Instead, it was a video showing me the tools that he used (for 30 minutes, I assume) that he claimed help him generate "about" 100 ideas.
I have to admit, this was one of those moments when a clickbaity headline really let me down.
I was looking for some documentation, for some guidance as to how he had created so many post ideas so quickly, and instead was given a vague idea on someone's creative process.
I was seriously disappointed.
But, where there is disappointment, there is opportunity, right?
I realized that if I were so excited to see something like that, why wouldn't others be too?
Why can't I try to create that many ideas, in that time constraint, while also documenting the process and showing everyone the results?
Here's what happened when I challenged myself to create 100 blog post ideas in 30 minutes.
Step 1: Research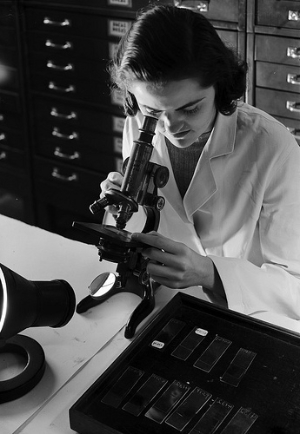 I don't know if people will consider this "cheating" or not, but I really didn't think I could generate 100 blog ideas without at least 15 minutes on the internet browsing and getting my brain ready.
I looked through my previous blog posts (it seemed silly not to consider the ideas I had already come up with) and I looked at similar lists that have been already created.
I admit, I was also glad that I couldn't find anyone who had challenged themselves to create such an extensive list in a small amount of time.
Here are the resources I perused very quickly before I sat down to create my own 100 blog ideas:
Some are very specific, and others are very general. My list was likely going to be a bit of both.
Step 2: Preparation
After I did my research, I closed my laptop.
Like I said, I didn't want to copy any one list – I wanted to see if I could create my own.
The research is specifically to get my head in the right place and to get me inspired.
I then got my phone and set the timer to 30 minutes.
Then I grabbed a sketch pad and pen. I like sketch pads best for brainstorming because you can get as messy as you want as you race to scribble down anything and everything.
Plus, you can get them super cheap in any dollar store.
I then titled my work (like the good student that I am).
Step 3: Aaaand We're Off
I started off by writing furiously.
As you can see by my messy chicken scratch, I was a little panicked as I wrote.
Honestly?
I didn't think my brain could physically work that fast.
Please note: I paused the timer when I wanted to take a photo & screenshot of the progress I was making during the challenge . If I didn't, the results wouldn't have been accurate. I started the timer again straight away! Promise.
After 7 minutes and 16 seconds I had created 30 blog post ideas
After 15 minutes and 2 seconds I had created 59 blog post ideas
After 25 minutes and 53 seconds I had hit 100 blog post ideas.
When the timer ran out I had 109 blog ideas written down.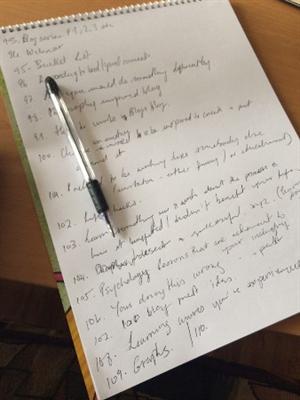 Step 4: Type & Tidy Up The Ideas
As you will see, after I tidied and typed, there were actually only 105 ideas. (I say only, but you know what I mean).
It turned out I had repeated myself a few times, ideas were very similar to other ones, or they just didn't make any sense when I read over them.
Pressure can do weird things to your brain.
So without further ado:
100 Blog Post Ideas (+5 bonus ones)
Opinion Post: I love that this was the first thing I wrote, as I'm known to be quite opinionated so it's quite apt. Obviously, this type of post is your very subjective opinion on something, and should always remind the readers that this is the case.
Post Connected with Favorite TV Show/Film: I just wrote a post titled "What A Game of Thrones Can Teach Us About Content Marketing" so this is what came to mind while I wrote this idea. Making connections between TV/Film isn't that hard if you look closely enough.
Post Connected with Favorite TV/Film Character
Book Review: If you read a lot of books related to your industry, then this is perfect. People want to know if a book like this is worthwhile or not, so do share!
Newsy Piece: Obviously, if something is in the news that's related to your industry, covering it will make you appear in the know and people will want to follow you to get these kinds of updates.
Guest Post
Interview
Lists: Lists are a really easy way for people to digest information, so they're really popular and you can use this idea over and over with different topics.
Tutorial
Comparative Post: Comparative posts are great. They're super helpful for consumers in the decision making process. I really liked this one by OKSocial if you'd like to check out an example: Should You Blog, Vlog or Podcast?
Re-purpose post: If you have a post that was quite popular, why not re-purpose it into an infographic or slideshare? You know it's good already, so you might as well get the most out of it by appealing to all different types of readers!
"How to" Post
Advanced Post: How tos are for beginners, but if there's something you're really good at, don't forget that there are people who are looking to get to that standard too who'd be interested in what you have to say!
Complete/Comprehensive Post: These are really popular as they act as a "one stop shop" on a specific topic.
Personal Anecdotes
Lessons From Unusual Places: This was inspired by the amazing blog "6 Homeless People With Better Content Marketing Than You"
Humor/Satirical Post
FAQ post
"What I do" post: This is different than a "how to" post in that you inject what you personally do. This has been popularized with the "Get Ready With Me" Youtube videos that have been dominating beauty/fashion bloggers channels.
Write About an Event
Survey Results Post
Self-Analysis Post: Self-analysis is hard, but it sometimes reveals a lot of lessons that you might otherwise not notice.
Competition Post
Write a Story
A Quiz
Interview Reverse Psychology Post: Oops, I said interview twice. Anyways, reverse psychology posts are posts that work on your fears. They're super effective because people want to read them and make sure they're not doing anything wrong. For example, Forbes' 7 Ways To Fail A Job Interview.
Analyse Failures: Didn't do too well? Use this as a lesson for others, they'll thank you for it.
Write A Letter: Open letters were everywhere after Sinéad ó Connor wrote one to Miley Cyrus. They're a really effective way of addressing someone that you might not actually get to every talk with.
Q & A
Take A Challenge
Be Inspired by Something That's Going Viral: I recently wrote 5 Lessons Courtesy of the Ice Bucket Challenge because I just couldn't ignore the fact that it was everywhere. People are interested in viral (that's why it's viral) so don't be afraid to tap into that.
5 Year Plan
Myths Debunked
Bad/Good Habits
Photo Post
Infographics
Case Studies
Ebooks
"Best Blogs for…"
"Why You Shouldn't…"
Yearly Roundups
Seasonal Roundups
Festive Inspired Post
Three Wishes: If you could have three wishes, what would they be? You can make this more specific if you want, for example "3 Wishes For My Family", "3 Wishes For the Future", "Three Things I wish I could UN-see".
A Day In the Life Of…
Examples of …
What I saw on the Street Today
Inspirational People Post
How to Start … : Different than how to's because it's about the beginning of a process.
Best/Worst Advice: This can be about advice you've been given yourself, or advice you've commonly heard being given to others.
Research & Analyze Data
Social Media Post
Rags to Riches Post
Confidence Boosting Post
Time Management Posts
Create A Challenge: Like this one!
Respond to Another Post
Quotes
Perspective Blog: Take an original perspective. What about your experience is different than others' experiences? Your gender? Class? Race? These are important perspectives that people can relate to. For example, Being a Black Female Comic.
Budget Blog
Local Blog
New Ideas/Concepts
How to Cheat at…
Into the Spotlight (Unheard of People)
Opposition Post: Take a direct stand opposing something. This isn't simply commentary, this is opposition so be prepared to take on a strong stance that you believe in.
Update Post (new features, moving domain, new team member)
Biggest Fears Post
A Poem
Favorite Tools: Everyone wants to know what tools you use to make your life easier, so share the love!
Personal Stories
How to Stay Inspired
Creative Posts: This is pretty general and incorporates a lot of ideas, but I think it's important to remember that when you're writing a blog post, the possibilities are endless.
Ask Your Followers
Solve a Problem Post
Click Bait: Click bait posts are headlines that purposefully don't tell you the full story, making you curious enough to click into it and read the post. You have to be careful with click bait posts, because if it doesn't deliver, you'll just have angry/disappointed readers (like I was with the first post).
Novel Ideas "My First …"
Post on Blog Comments: Do you get a lot of comments? Why not write about how you deal with bad ones? Which ones you find constructive and which are you favorite?
Brainstorming
Diary Entry
Manifesto
Slideshare
"What My Old Job Has Taught Me About Life…": I used to be a teacher, and my experience in the front of 30 students for 3 years taught me a lot of valuable lessons. What lessons have informed your current career?
Workload Management: I do a million things a day, but I'm hyper organized and I like to share my organizational tips with other people. If you have advice on managing your workload, share it!
Networking Advice
General Advice
Jobs/Roles: People are always curious what I do for a living, so I thought it would actually make a nice blog post. If you also get people asking what you do a lot, why not write a post about it?
CV/Portfolio: This is the same kind of curiosity that comes with the "Jobs/Roles" posts, where people just want to see what you've done and how they can relate, compare, or emulate your career path.
Dictionary: Are there lots of new terms related to your industry? Make it easy for newbies by making a dictionary for them!
Customer Appreciation: Put a spotlight on one of your favorite customers and write all about them and your relationship with them. This is a great way to humaise your business and show your customers that you really do care!
Common Mistakes: An example of this can be seen by The Daily Mail Online, "How you have been tying your shoelaces the wrong way all these years".
Blog Series: If a topic is huge and can't fit in to one blog post: Create a series with a few parts in it. The first part should start with the more basic information and the last with the more advanced information.
Webinar
Bucket List
How You Would do Something Differently
Philosophy Informed Blog: Infuse your blog posts with some philosophy. The post can be based on the philosophy or you can use a philosophy that supports your point of view.
Choose an Emotion & Write A Post That Tries To Evoke That Emotion
How to Write A Blog
Put Yourself In Their Shoes: Write From the Perspective of Someone Else
Life Hacks: Tips and tricks are always great.
Learn Something New & Write About the Process
Dissect a Campaign/Career/Strategy & See How It Works/Didn't Work
Psychology Informed Blog
100 Blog Post Ideas
Graphs: Don't feel up to the challenge of making an infographic? Thanks to SmartArt in Word applications, you can make graphs right from the comfort of Word.
Takeaways From the 100 Blog Post Ideas in 30 Minutes Challenge
It was really nerve wrecking, I have to admit.
But it was that adrenaline which actually helped me create so many ideas in such a short space of time!
There are certain posts that I've obviously tried and tested already, but having them written down will remind me that I can recycle these ideas with different topics.
I also came up with some really interesting ideas that I never thought about before.
My 3 favorites:
Put Yourself In Their Shoes: Write From the Perspective of Someone Else
"What My Old Job Has Taught Me About Life…":
Perspective Post
If you've taken the 100 Blog Post Ideas in 30 Minutes challenge, please don't hesitate to share the results!
**Update**
I've had a few requests for an update on this blog challenge, so here it is!
I went through the entire list and marked down exactly what actions (if any) had been taken on each of them. I had four categories:
Posts that I had written prior to he challenge
Posts that I had written since the challenge
Posts that I have scheduled in the coming months
Posts that I have yet to schedule or write.
Being the huge nerd that I am, here is a graph of the results: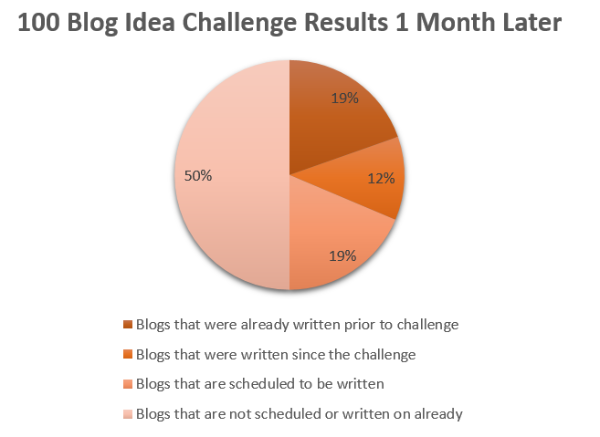 As you can see from the graph, about 50% of the ideas have yet to be used. Of course, this doesn't mean that I don't intend to write on these topics, only that I haven't gotten around to it yet!
For me, the results demonstrate a huge success: The month following this challenge I was never stuck for ideas and my editorial schedule is planned all the way up to December now.
Don't forget to let me know if you've tried the challenge for yourself! Thanks for reading!