Now that you have a basic understanding of Facebook, Twitter and Pinterest from Step 6, it's time to explore them in more detail so you can decide which ones are best suited for your business. The first one we are going to explore is how to use Facebook for Small Businesses.
Why Use Facebook For Your Business?
Facebook is an ideal channel for small businesses,  as it's an opportunity to showcase products and the heart of your company. As we mentioned, it's great for sharing news, company milestones, team events, pictures and your blog – anything that gives us a "behind the scenes" look at your company is ideal for Facebook.
This channel is a good way to increase the number of people that see your content; every time you post, you create an opportunity for people to share that post with their friends. Facebook also allows you to interact with people on a personal level, and since you're not limited by how long your messages can be, you can dive into details and conversations with potential clients and customers.
5 "Must Dos" To Use Facebook For Small Businesses
1) Set Up Your Account
Facebook has a simple sign-up process that will establish your business online in minutes. Make sure you take the time to read about the different parts of your business page – Facebook will walk you through them as you setup your account. And you can always go back and review anytime.
If you have a personal Facebook account, login and then create your business page – this means you only have to remember one email and password! Rest assured, your personal page and business page will remain separate.
2) Customize Your Front Door
Your Facebook business page has a cover photo (the big one) and a personal logo (the small one) – this is the first impression people will have of your business, like the front door of your store, so make sure it's you!
It's fairly simple to customize depending on how you want to represent your business. As a general rule, the cover photo should be attractive and related to your business. For example, if you are a shoe store, your background could be a beautiful new pair of shoes in your display, or an image of feet during rush hour so you see a sea of shoes. 
Your personal image should be your company logo. Make sure you upload one with a decent resolution – this is the picture that appears beside all your posts, and when people search your company on Facebook. Ben and Jerry's do a good job of making their page fun, which is ideal for their brand, as you can see below. For more ideas, check out these examples of Facebook business pages: Nutella, Threadless and SEOmoz.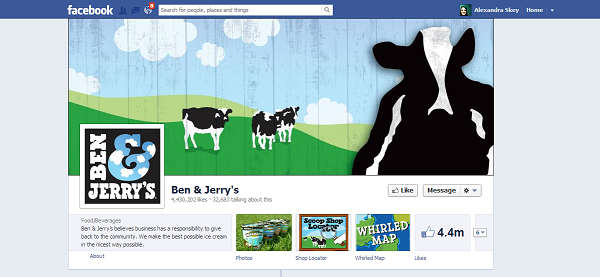 3) Make Your Posts Visual 
There are a few cool tricks you can learn to make your posts more visual, and you know what they say – images are worth a thousand words!
Instead of posting the link to your blog in Facebook, post a picture from your blog – if you post the image instead of the link, the image displayed will be bigger. Make sure you add the link to your blog when you describe the photo – you can even add a bit more text to describe what the post is about. This is a great way to stand out on news feeds and promote your favourite blog on Facebook.
We encourage you to post a picture of something related to your business every once in a while, as it's enjoyable and entertaining – the bright and easy photos get the most shares.
You can also use a program like Glyder, which makes it easier to share images across social media channels.
4) Pin + Highlight
Pinning and highlighting posts shows people what's important. Hilighting is a great way to promote your favourite blog posts because it makes the post twice as big on your wall and says "LOOK AT ME!" You can highlight as many posts as you'd like (by hovering over the right corner of your post and clicking the star icon), however no need to go crazy – if they're all big, they won't stand out from each other.
Pins are ideally used to showcase your favourite product, a special offer or popular event. While you can highlight as many posts as you'd like, you can only pin one. Pins appear at the top of your page for a week – they aren't pushed down by newer blog posts until the week is over. After the week ends, the pin disappears (but the post doesn't!) and you have the opportunity to create a new pin.
5) Consistency Is Key
Just like with any social media channel, using Facebook for small businesses is only effective if you're consistent! Every time you publish a new blog post, make sure you also post that to Facebook. You can also post things that are related to your business, like remarkable articles and fun pictures – if you establish a reputation of posting good content on a regular basis (3x/week), you increase your chances of being noticed by people on Facebook.
You've learned the basic steps of how to start using Facebook for small businesses. The best way to learn is to put these building blocks into practice and start using Facebook 3x/week. But don't stop here. Check out the next social media network that you can use to grow your business using Twitter in Step 8.
New to Spokal? This is part of our 12 Steps To Getting Customers Online guide. Feel free to check it out and let us know what you think.