So, you've learned how to use Facebook for your small business in Step 7 and how to use Twitter in Step 8, now it's time to dive into the newest "social darling" of the web – Pinterest.
What's Pinterest All About?
Pinterest is a visual network. If you love images and want to showcase the heart of your company, this is the place to do it!
When you use Pinterest for Business, try to find creative ways that show how your products and services fit into peoples' lives – the goal is to display the heart of your brand. On Pinterest, you share photos that represent that are displayed and organized on things called "boards." People can be kept up to date by following your entire business (aka all of your boards), or just one in particular.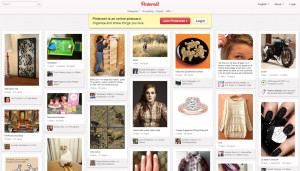 Pictures Are Worth 1,000 Words 
Some people say Pinterest is easy – you "just upload photos and curate a gallery," but that's like me saying, "running a marathon is easy, you just pop your shoes on and go for a jog!" As with everything, you'll succeed if you have a focus and a goal. When you use Pinterest, the goal is to showcase who you are visually, and what you stand for. Pinterest is extremely powerful, because we all know, pictures are worth 1,000 words.
How Do I Use Pinterest?
The best way to learn how to use Pinterest for your business is through examples, so let's look at Victoria Secret's Pinterest Page. Instead of using boards to advertise their products, they pin things that inspire them. For instance, they have a board on the evolution of the swim suit and another on weddings.
It's worth taking a minute to see how they set themselves apart, and then look at your favourite companies and see how they're using it. Once you're familiar with Pinterest and your creative juices are flowing, it's time to sign up and get ready to rock!
5 "Must Dos" To Use Pinterest For Business
1) Sign Up
Pinterest makes it easy to get started,  all you need is an email, although you can login with Facebook or Twitter. Once your account is created, you'll be asked to choose a couple things that interest you – make sure these are relevant to your business and your customers, then Pinterest will provide you with a baseline of pins to set up your home page and get you started.
2) Understand The Lingo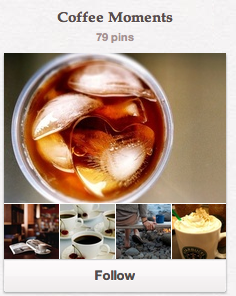 Go through the Pinterest start-up tutorial (you'll see it when you register) and get accustomed with being a pinner, pinning things, a board and pins.
1) Pins
–  Images you post or "pin" on a board
2) Board
– Holds a group of images in a single category (think of it like a cork board)
3) Pinning
– When you put something, or "pin it," on a board
4) Pinner
– A person who pins something to a board (this is you!)
Check out the Coffee Moments board from Starbucks on the left. "Coffee Moments" is the board, and the photos are "pins" on the board.
3) Create WOW Content
This is the fun part – there's no limit to what you can pin. Just like how Victoria Secret has boards on hair styles, you can be creative too. The only rule is that your photos must have great resolution – aka be big and beautiful – because people like to share photos that look good! To help you get started, here are a couple things you can pin:
People using your products/services in everyday life ex shoes crossing the street, a table in a country kitchen, or someone getting off the bus with your yoga mat, or even someone smiling after you did their taxes for them
Cool pictures from your blog
Photos of your customers and events you've been too
Anything related to your industry
Shots from your Facebook Page
4) Link Your Images
Whenever you pin something to a board, you can add a link (aka someone can click on the photo and be taken somewhere),  and you get to choose where they go. Make sure your pins are linking to a relevant page. So,  if you pin a picture of a person using your products, a link to a landing page for that product is a good idea.
5) Attract Followers 
This may seem repetitive, but that's the idea behind social media – the best way to attract people is to provide great content. The more interesting and visual your pins are, the more people will re-pin them and in turn, click on them to learn more. There are a couple ways to increase your followers, in addition to killer content creation (these only work if you create killer content): 
Create A Video Board: Pinterest allows you to pin videos too! So, why not turn your Pinterest page into a resource center for the best videos about a certain topic or entertaining stories related to what you do
Make It Share-Able: If your blog post has a great photo in it, add the Pin-It social media button so other people can pin it as well
Use Hashtags: That's right, it works for Pinterest as well as Twitter. Take advantage of several social media campaigns simultaneously to get your message out there. Remember, hashtags look like this #hashtag and are used to help people find and follow a conversation.
5 Great Examples of Businesses On Pinterest
While it's easy to suggest creative and original ways to interact with your customers, it's even better to see great examples in action. These companies are doing a killer job using Pinterest for business:
Alright, you are almost an online marketing pro! Well, let me say that better – you're almost at the point where you know enough to succeed online so you can focus on growing your business, and not on being a marketing expert! The next step is THE MOST IMPORTANT PART of how to grow your business online – Step 10: nurturing leads and turning them into customers.
New to Spokal? This is part of our 12 Steps To Getting Customers Online guide. Feel free to check it out and let us know what you think.