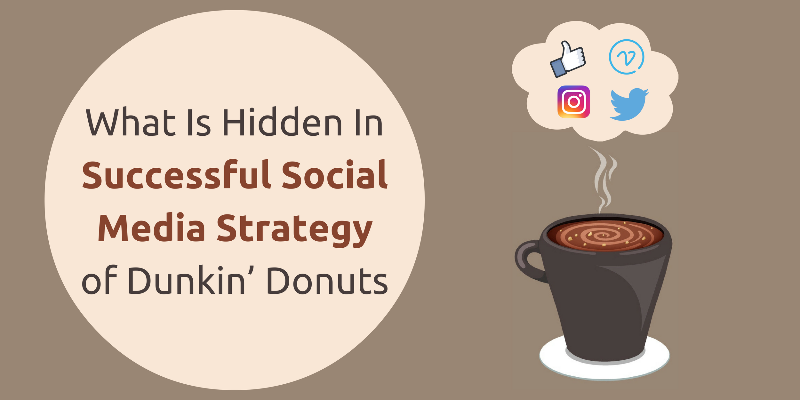 AMERICA RUNS ON DUNKIN' – this slogan totally reflects the level of popularity of the worldwide brand of coffee and baked goods. Since its appearance in the market in 1950, the company has grown to be one of the largest coffee and donuts chains. Rosenberg made the controversial decision to franchise as the company grew. He even founded the International Franchise Assn. which still exists today and turned the idea of franchising into a respectable, money-making profession. A great amount of new popular business and communication tools which appeared in the 21st century was also successfully implemented by continuators of the Rosenberg's coffee and donuts chain.
By the way, have you ever known the facts which stood at the origins of Dunkin' Donuts? Let us get started with the main points of marketing strategy you may not know about the favorite coffee franchise.
#1 Did You Know That…
The first name of the donut shop opened by Bill Rosenberg in 1948 was "Open Kettle". The name changed to the familiar one 2 years later;
The first restaurant was opened with donuts priced at 5 cents and a cup of coffee at 10 cents;
Dunkin' Donuts still uses the same initial coffee blend recipe of 1950 created by its founder;
You can order your DD coffee in 10.000 locations in 38 states and 32 countries;
Dunkin' Donuts sells over 1.7 billion (!) cups of coffee per year. That is more that 30 cups every second;
Each country that houses a Dunkin' Donuts has a uniquely created donut. It represents the local cuisine and flavor. There are 106 donut flavors available throughout the U.S.;
The main thing is that the global strategy lays in selling products cheaper than competitors such as Starbucks and Krispy Kreme.
#2 What are the secrets of successful PROMOTION?
Nowadays Dunkin' Donuts serves approximately 5 million people every day. Just imagine that lined side by side, the coffee sold daily would stretch 85 miles! That is not a pure set of circumstances! It is a well-known fact that without advertisement in social media the success of the trademark and product is impossible. Magazine ads, billboards, and other commercials are supported by social media outlets such as Vine and Twitter.
DD Company is not an exception! In a world of social engagement and connectivity, coffee-and-donuts brand reaches and engages the people by sharing great content. As soon as the company recognized the importance of social media as a way to engage with customers on a personal level, the implementation of marketing techniques had started to develop the brand image. Does the company use a direct marketing strategy which bothers only about sales growth and product distribution or being social is not just about winning fans?
#3 SOCIAL MEDIA rules the world!
When did Dunkin' Donuts start to use social media for the global advertisement campaign? Interactive marketing manager of the company informed that the Facebook brand page and Twitter account in late 2008. Dunkin' Donuts has been doing phenomenal work since it appeared on social media. Today's President of Global Marketing and Innovation John Costello represents the idea of the Dunkin' brand by the following words:
It's not just time to make the donuts — it's time to go social.
In a world of social engagement and connectivity, coffee-and-donuts chain reaches and engages the people by sharing great content. One of the most important steps of successful promotion in social media is to RESEARCH. That means to know the audience and its interests. That is what Dunkin' Donuts PR-managers successfully understood and used in marketing strategy. How it works?
#4 VIA Instagram
A mobile application such as Instagram allows the brand to capture and share images and short videos with followers. It occurred to be efficient for advertising the product all over the world. Dunkin' Donuts Company advertises all innovations by using its official account @dunkindonuts. Today their account has 1. 000 000 followers. You've got to admit that a person who visits such place can't help making photos with steamy aromatic coffee in a cute paper cup. There are also several videos of the cooking processes when the ingredients are mixing in order to turn into cookie or donut amazingness.
The main point is that it is really dangerous to visit their account if you have a tiny hunger! Dozens of photos with charming glazed donuts and coffee slightly pushes you to go to their restaurant, order the best portion of something delicious and enjoy the vivid moment of life. Sharing content that inspires the customers and their friends helps the company to acquire reliable audience and connect people all over the world.
#5 Vine
Vines are short (6 sec) videos serving for public entertainment and advertisement. Dunkin' Donuts Company is making the biggest reaching gains using Vine, especially in terms of other media coverage. For instance, in 2013 Dunkin' Donuts premiered a vine produced advert on television during an ESPN football program. The company chooses and utilizes only the networks and platforms that best speak to their audience. What is the hidden trick here?
It seems that all captivating mini-moments are filmed for specific followers. And you consider yourself this special person. They use a lot of humor and animate the paper cups by Creativity and personalized short vines bring pleasant impressions and great cash profit. People prefer a product which attracts sensory organs and may bring simple human happiness. The company's main aim is not just to sell coffee and baked goods, but to become an integral part of their customers' daily lives — even after they've finished their morning coffee.
#6 YouTube Channel
YouTube Channel has become a highly effective tool for attracting massive audiences through posting original videos. What did the coffee-and-donut company do for creating the most efficient social media advertisement? The company is growing prominence in popular culture by filming commercials with local sports heroes David Ortiz (Boston Red Sox designated hitter) and Rob Gronkowski (New England Patriots tight end). Boston-area Dunkin' Donuts chose two Boston's biggest sports starts for its new iced coffee commercial.
Rob Gronkowski and David Ortiz hit the publicity with 2015's summer jam about iced coffee The two delivered the goods in a hysterical music video for a song called "Sippin". Later Dunkin' Donuts released the music video called "Dunkin' Paradise" in which Gronk and Papi are chilling at a caffeinated pool party near the beach.
Tip: What is the most attractive in such approach? Funny videos involving sport stars or other celebrities who are natural, cheerful and what is the most important – reflect the idea of your product!
The company treats all social channels separately! They don't post the same messages, photos, and videos across all channels as they remember who the audience is behind the platform. That's why the subscribers read and watch the unique information. Actually, they don't own their social media platforms, the fans of Dunkin' Donuts do. As a result, the main aim of the marketing strategy is to maintain a highly engaged global community of Dunkin' Donuts fans. They work on providing meaningful content by setting a two-way dialogue between the company and its passionate followers. Coffee and donuts bring a little fun and pleasure to the everyday life of Dunkin' Donuts guests and become an essential part of their leisure time.
Who works on creating the successful image of the company? The social media team consists of nearly a dozen people working out of "The DD Mothership" (the social media team's nickname for Dunkin' Donuts' headquarters in Canton, Massachusetts). They bring in public relations agencies for support in local markets and brainstorming for sweepstakes and promotions on Facebook pages and Twitter. The company also created a special mobile application that provides exclusive rewards, offers, and coupons.
IMPORTANT!
If your main objective is not only to advertise and sell the product or service but make it a part of people's life and happiness, try to follow the rules of DD team. Here are they:
Introduce new promotions via different online channels and platforms. It is necessary to fulfill them with diverse and appropriate content and support the main idea of your company. Dunkin' Donuts will be always associated with delicious coffee and baked goods within the cozy and friendly atmosphere. What association does your product trigger? CREATE a contact bank.
After understanding the main idea, you have to DEMONSTRATE the uniqueness of your brand. For instance, DD team does this through creative programming designed to stand out to bloggers and fans.
Show that your company understands consumers evolving needs in the face of economic challenges. While the competitors overprice the product, show stability and quality.
Keep your product in the spotlight! Dunkin' Donuts' coffee excellence is shown through positive comments, photos and videos along with presenting it primarily as a donut chain. It makes the whole company the nation's 1st retailer of hot and iced coffee with the most delicious donuts!
Do you run on dunkin?
Alyssa Johnson is a blogger and freelance writer for Edubirdie. Her lifestyle credo is "Sometimes when you innovate, you make mistakes. It is best to admit them quickly, and get on with improving your other innovations."