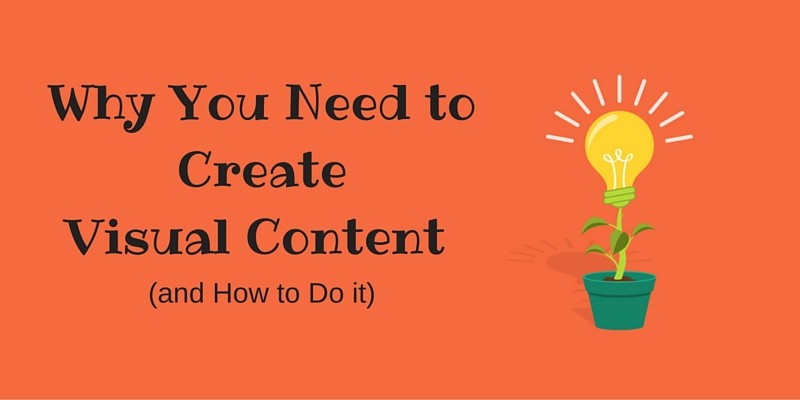 Creating custom images for content has been all the buzz lately.
There's good reason for it, research and data show that when you include visual content (i.e. images or videos) in your blog posts and social media you tend to get more traffic, clicks, and engagement.
Now doesn't that sound like something you'd be interested in?
After all, unless you're inundated with traffic and customers, there are very few brands out there that wouldn't love getting more eyeballs to their websites and more clicks on their content.
That's where a small change like adding some of your own visual content to your blog posts and social media, can give you big results.
The Numbers Behind Visual Content
So why the big push behind visual content lately? Well, turns out, the numbers don't lie, it does make a noticeable difference.
Check out some of these statistics from both Twitter and Facebook to start.
According to some in depth data analysis performed by Twitter, "photos averages a 35% boost in retweets."
You can see similar numbers when it comes to Facebook.
In this study from eMarkter focusing on Facebook content, they found potential customers interacted and engaged the most with brands who posted high quality photos.
Those are huge numbers from simply adding a photo.
So, pause to think about it for a minute. What that means your content is seen by an expanded circle of people, always a good thing. Not to mention, people are far more likely to be interested in the things their friends are in.
This is especially true when it comes to social media.
Influence Counts
Studies have found that people (especially Millennials in the digital age), are more influenced towards brands and content that they see their friends promote online.
There are a couple of reasons why creating visual content makes a difference.
The first, we live in a fast paced society. Yes, I know you've heard that before, but it makes a difference when it comes to how you view content.
Think of your own activity on social media. As you scroll through thousands of tweets and Facebook posts every day, what makes you stop and pay attention?
It won't be a huge guess to say a photo.
There's actually a reason behind that, and it has to do with the way your brain processes information.
Scientists who study the brain have discovered: "…visuals are processed 60,000 times faster than text, graphics quickly affect our emotions, and our emotions greatly affect our decision-making."
Starts to make a lot more sense now, doesn't it? We are hardwired to respond to visual imagery, but this doesn't just apply to social media, either.
Blog Images Matter Too
Visual content is incredibly important when it comes to blog posts as well, and no we're not just talking about adding a generic stock photo at the top (don't worry, we'll cover that in a minute).
Blogs that use things like photos, infographics, videos, gifs, screenshots, and data charts, just to name a few, in their posts also see far higher levels of engagement, clicks, and time on the site.
Another study (we like studies around here) showed if a published article had a relevant infographic or photograph in it, on average, views increased by 94% compared to articles that didn't have images.
You can see how important that 94% can be in this visual from QuickSprout.
Now, if you're using your blog to showcase your products, highlight reviews, provide testimonials, then having high quality relevant images can dramatically increase your conversions and improve your funnel.
Plus, when your content is shared more often, that leads to an increase in the number backlinks pointing back to your site, which in turn, can help increase your search engine rankings.
Sounds like a win-win, right?
Other Uses for Visual Content
Don't forget, there are tons of opportunities for adding more visual content to your brand to help attract new visitors.
The obvious choices are to look to the webs two most visual social media sites; Pinterest and Instagram. These sites are chock full of opportunities for you to create your own high quality images and branding.
You can use a tool like Latergram to create images and then upload them to your Instagram account. This can provide a ton of flexibility outside using your own photos and drive more traffic to your website through the fastest growing social media sites.
Another place to highlight your brand and website in a more visual way is on SlideShare. SlideShare is also a good place to re-purpose your content. Take one of your most popular blog posts, design slides in a tool like Canva and you'll be able to create a very attractive alternative that is likely to catch the interest of new readers.
How to Create visual Content
Alright, by now you know that creating these images is important, but you're probably thinking it's going to take forever. Which is why most people don't do it.
Hold up, not so fast.
A few years ago, yea it was kinda a pain in the you know what to create your own custom images if you weren't a pro at PhotoShop. But, today, there are a ton of tools out there that make the process a breeze.
Images
First, you have to start with good images.
Thankfully, there is no reason to keep using the stock photos of old. Now, there are sites that offer incredibly high quality stock photos that are perfectly suited for a number of uses. Gone are the days of the two guys shaking hands, huzzah!
Here's some of the best sites to get free stock images:
If you're willing to pay for your stock photos, here are a couple of good sites:
Image Tips
There are a couple of things you want to keep in mind when picking photos before you get started.
First, always make sure you check out the attribution. In an ideal world, you'll find photos that you don't need them. But, if that's not possible, be sure to follow the requested attribution for the photographer.
That means if they want you to put a link to their photo on your site, do it. Or, if they want you to ask permission first, do it. Don't leave them without the credit they are due.
Next, remember the key to success here. You want a high quality photo that is relevant to the content of your post. It doesn't matter how amazing the photo of hot air balloons you have is if your blog post is about creating an email campaign for eCommerce shops.
Finally, if you're going to be adding text to your images, say you want to make it a quote photo or include the title of your blog post, be sure it has space for all the words and won't look too busy.
Alright, now you know how to grab some photos, next we can look at the tools out there to help you create images.
Tools to Create Visual Content
Canva is a really popular image creation tool and is incredibly easy to use. A favorite feature includes having preset templates for a number of situations, including blog graphics, Facebook covers, and Twitter photos.
All you have to do is choose the template, upload your photo and go at it. Canva offers a number of different styles of fonts, including pre-designed text styles. All you do is pick which one you like, and double click to add your own text.
They also have a bunch of advanced designs, styles, and templates you can use on a paid basis, everything starts at $1. But, you can create a number of awesome custom images for free.
PicMonkey is another tool you can use to create your own images. While the free version doesn't have all the bells and whistles that you'll find in Canva, it still gets the job done.
With this tool, you also pick your canvas size, they have a few templates, or you can create your own custom sizes. Then, again, upload your photo and start designing. They have features including graphics, cutouts, and textures that can be added to your images.
PicMonkey does have a very cool collage option set as a template that can be a perfect tool for creating images of things like crafts for a blog or a Pinterest board.
BeFunky positions itself as more than just an image creator, and considers itself to be a light photo editor as well. So, with a tool like this, you'll get a bit more editing ability, thank you might find in Canva or PicMonkey.
That could come in handy if you plan on showing a lot of people in your photos, since the red-eye tools and blemish removers are perfect for that.
Just as with the other tools, it's super easy to use, simply upload your photo (it even lets you use photos from your webcam) and start playing around.
Start Creating
Now comes the fun part.
With the tools to create stunning visual content, you're going to be able to not only keep the interest of your current readers and followers, but also drive more traffic from new sources.
Think about how you can improve and promote your brand more with visual content, think of them as a vital part of your marketing platform, not just a last minute throw on. Once you start doing that, you should start noticing some interesting results.
The real question is, have you been doing this already? If so, have you noticed a difference in your own stats? Do you have your own tips for creating awesome visual content? Let's hear it in the comments.