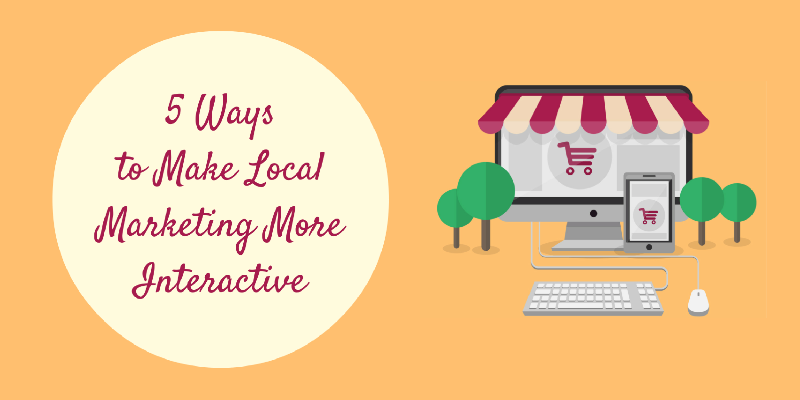 The world of marketing is ever evolving on a massive scale and at a faster rate than most of us can keep up with. The world's biggest corporations spend billions on global marketing campaigns, social media ads and award-winning television commercials. Shrink down the scale a bit, and you'll get an interesting glimpse at a local microcosm of this world.
Local marketing comes with its own unique challenges. With a limited audience (i.e. the consumers in your neighborhood, city or state) and many local agencies all competing for their business, it can be tricky for entrepreneurs and small business owners to stand out.
Luckily, we live in an exciting world, where consumers are craving engagement and interaction with brands. However, making the switch from direct mailing and social media to interactive marketing can seem daunting.
Use these creative ideas to stoke your own creative fire, and find ways to step up your marketing, stand out, and attract more customers.
1. Take Video to the Next Level
Interactive Marketing Tactic: Real-time engagement
Drones have become popular quickly, with businesses and people alike using them to capture epic shots of the world below. As a business, you can use a drone to create amazing content for your website that makes it stand out among your competitors. For example, Paul Moore, a real estate agent for Smith Mountain Homes said,
"Our goal was to build the best lakefront realty website in America. We saw that video was in, and thought, we're selling an experience, we're selling a dream, we're selling a beautiful lakefront mountain resort—Smith Mountain Homes is Virginia's best kept secret so we decided to do drone video." Check out the video on the Smith Mountain Homes homepage—it catches your eye right away.
Now transition that into marketing. You can use this to market:
A service: Personal trainers can get a unique view of outdoor group sessions, for example.
A product: Pool retailers can get shots of their pools, inventory or newly installed products from above.
An event: Have a drone record all or part of a large community event as marketing material for next year's.
Luckily, with the popularity of drone videography, it's relatively easy for small local businesses to hire someone to do the work for them. Moore worked with a friend, which you may also have the opportunity to do. Otherwise, sites like Fiverr and Upwork may help you find someone to work with.
2. Gamify Your Marketing
Interactive Marketing Tactic: Gamification
If you haven't noticed, there's a new mobile gaming craze in town—Pokemon Go, which has an estimated 21 million daily players in the United States alone. This was a great reminder for businesses that people—their customers—love games. Why?
"Mainly because they give us freedom of action, positive feedback on our accomplishments and the possibility to create social bonds. With gamification, we have access to several game components that can lead to this enthusiasm," says Ludovic Egglefield-Frenette, with Ellicom.
Frenette continues by saying that games satisfy three primary universal needs: autonomy (we can make our choices and paths), competence (badges, levels, leader boards) and relatedness (chats, comments, likes, shares). If you're gamifying your marketing, you're targeting potential customers in a way they don't even realize, making it one of the most valuable opportunities.
As a small, local business, there are many ways to gamify your marketing, with and without technology. For example, if you're working on a small budget, create a themed scavenger hunt based on a holiday or event. The hunt takes potential customers all over town, and if they complete the challenge, they get a free item or significant discount.
You could also use the idea of gamification in another way: Give guests a "passport" to your products, encouraging them to try many different selections or services. If they make their way through the whole passport they get a reward—a discount, free item, or exclusive access to a local event that you've partnered with.
3. Connect With Customers on Facebook Live
Interactive Marketing Tactic: Storytelling
Facebook Live is one of Facebook's newest features, and has only recently become popular in the business and publishing world. Despite the newness, Live's effectiveness is already being seen in terms of engagement: "People spend more than 3x more time watching a Facebook Live video, on average, compared to a video that's no longer live," according to a Facebook news release.
The beauty of Facebook live for small businesses is that it's free; if you have a Facebook account, business page or not, you can go live with everyone who's following you.
Here's what you need to know to do your first live stream:
Followers will be notified via a regular Facebook notification and all they'll see is the description of your video. This is your chance to reel them in so make it enticing and descriptive.
People can interact with you in real-time via comments, so ask questions and encourage your viewers to do the same. You can answer questions and respond to comments while filming.
Make sure your voice is loud and clear; don't turn away from the camera and talk, which will muffle your voice.
Optimize the video once you've finished. It will automatically be added to the video section of your page, so add a CTA, link, and updated description (Facebook will automatically prompt you to do this). When people come across it afterward, it will still be an effective marketing tool.
Use this to do the reveal or unboxing of a new product, give a tour of your office or store, live stream a radio appearance you do, etc.
4. Do a Snapchat Takeover
Interactive Marketing Tactic: Storytelling
If you're not on Snapchat, and your main customer base is millennials, you need to be. Once on this new, yet hugely popular social platform, you can do all the interactive marketing you want, with videos—Q&A, life around the store, daily tips—and images—using funny filters and text to describe what viewers are looking at.
One cool way to take Snapchat to the next interactive level is to invite customers to do an account takeover. The idea is simple: you choose a customer and they log into your account and snap their life for the day.
Choose an MVP customer, someone who you want to call out for doing something really awesome, or a customer of the month.
If you don't trust customers to log into your account, enlist an employee. This is especially awesome if your office or store is really cool. It gives current and potential customers a glimpse into what day-to-day life is like in the business, building an emotional connection that leads to trust and more purchasing down the line.
I know what you're thinking: This sounds very similar to Facebook Live. However, there's one major difference: the time. With Snapchat, you have 10 seconds or less to take video. Each video is saved to your story, where it can be seen for the next 24 hours by anyone who follows you (if you have your settings set as such). In this way, you're stringing together a day or an event with small bits of video, rather than hosting one long stream.
You also can't interact in real time with people watching, which makes it more of a storytelling tool than a live interaction tool.
Remember: In the end, the goal is to make your Snapchat memorable, so when the customer is deciding whom they'll go to for the specific service or product, they'll think of you. You're building customer loyalty while creating interactive marketing content that is also authentic.
5. Host a Twitter Chat
Interactive Marketing Tactic: BTS and Authority-Building
Twitter is only valuable if you interact with followers and post regularly—unless you're a massive brand that attracts engagement no matter what, like Coca Cola or Nike. As a business, there are a variety of ways you can take your regular engagement to the next level, making it more interactive.
One of the best ways to do this is with a Twitter chat, where you create a specific hashtag and set a date and time for everyone to come together on twitter and discuss a particular topic.
There are many Twitter chats that happen on a weekly basis, hosted by well-known professionals, businesses and celebrities. As a small local business, you can use this as a platform to talk about a variety of topics. Here are a few ideas:
Q&A: This is a chance for customers to ask you questions based on the topic you choose. Consider hosting a Q&A about a new product launch, a new storefront, a recent shake-up in the company and more. This allows you to be transparent with loyal followers in a casual and friendly atmosphere.
Topical: Host a chat about something going on in the community; a local election, up-coming concert, or annual festival that everyone knows about and attends. You are a part of the community, and this is a great way to show that.
Specific to your industry: Use this type of Twitter chat to show your knowledge of the industry. If you're in radio, maybe you host a chat about how to get into the industry, the struggles you went through and more.
To host your Twitter chat, share the hashtag, time and date with your audience on a variety of channels, including other social platforms you're on, email, and Twitter itself. To prepare, write a list of topics you want to cover to help keep you on track and "on message" (if there's something specific you're hoping to get through during the chat). Otherwise, relax and have fun connecting with customers.
Interactive marketing is possible for small businesses, even if you don't have a budget for it. Use these ideas to connect with customers in a new and exciting way, building loyalty that leads to more sales and faster growth.
BIO: Jessica Thiefels has been writing for more than 10 years and has been in markting for five years. She is currently a lifestyle blogger and has written forLifehack, Manta, StartupNation, LeadPages, Salesforce and more. Follow her on Twitter @Jlsander07.