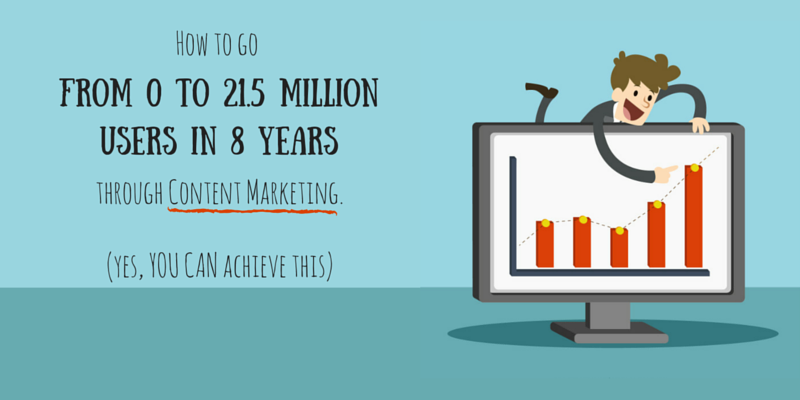 [Editor's note] This is a guest blog post by Cristian Rennella of El Mejor Trato. El Mejor Trato provides comparisons for financial products like loans, mortgages and credit cards in central and south america. Renella and a friend started the company in Argentina in 2008 and have grown it to several dozen employees and over 20 million uniques in the past 8 years. He tells us how he did it here. Please be sure to ask any questions in the comments below.
When we began our business venture in 2008, the goal was simple: help the user to make a better decision by using the internet to compare all available services. Similar Expedia or Priceline but focused on loans, cell phone plans, medical and other types of insurance, etc.
As perhaps you have experienced first hand, if you have your own start-up and you have programmers working for you, developing the platform and the technology has its own measure of challenges which generally take up most of your time in the first months. Once a minimum viable product has been obtained, the error of all rookie entrepreneurs is to think that success is guaranteed. However, this is just the first step.
Your next goal is based on designing a scalable process in order to gain new clients and this is where content marketing comes into play, with which I would like to share 4 points for you to implement:
1) Begin by improving that which already exists.
Eight years ago, on the level of content, what was used predominately were forums and a section for questions and answers like Yahoo Answers. Unfortunately, these sites were full of inquiries, but had very few answers and they were designed poorly.
This caught our attention and amongst the hundreds of things that we tried in order to generate new clients for our platform was the project to begin developing content in the form of articles on our site that would attempt to answer the most frequent questions that we found in online communities (especially forums).
The key here is to focus on being the best resource on the internet for content in the area in which your company is related (finance, tourism, automotive, etc.). And this is just what we did, generating content regarding specific topics in which we already had knowledge and we thought would definitely be of great use to share with others online.
For example, in Yahoo Answers, there is content offered but with little value: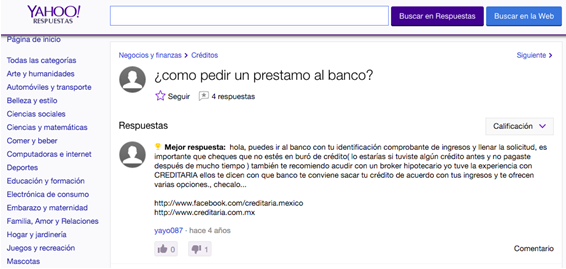 What we did, however, was to create an article written by a specialist in finances who would be able to answer the questions exceptionally well and would go into the necessary details (requirements, time frames, characteristics) in order to help the reader: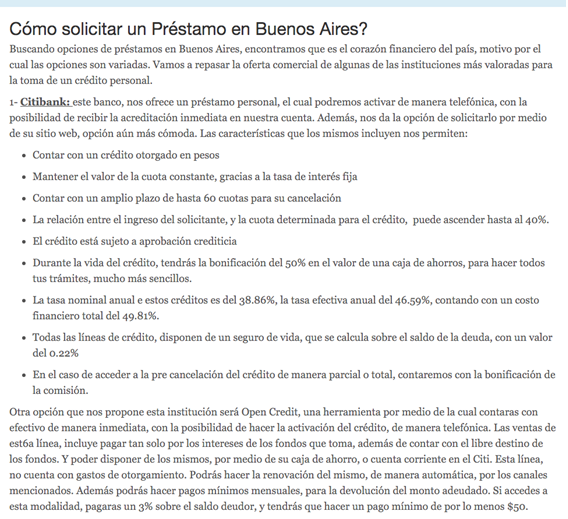 One of the most important points we learned was to understand that you must be patient. Don't expect to have immediate results. Content marketing, if done properly, will give you results starting around the 6th month. This could be a little more or a little less, depending on the competition in your sector. But it definitely will not be one day to the next.
Even though it took us some time, today, our content is found indexed by Google in a position above all of the sites that once dominated the top search positions. With each passing day, Google is more intelligent in their way of ranking results for their users, so you can be sure that if you generate useful content for the reader, sooner or later through content marketing you will begin to generate your first clients.
2) Add the value of an expert.
Once the first point of this article began to work and around 14 million users used our platform in Latin America, there came a time when we received on average 115 questions per day in our customer service center.
As this was something that was not viable to sustain over the long run, we decided to once again bet on content marketing. But this time, in addition to creating articles, we would focus also on publishing (with the user's permission) all of the questions along with their answers. Instead of answering by email, now we would do it publicly within our own website. In this way we created our own section of questions and answers. But what is the difference from other places on the internet which already were doing this?
a) To start, and also most importantly: each answer would be given by an expert on the subject. For this reason on our current team we have 6 people who are very capable in their area and are able to give correct and high quality answers to help the user.
b) Each question and answer passes through a process of being "fine-tuned" where we seek the highest quality, reviewing and revising them one by one.
c) Lastly, we take the time to keep these answers up to date. If, for example, in one country a law is changed, we take it upon ourselves to update the answer so that the information is valuable today.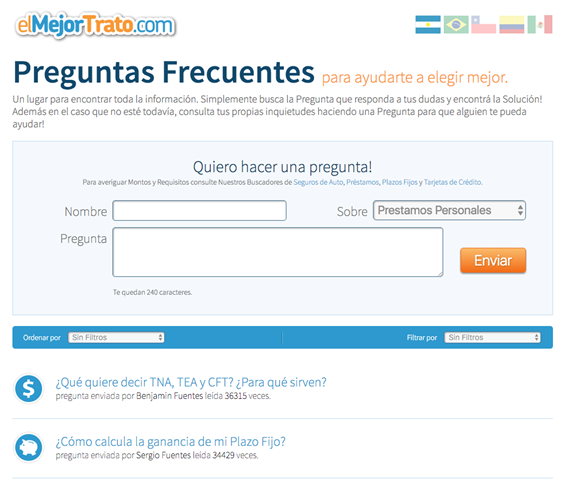 Admittedly, this section of frequently asked questions took us some time, energy, and investment in order for it to function correctly. However, this strategy of content marketing alone represents approximately 6 million visits to our business each year.
It does not matter what sector your project is in (gastronomy, hotels, finance, etc.), you will always have new doubts and questions from your users and if you take the time and dedication in answering efficiently every one of them, in the long run it will be a sustainable model and scalable for the future generation of new clients.
Note: It is important to mention that with the passing of time you will see how the inquiries to your customer service center begin to decline. As all of these questions and answers are publicly available, many new users will be able to find the answer to their doubts on their own.
3) If you want to win: Unify your efforts.
Last year we began a new strategy for content marketing based on our work experiences over the years.
In this new methodology, the goal is to begin unifying all of our content in just one format, called the "guide" for the user. In this way, we are joining points 1 and 2 in this article in every instance that it is possible.
The idea is to have all the information on a topic in just one place and not disperse it over various sections of your platform. This will help your users to find everything better organized and we have also noticed that we have improved our positioning on search engines.
For example, if your business venture is in the tourism sector, it is better to put the article where you discuss "The best places to visit on your trip to Barcelona" at the end of all the questions and answers that your users have historically made which are related, in this case to "Barcelona." For example: "What is the safest means of transport in Barcelona?", "What is the cheapest hotel close to the arc of triumph in Barcelona?" etc.
This unifying of content has taken us a lot of time because it is mostly a job requiring manual organization, but thanks to this strategy, as simple as it may seem, our traffic has increased by 17%: it is definitely worth the effort and dedication.
Want Help With Your Content Marketing?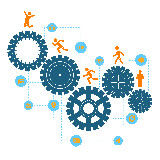 The 3 Pillars Guide Will Get You Focused on The Right Things - At The Right Time. Enter your email address to get it now
4) Don't forget about reviews.
In closing, one last strategy that generates 1.5 million visits per year is to have a section dedicated to reviews from the users, both positive and negative, relating to the services/products that we offer.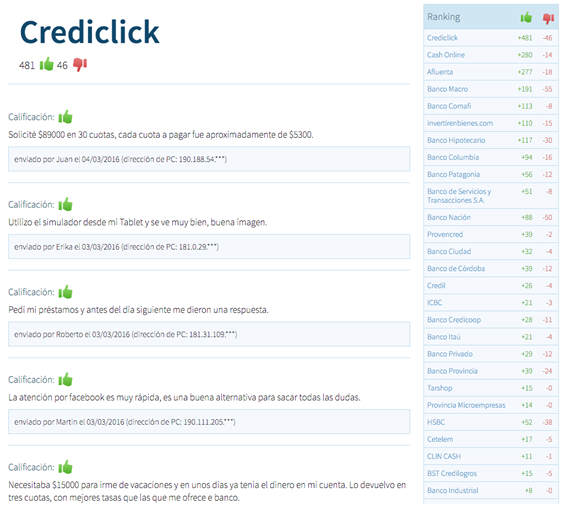 This is a content marketing option that you can implement as well, simply by giving your users the possibility of sharing their experiences.
The internet is with each passing day more of a place where users go to look for references related to the products they are considering buying.
Just by using the Google predictor we can learn this.

Another interesting example:

If you can solve this concern on your website for the users, this alternative for content marketing will definitely be of great benefit in the long run.
Conclusion:
a) I recommend that you implement the strategies for content marketing one at a time.
b) Learn from your mistakes and your triumphs in order to continue with the proper adjustments as you grow and also so as to not commit the same mistakes when implementing another strategy for content marketing.
c) Remember to be patient, the results will not come from one day to the next. It is an investment for the mid and long term.
[Editors Note]: this article is a guest post by Cristian Rennella, Founder of, and Director of Marketing for MejorTrato in Mexico. Please make sure to ask any questions of Cristian that you have below.