This is a guest blog post by Ivan Serrano.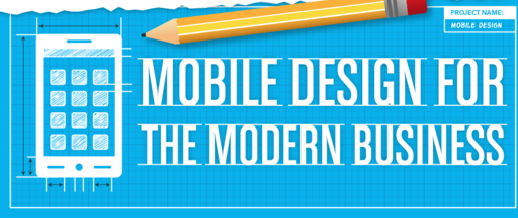 Mobile design is changing the way consumers interact with businesses. People are no longer using a phone book to find the location of a retailer, but instead they're using their mobile devices!
Mobile technology has made it possible for businesses to create a closer relationship with their target customers. Businesses can use mobile design to help their customers locate their store and receive valuable information regarding product promotions.
When it comes to researching products, 4 out of 5 consumers use their mobile device. If your business is yet to create a design that fits your customers' browsing needs, it's time for an update. As you take a look at how mobile design can improve your business, here are four things you should know:
1. Understand Your Audience And The Devices They Use.
It's very likely your audience is viewing your website from a smartphone, tablet, or laptop. As you design your mobile site, take into consideration your audience's internet usage and how they access your website. This will help you create a design that's tailored for their shopping needs and make your business more accessible to your customers.
It's also important to think about the types of operating systems your customers use. This factor can greatly impact the success of your mobile design. For example, if you know your customers are mostly iPhone and iPad users, you'll want to make it a priority to create a design that will be compatible with their iOS devices.
2. Create A Responsive Design For Your Mobile Site
You'll discover that the best way to create a mobile website is to use a responsive design. Responsive design simply means that you create a web design that is compatible with different mobile devices.
Responsive design is a great design for business websites because it maximizes the user experience and improves readability for the website. This feature will make it easier for customers to access your website from their mobile device and even make a purchase.
3. Incorporate Features Of Mobile Technology
Nearly every mobile device can do practically anything you can imagine. Most smartphones offer features such as location services, a microphone and camera, and even technology that can measure your heart beat! When creating your mobile design, it's important to take these features into consideration to fully optimize your customer's experience with your website.
4. Take Advantage Of Tools To Help You Build Your Mobile Site
Creating a mobile design doesn't have to be a headache for your business. In fact, there are a number of tools available to help you easily create a beautiful mobile design for your business. Tools such as Sketch, Proto, and LiveView can help you create mobile designs and elements for your mobile website or app.
If your business still hasn't adapted to mobile design trends, it's time to get started with your strategy. Especially if you don't want to lose your customers, you'll have to create a mobile website that fits their needs. To learn more about mobile design and how it can improve your business, check out our "Mobile Design For the Modern Business" infographic: