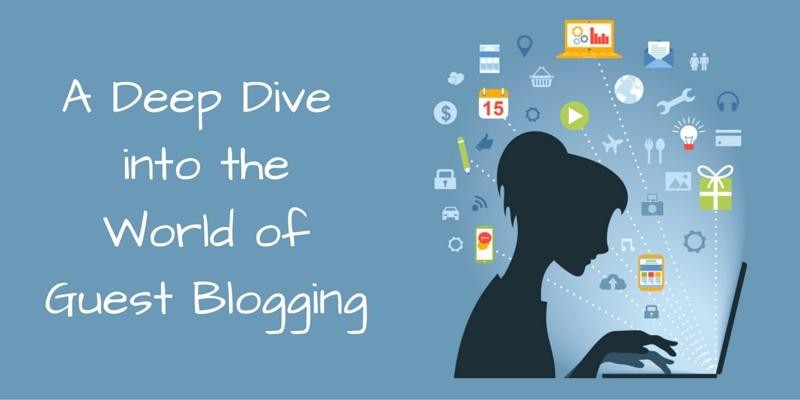 So you've got a fantastic business blog, and a decent amount of traffic to it. But you're impatient. You want more visitors to your site now. A great strategy to add to your content marketing mix to get more visitors is guest blogging.
By contributing blog posts to other sites that attract your target demographic, you build a connection to that blog's audience. If you provide really useful content, you'll catch their attention. Because you've got your bio at the end of the post, people can easily click to learn more about you and your business. There's no easier way to reach a wider audience — not even with advertising, which many people tend to ignore
Let's say that you run a marketing firm, and you start guest blogging for sites catering to your customer demographic: owners of software companies. You've written posts for several high-profile blogs, and you start getting calls and emails from new potential clients. When you ask where they found you, they mention one of the sites you guest blogged for.
When people start to see your face and name on multiple blogs that they read, they start to think, "hey, this person seems to know what they're talking about. I should hire them."
Seriously. It happens just like that.
And when guest blogging doesn't instantaneously result in new sales, it still helps you build your online network. People may comment on your post (and you should definitely comment back) or follow you on social media and engage with you there. There are multiple opportunities for you to nurture those relationships, and it all starts with guest blogging.
Where to Start
Now that you know why guest blogging is such an asset in your content marketing arsenal, let's talk about how to do it successfully.
What do you want?
First, you need to set some goals. What are you hoping to accomplish with guest blogging? I wouldn't set "make $100,000 overnight" as your first goal. Just like with all content and inbound marketing, it's more about brand recognition and introducing your business to people while providing informative content.
So your goals might look like:
Increase traffic to site (or your own blog) by x%
Establish 5 regular guest blogging opportunities
Boost social media followers by y%
Increase sales over next 6 months by z%
Keep in mind: writing a single guest post for a site will not do a great deal to reach any one of these goals. But if you can establish relationships where you contribute one or more posts a month, you'll stand a better chance over time of accomplishing your goals.
What constitutes a worthy blog?
Next, you'll need to decide on some parameters for the blogs you want to write for. There are millions of blogs out there, so you need to whittle it down to the ones that best target your audience and have a decent amount of traffic to them. You also want blogs that are fairly active; if the last blog post was published four months ago, it's probably not going to do much for you.
I like to use Alexa to find blogs ranked 500,000 or less. This is the ranking of a website among all others, based on traffic, popularity, etc. The lower the number, the better it ranks. Here's what Spokal's Alexa profile looks like: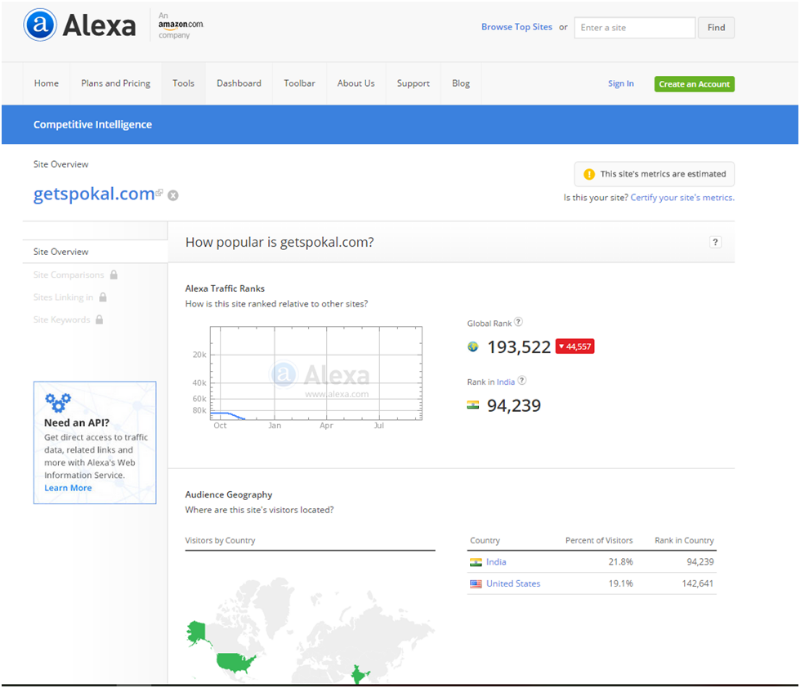 It can also be helpful to pay attention to which countries a site's visitors are located in. If they're all in Europe, they might not be a good fit as potential customers. Move on.
Using Alexa — or even Google Page Rank, which ranks sites in order of importance from 0 to 10, with 10 being the best — you can decide what you're looking for. You can also set your target for blogs with a certain amount of traffic. Whatever your parameters, stick to them when searching for the best blogs to contribute to.
[Ed note: We're going to disagree with Susan here. Alexa and Page Rank were useful years ago – but their time has passed. Alexa relies on a toolbar that some people (but who? – nobody we know) have installed to get its data – and the degree to which they're off because of this is remarkable. For example, Alexa thinks most of Spokal's traffic is from India (at 21%), followed by the US (at 19%). Our actual traffic for 2015 so far (9 months in) is less than 5% from India, and 46% from the US, with the UK, Canada and Australia rounding out the top 5. But you wouldn't see that by looking at Alexa. Far better to use the blog itself as a better gauge – is it commented on? Are the posts being shared on social media? Tools like BuzzSumo can help you get this data much faster.]
Finding blogs in your industry
Now that you know how to decide if a blog is a yes or no, it's time to start searching for them. If you already read blogs in your industry, that's a great place to start. If not, search for "[industry] blog guest blog guidelines" like in this example for marketing blogs: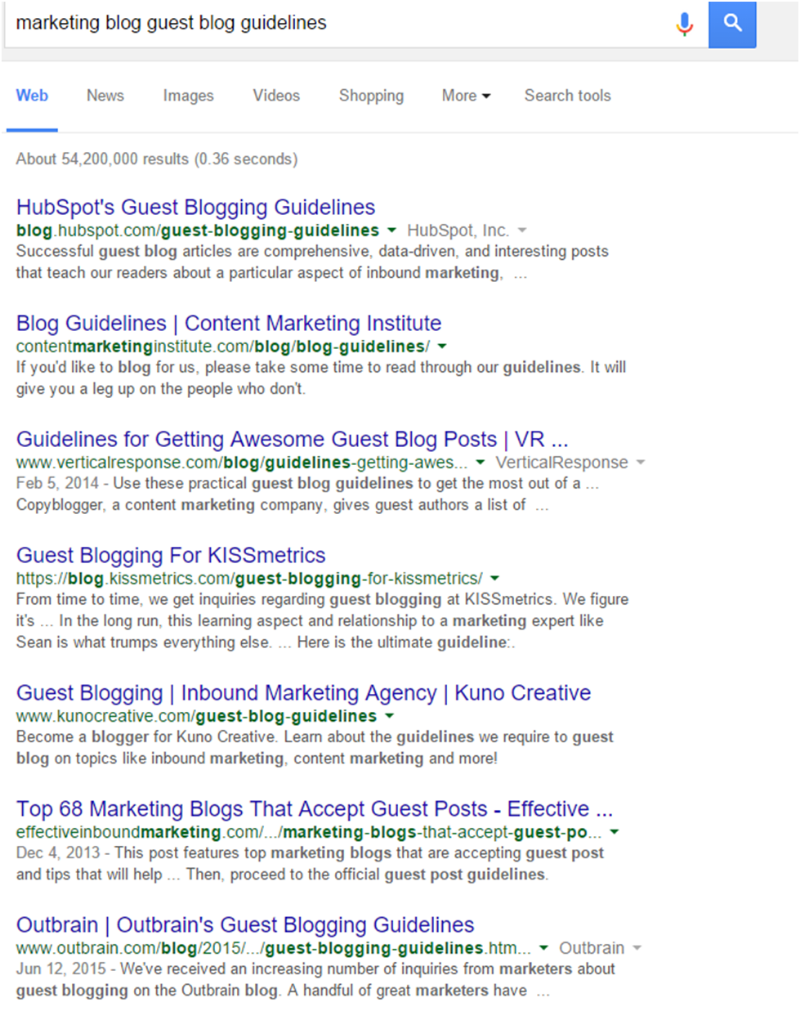 This will quickly get you to the page that explains what the requirements are for a guest blogger. If you can adhere to them, check that they meet your own parameters. If so, put them on your list (a spreadsheet comes in handy here). If not, move on to the next one.
If there isn't a Guidelines page on a blog you like, search to see if there are posts by other guest bloggers. It may be that the blog owner simply doesn't publicize the guest blogging program. You can still pitch a few blog post ideas (more on pitching in a minute).
Do your homework
Now you want to both make sure the blog is a good fit for your content and show that you actually did your research. This will increase the odds of getting your guest post accepted exponentially. You'd be surprised how many pitches I've gotten from people who didn't even bother to read a single post on my blog, and pitched something completely left field of what my readers care about.
To that end, read several posts on each blog to see if your topics will be a good fit. If you already have topics in mind, you can see if there are posts on the same subject. If so, find a unique angle or a new topic.
Perfecting the Pitch Letter
Now comes the time to reach out to the blog owner to express your interest in contributing a guest post. But before you write your email pitch, make sure you've done the following:
Read several posts to get a sense of the style and topics the owner prefers
Checked for guest blogging guidelines and adhered to the process
Come up with three topic ideas
Found the contact information for the blog owner
The key to a successful guest post pitch is keeping your email short and sweet. No attachments. No long emails. Start with a 1-2 sentence introduction of who you are and what you do. If you'd like, you can throw in a sentence mentioning a particular post you really liked. But make this compliment personal; I've gotten pitches where it looks like they grabbed the latest title published and just said "great post!" Show your intelligence by commenting on the content of the post.
Now, onto your topic ideas. Simply post 3 bullets with the titles. You can also write a brief explanation of what each post would look like. Some guest blogging guidelines require this, but if there are no guidelines, use your own judgment.
Here's a sample guest blogging pitch:
Hi Todd.
Your post, "How to Tame the Beast in Your Marketing Strategy" came across my social feed this morning. I laughed out loud at your descriptions of monsters and ghouls, and loved how you connected them to marketing.
I'm an inbound marketing consultant who lives and breathes social media. I'd love to contribute a guest post or two on your blog. Here are some ideas, if you're interested:
16 Secrets to Social Media Savvy
The Latest Trends in Social Media Going into 2016
How You're Utterly #Failing on Social
Do any of these sound interesting to you? If so, I can get started writing. I look forward to hearing from you.
Sincerely,
Betty Smoop
As you can see, it's short, sweet, and easy. It makes Todd's life simple; all he has to do is pick the topic he wants Betty to write.
A week after you send your pitch, if you haven't heard back, email them again. People are busy and may have overlooked your email. I like to modify the subject line to say "Re: previous email" to get them to open it.
How to Get Invited Back to Guest Blog Again
Once you get your guest post ideas accepted, you need to be on your best behavior to build trust with the blog owner and get asked to contribute again.
Make sure the article itself is well-written, heavily researched, and not promotional. Most blogs allow you to have a link to your site in your bio only, so respect that.
Start by turning in that article as fast as possible (not rushing so much that you don't proofread, but do move it to the top of your to-do list). Ask when the post will be published so you can be a good social citizen and share it with your own audience. Blog owners love that. When you tell your connections about a post, they get more traffic. It's win-win.
You can also start sharing other content on the blog to foster a relationship. Comment on posts, and respond promptly to the comments on your own post.
If you don't get invited to contribute again, simply ask. Explain that you'd love an ongoing relationship and would be willing to contribute an article a month. Who would turn down great content written by someone who's proactive about sharing it?
After a few go-'rounds, you'll get the hang of guest blogging. Pay attention to which channels send you the most traffic, and put more attention there. You may drop a few channels after several months, if they're not sending you any new traffic. Incorporating guest blogging into your content marketing strategy is a fantastic way to build your brand.