Confused about Marketing Automation?
Who isn't? There is a lot of information about Marketing Automation (MA) out there. It's a hot topic – and the promises of the technology to business is compelling – more leads, better leads, more customers, less time.
But very little of that information is actually helpful for small businesses looking to understand exactly what Marketing Automation is, and how it can help them in their particular business.
That's probably why surveys have found that although many people do have success with Marketing Automation, the results often don't justify the investment and people who buy it rarely use it fully. Especially when it comes to small business.
And when I say 'small business', I don't mean the official definition of 1 to 500 employees. I mean REAL small business. From one-woman shops to businesses with 5, or 10, or 15 employees. They're sometimes referred to as "micro businesses", and they're responsible for the majority of new job creation.
But you wouldn't have guessed that if you went by Marketing Automation articles.
Marketing Automation is meant to save time and gain efficiencies – but the very process of researching and evaluating them is a such a time sink that many don't make it past this stage.
Which is a terrible shame.
MA can help small businesses establish themselves by pushing them beyond what they could achieve without it. With MA a business can work more efficiently, grow more efficiently and punch well above their weight while still maintaining that personal touch that lets them differentiate themselves from massive corporations.
With that in mind – I'm going to try to make sense of this evolving landscape for small business owners and decision makers. Let me know in the comments if I hit my mark!
Marketing Automation – a brief history.
Marketing Automation has traditionally been the dominion of large corporates with even larger marketing budgets. It was highly advanced, super expensive and it required a dedicated team to use effectively, but it let corporations segment and target to consumers in ways that they could only have dreamt of before – so they invested in it heavily.
Then it made its way down to mid-size companies with the introduction of more user-friendly packages that could be managed with smaller teams, at a better price point.
Now we're starting to see it trickle down to small business, which is a great thing because the internet remains a place where small businesses can really stretch their limited marketing dollars.
New Challenges
But marketing online is also getting increasingly complex, especially with the myriad of new ways to use social media to garner traffic and leads. Now it really requires either specialized skills, specialized tools, or a lot of luck and hard work. Or better yet, all 3.
There's confusion because a lot of the educational and sales material out there: blog posts, whitepapers, review sites etc. aren't written with small business in mind, making choosing a platform difficult. Platforms that may be excellent for large companies may perform poorly for smaller companies, they may require larger teams or specialized skills to use effectively.
With the challenges that small businesses face trying to find the right MA platform, I get asked all the time for advice and how we – as a Marketing Automation platform ourselves, stack up.
The best way for me to answer that question is to ask you 2 questions in return. Your answers to these 2 questions will dictate what type of platform you will probably want to look at, and could save you a ton of time evaluating platforms.
Question 1: Why are you looking at Marketing Automation platforms?
It may seem obvious, but this is a really important question to ask. Why are you looking at MA?
The answer to this question will help you filter out a lot of MA providers, quickly. To do that – I'm going to ask you to categorize yourself into one of 3 categories right now.
Depending on your answer to this question – I may ask you to further segment yourself below.
The Category Question
Most small businesses will fall into one of these 3 general categories. Which one do you fit best?
You're happy with your lead gen efforts and results. (ie: you have as much or more business than you can handle)

You get too many leads, but they're often of low quality. (Maybe you spend too much time emailing or talking to people who never buy?) You need a way to segment them into qualified leads and non-qualified leads.

You don't get enough leads. Most small businesses fall into this category. You want to grow your business and your current methods of lead generation are not sufficient for you to meet your goals.
Now that you've placed yourself in a category (you have, right?), scroll down to see what I recommend you do. (or check out this handy info-flow-chart-decision-tree.

Category 1 – You probably don't need Marketing Automation.
There may still be value if you're looking to save time, or consolidate reporting, or to increase your rates/prices and be more selective about who you work with – so skip ahead to Category 3 if any of those apply to you – but maybe the answer here is that you don't need Marketing Automation at all.
One thing is for sure – because this isn't a necessary step for you – but an optimization – you need to be fully committed to implementing a strategy – you'll need to commit resources and budget to it, or you'll likely just give up on it when it doesn't deliver immediate results (and MA's best results come over time).
Category 2: You need a Lead Nurturing ONLY platform
If you fall into category 2 – then I have some good news for you! (And some bad)
The good news – Almost every platform that calls itself a Marketing Automation platform is trying to solve your problem. There are a LOT of platforms out there to help you with this.
The bad news – There are a lot of platforms out there to help you with this. Evaluating them and choosing the best one for you will take more time than the other types.
All of these platforms should work natively with your existing website – so you won't have to worry about moving to a new website or blog. Generally they offer Calls To Action (CTAs), Landing Pages, Lead Scoring and advanced email tools.
They let you create landing pages for any specific campaigns you may run (either PPC – or partnerships with other companies – or special offers that you expect others to share on their social or web platforms), and let you place CTAs on your blog and site to capture leads from your organic SEO, social and referral traffic.
If you don't know what any of that is – that's fine, they can still help. You probably want to focus on a tool that's easiest to use in that case – and not worry as much about features or power.
These platforms will score leads – people who sign up on your site in exchange for a free offer of some sort that you provide them – based on their interactions with your website and your emails. They'll help you segment leads that are more engaged with you and your content from those that are less engaged, and can even help you determine when they're getting closer to making a buying decision. They'll let you send different emails to different types of people – and can get quite advanced with how they let you communicate with your leads.
While all this sounds great – and you're probably thinking – the more powerful the tool the better, that may not be the case. The more segmenting you do – the more emails you need to create and update – and the more work you need to do. The more testing you need to do too. No matter how advanced the tool – that's work that can't be avoided.
And – if you don't have that many leads yet – you don't yet need an advanced lead nurturing funnel. In fact – you can't even create one because you won't have enough people going through it to judge its efficacy – even if you have the most advanced tool on the planet. All you'll do in this case is waste a lot of time and money setting one up.
So choose the tool that suits you best – it's not all about features, but also about ease of use and what's best for your particular situation.
Here are some of the platforms in this category. It's not a comprehensive list – just a starting point. Please note, these are not reviews, nor are they recommendations. We haven't necessarily used them.
Infusionsoft: probably the best known, and definitely leaders in the space – but not known for their ease of use. Be prepared for a steep learning curve and some pain. Unless you're into that kind of thing – you may want to look at some of the alternatives first.
JumpLead: looks like a good solution, with what appears to be good ease of use and reasonable pricing.
Leadsius: free until 2500 contacts – then gets pricey. Don't get sucked in by that – expect to be on the paid plan before you start to see real benefit.
A couple of other options are LeadSquared and Nurture.
Free or low-cost options:
Mailchimp and ActiveCampaign are generally much lower cost options that will let you do a lot of the kind of segmentation that might be useful to you. They're not really MA platforms – but they have some features that overlap for sure, so if you actually fit in another category but are reading this anyways – they are platforms to consider.
Note: Hubspot can also be used as a nurturing-only provider, though they do not really fit in this category.
Beginner Recommendation: If you're just starting out, and aren't sure how all of this works yet – then choose a provider that you find easy to use. Advanced features won't matter anywhere near as much as you think, and you can always move later. By then you will know exactly what you're looking for and will be able to evaluate providers quickly. More important to get started with a tool you like using.
Category 3 – For The Rest Of Us
This is where most small businesses sit. The idea of getting advanced with lead segmentation sounds really tempting – but it's useless to you without leads coming in the top – ie: coming to your website to begin with. None of the lead nurturing tools will help with increasing the flow of people through your funnel – you'll need to use them in conjunction with either advertising or partnerships to increase your lead flow.
But there is another way.
The Segment Question
What stage are you at in your online marketing?
You're excited by the prospect of new toys that can help grow your business, but really don't know much about online marketing in general.

Someone told you that you should look into it – but you don't really understand it. You're in the 'gathering information' stage

You are already firmly committed to the concept of inbound marketing – you understand it well, and are looking for efficiencies. Ways to save time and/or increase efficiency.

You are already committed to the concept of inbound marketing – but you're more of a beginner and would like not only the efficiencies that can come from an MA platform – but also want an established framework to work from.

You just want to buy a list from somewhere (or already have a non-opt in list), 'outreach' to them at scale (*cough* spam *cough*), and then track and follow up with those who engage with your outreach.
Which problem are you trying to solve? (PS: if you don't fit any of these – let me know in the comments so I can update the post!)
Segment 1 & 2
Before you look at MA providers – you may want to consider spending more time researching inbound marketing as a marketing concept.
Inbound Marketing is the concept of creating content that your potential clients seek out. It answers their questions, solves their problems, entertains them. The key point here is that the connection – the point where they become aware of you – happens on their terms. When they're looking, and open. See more on inbound v outbound.
No inbound MA platform will help you without a commitment to creating content.
There's just no point or value in spending time evaluating platforms until you become convinced of the merits of inbound marketing and move out of Segment 1 or 2 and are firmly in Segment 4. (committed to inbound as a strategy – but a beginner in implementation). Your journey ends here, young padawan, MA is not (yet) the right answer for you.
Segments 3 & 4 – Inbound Marketing Automation
You rock. You've committed to a long-term, strategic marketing plan that creates value for everyone. For you, for your new customers, and for countless others who will consume your content without ever engaging you. (if that makes you cringe – it shouldn't! – that's how effective filters work – weeding out those unqualified to purchase from you).
An inbound marketing automation platform should do all of the things the lead nurturing platforms do (to a greater or lesser degree) and they will also work to increase the top of your funnel, so that you can build a lead nurturing funnel that is of use, even if you don't have much traffic yet.
Inbound MA platforms work by helping you with creating content. Content is the backbone of any inbound marketing strategy – and inbound platforms will take a lot of the nitty gritty off your plate.
Like SEO – there are literally dozens of factors to consider with each blog post to optimize it for higher rankings in Google. Inbound MA providers will generally remove a lot of those details for you automatically – and provide really easy grading and feedback for you for the things it can't. Like real-time SEO advice as you type.
They'll also help you identify what keywords to target for maximum reach, they'll maximize for social sharing – and ideally stickiness, bounce rates and help you identify influencers for outreach and guest blog posts. In short – if you commit to creating quality content on a regular basis – these tools will take care of the mechanics – the crappy details and do a lot of optimization for you. They make life simpler. They'll also automate (big shock, right?!) a lot of the processes with automatic or semi-automatic social sharing, behind the scenes stuff like OpenGraph tags and Twitter Card tags, meta descriptions and help you see your marketing schedule at a glance.
If you're in Segment 4 – they'll save you all the time you would otherwise have to spend learning all this stuff. Instead you rely on the developers of the platform to stay on top of search engine algorithm changes, social media changes and a million other things and to just give you simple real-time advice to follow.
If you're in Segment 3 and you already know what you're doing – then they just speed the process up, saving you time. They also means you can hire writers who can write, to create content without worrying about their SEO knowledge. The tool will guide them.
So, which tools are available for you? There's good news and bad news. There are NOT a lot of providers in this space. In fact, I only know of two. *(lines do get blurred here – so I'm referring to comprehensive platforms that really work on everything – social, SEO and referrals)
Hubspot is by far the best known in this category.
We – Spokal – are also in this space. So this post is not unbiased. It can't be. We created Spokal because we firmly believe in the power of inbound marketing. We believe in it so strongly – that we created the whole company around it. Our software is marketed through our blog (and it powers our blog too!).
We're not alone in building a company primarily through an inbound marketing strategy. Unbounce has too. And Moz. And tons of others. Unlike Hubspot and many other companies – we do not have a sales team. We don't spend a ton of money on advertising. Both of these things mean we have dramatically lower costs, and as a result, lower prices..
Hubspot's top-of-funnel features (the features that bring more people to your site to begin with) work by providing you with their own blogging platform where they can provide SEO advice, integrate with social media etc. You'll need to move your blog content over to their blogging platform, and use that for all new content you create. If you ever cancel – you'll need to pull all your content out and put it back into a regular blogging platform like WordPress. This is a really important consideration that can add thousands of dollars to the bill on either end.
Spokal works with any existing WordPress site. Instead of building our own blogging platform – we deeply integrated with the most popular, and one of the most powerful open-source blogging platforms out there.
We've created a Hubspot and Spokal feature comparison table here that might help choose between the two. In general – Hubspot Pro and Enterprise are the most powerful solutions, with Spokal & ActiveCampaign following, and the heavily gimped Hubspot Basic bringing up the rear. That's just my opinion. Have a look at the table above and decide for yourself. Aside from the cost difference – there's no mandatory training (Spokal is easier to learn), and no annual lockins.
Other things to consider – if your current blog is on WordPress – or if you don't want to be locked in to a software vendor – then this is a no-brainer. Save yourself a ton of hassle and continue to use your existing WP site.
If you're not currently on WordPress – then it doesn't matter as much – you'll need to move your blog content either way to take advantage of the top of funnel features. You may still want to consider the merits of an open-source blogging platform versus a vendor-specific one where you'll be locked in, but either way – you'll need to move your blog or limit yourself to Lead Nurturing ONLY types of providers, and you'll have to work on the top of the funnel on your own.
That should pretty much cover it! If you know of any other comprehensive inbound marketing solutions (with small business pricing), please let me know in the comments, I will either update this post or create a more comprehensive chart of providers.
Segment E: You want to 'Outreach' to a bought list
This is called Outbound Marketing.
This approach is, I feel, dated. It's like traditional advertising in that you're reaching out on your terms, not theirs. Not to mention it's spam.
I promised you an opinionated piece – and here it is – the outbound approach is old-school, and while it still can work, we won't really delve into here because you're always going to have to game this one. You're always going to have to work to get past spam filters, and like PPC and other advertising – you're not building up anything of value for the long-run – once you burn that list (have sent emails to them all) – a few may engage, but the rest will either remain blissfully unaware of you due to efficient spam filters, or worse, they'll have seen your mail, opened it and now have a negative association with your business and brand because you spammed them.
The advantage this kind of platform has over the lead nurture ONLY type of platform is that it can increase the size of your funnel, so it can work even if you don't have much web traffic – so long as you have lists of email addresses to plough through. Those lists can be highly-targeted if you're good at building that list.
The general process is to buy or otherwise gather a list of emails of people that match your target market, create an email (or a few variations) and send it to them, tracking who opens them, and who clicks on links back to your site and engages with your content. Those that do engage can either go into a lead nurturing funnel – or you can reach out directly. Some will even reply to your email letting you engage directly.
Most email platforms won't really let you do much of this (or any at all) – and require your email lists to be opt-in to prevent spam. Just try it on Mailchimp, Aweber, or ActiveCampaign for example and see how quickly your account gets banned.
There's really only one platform that I know of that is built for this, and encourages it, and that's Act-On. I'm sure there are others – I don't spend much time really looking at these solutions.
Here, in graphic form, is what each of these categories of solutions looks like: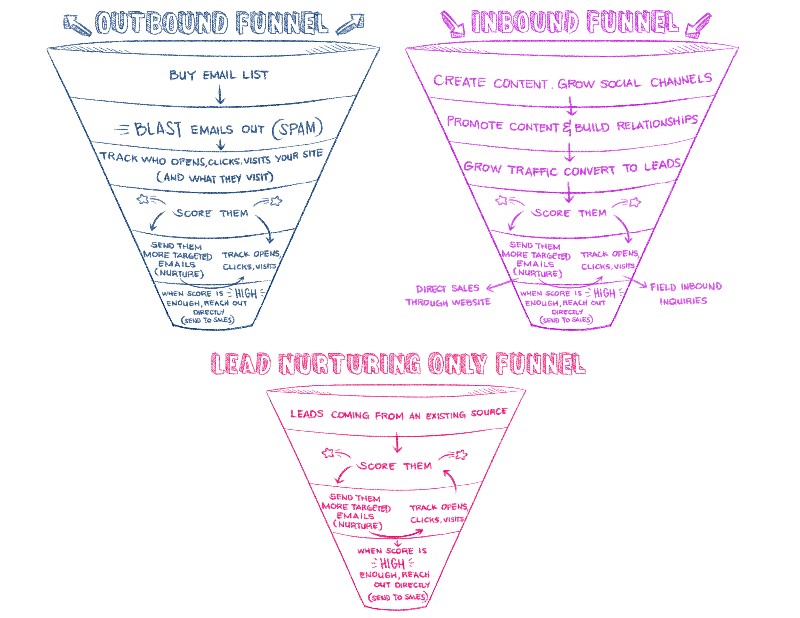 There's a lot of similarity in the bottom – but the top of each funnel is wildly different.
Does this help?
Please let me know so I can update this post and make it a bit of a living document. Are there Inbound or Outbound MA providers I missed that I should consider? Do you not fit in any of the categories? Did this post help to narrow down your choices? Or give you more insight into MA in general?
Want to keep in touch? (and get some free goodies?)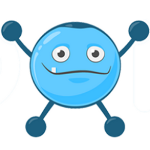 Get our small business pack, actionable tips and tricks, and some content creation guides!