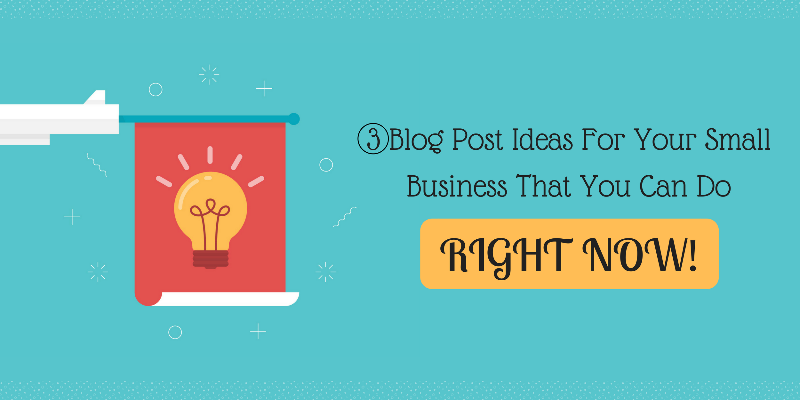 So, you need to write a blog post. And you're here because you don't know what to say.
Let's fix that, shall we?
Here are 3 blog post ideas for your small business that you can do right now.
Idea 1: Share A Conversation You Had With A Customer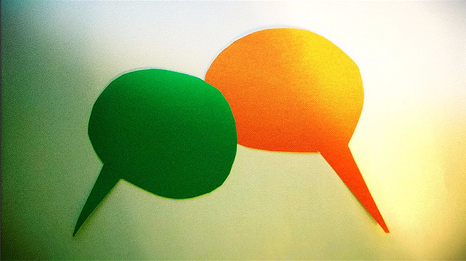 How often do you chat with a customer? How many questions do you answer when you're with them? 10, 20, maybe even 100?
That's the "real life" version of inbound marketing.
Instead of asking Google: "What yoga pose is ideal to strengthen my core" or "What month should I start planning my taxes" or "What's the risk in buying the least expensive house on the block," your customer is asking you directly.
You know the saying – if someone is asking a question, chances are 10 other people are thinking it too.
Go over the last month, were there any questions that kept coming up? Any that you couldn't believe someone was asking? Any that you enjoyed answering?
Those are what I call penmanship gold because they're the perfect place to start your next post.
Example: Will Keywords Hurt My Business?
I was chatting with a young woman who curates a gallery of vintage Scandinavian jewelry. We were discussing how she can grow her readership and convert more fans into customers, and one thing that came up was her concern around using keywords.
She asked me: "Will keywords hurt my business?"
No!
Well, maybe.
I see where she was coming from because they can if you use them wrong (aka you stuff lots of keywords into your post to try and trick Google, which doesn't work, or you write an SEO correct post but it sounds like a robot and no one enjoys reading it).
That started a healthy discussion about what is a keyword, when should you use one and what's the ideal ratio between posts that have a focused keyword and posts that are "thought pieces."
You can read the blog I did inspired by our chat.
She loved it!
Not only did I answer her question, she was delighted that I spent time putting a post together based on our conversation.
If you want to WOW your customer, show them the post they inspired you to write (only if it's true, of course). It's a wonderful way to say…
"Thank you for being my customer. I value your business."
That goes further than what most businesses do – hang a dusty mission statement on the back of their office wall saying: "Our mission is to focus on customer service by delivering the highest standard of excellence and knowledge through our continued focus and execution on our customers' needs, goals and desires," but don't act on it.
As a side note, last winter I rented a car with 2 friends to drive to Whistler for the week. We arranged it months in advance (they were flying from Ontario so planes and cars were booked), but by the time we got to the rental depot the car we reserved was gone. Then there was a problem with the reservation because it was made out of province. Then….it was one thing after another. It took 3 hours to pick up a car that was supposed to take 15 minutes. We only solved it by taking matters into our hands and calling the head agency in Ontario. And all the while, the irony of their customer service sign hanging in the background.
You can keep reading this post, or you can start blogging, because if I'm doing this well you won't have to read the next 2 ideas until you've done a post on a conversation you had with a customer.
But maybe you need a little push?
What if you knew that…
Idea 2: What's Your Opinion On Bubble Gum?
On having fluoride at the dentist?
On taking the bus instead of driving?
On hiring someone to do your taxes?
Everyone has an opinion. About everything.
While you may not be an expert in gum or transport, as a small business owner you're in a great position to share your thoughts on where your industry is going, how changes will affect your customers and what they can do to prepare.
Since the goal of your blog is to share who you are and how you approach things, an opinion piece is a great way to start.
Example: How Will Marking Trends In 2013 Affect Your Small Business?
I'm not the first person to think of that question. According to Google, over 498 posts were written about it between November 2012 and today, so it's a hot topic.
Instead of doing a similar post on a similar topic with a similar result, I looked at what an industry leader for larger businesses was saying about marketing trends in 2013, and did an opinion piece on how it was different for small businesses.
This is the 2nd most shared post on Spokal (the top one is The Complete Guide On How Often To Post, Tweet + Facebook For Your Small Business), so yes, in my opinion, opinion pieces work.
If you choose something that people are talking about, you can ride the coattails of the conversation and add your thoughts without getting lost in the abyss of posts on the subject.
Plus, when you do an opinion piece on someone`s blog, you can ask them for feedback in the comment section of their post. While you may want to do this for a backlink and to attract readers, you should really be doing it as a way to start a conversation with that blogger.
p.s. When you're done your opinion piece, feel free to share it with us. We're always interested to see what other business owners are thinking about.
Idea 3: Build A Story Using Tweets
This is the easiest blog post idea for your small business in the world, which is why it's at the end (I'm secretly hoping you've stopped reading and started writing.)
Create a story using tweets.
It's a quick and easy way to understand what's happening from real people on the ground level.
It's the fastest way to do a blog post.
It's not the most effective (in terms of getting shared and converting customers), but if you do it right it can be fun to put together, fun for someone to read and a nice break from longer posts on your blog that will convert customers.
Was there anything big that happened last week that was captured in the Twittersphere? Even if you're not on Twitter, was there something that 200 million people might be tweeting about that's related to your business/industry/might affect your customers?
Example: Top 10 Tweets From Last Week On Small Businesses
I was curious to see what people were saying about small businesses and inbound marketing on Twitter a few weeks ago, so I created a short post on the "Top 10 Tweets From Last Week On Small Businesses."
For this to be fast and fun, you'll need the right tools. I suggest using Storify or Spokal. I'll show you how I did it with Spokal because that's what I used.
1. Search Your Ideas On Twitter
After opening a new post (Dashboard >> Blog), simply type what you're looking for in the Twitter search box and see what you get.
I used the Twitter search to look for people sharing stories about small businesses, inbound marketing and social media.

2. Choose Your Favourites
When you find tweets you like, simply drag and drop them into your post. You may not find ones you want on the your first try, so keep going until you find something that piques your interest.
I chose some of my favourite tweets, tweets that I thought people would be interested in reading and ones that had links worth sharing.
(You can organize and weave the story later – your job at this step is just to collect good tweets.)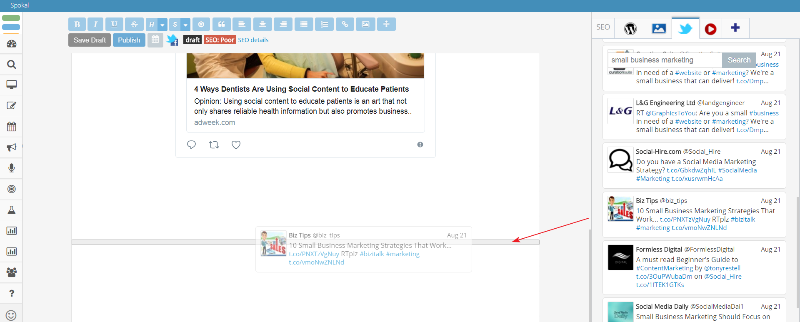 3. Create Your Story
Look at your tweets and see how you can link them together. Think of your post as a mix between a comic strip and a business discussion. Is there a natural flow? Something funny? A way to group them based on factor x?
Add headings and comments to weave a story, throw in a few pictures if you're feeling adventurous and you're done.
4. A Better Example
Here's a Twitter story that someone just did about the 2013 Grammy's. I think it's better than the one I did as it has more comments between the tweets, some photos and it's about a topic that people want to browse on.
But you get the idea.
Now it's your turn.